In 1948 Baseball had two competing releases: Bowman and Leaf.
Compared to their counterpart Bowman, Leaf designs really stood out. They were the first post-World War II sports set to feature color images on them. Each card front features a player against a colored background that is either solid or two-tone. The player's name appears listed below a photo in a solid-colored box. They were also slightly larger than the Bowman release. 
On the back, you can find the card number, player information, and an ad for All-Star Baseball Gum.
The release is led by rookie cards for: Jackie Robinson, Satchel Paige, Stan Musial, Hal Newhouser, and Larry Doby; veterans like Ted Williams and Joe Dimaggio; and retired superstars like Babe Ruth and Honus Wagner.
The packed checklist is even more enhanced by short-prints that occupy nearly half the set. This makes the common players desirable as many collectors want the full set.
Were they printed in 48 or 49
Hobbyists have long argued specifics about 1948-49 Leaf Baseball. Since the cards include both 1948 and 1949 copyright dates on them, they can be viewed as a two-year release. 
Some collectors, however, contend that they are a 1949 issue because nearly all have details about the 1948 season on them. The grading companies label them differently as well. PSA says they are 1948 whereas BVG (Beckett) says 1949. 
The year confusion leads to gray areas when assigning a few different rookie cards. This affects players in the Leaf set who also have a rookie in 1948 or 49 Bowman. For example, Stan Musial has a 48 Bowman, and Jackie Robinson has a 49 Bowman.
How many cards are in the set?
If you thought the year was the only confusing part of this set, you would be wrong. The card numbering is complicated. 
The cards are skip-numbered from 1-168. For example for cards 1-10 you have the following:
1 Joe DiMaggio
3 Babe Ruth
4 Stan Musial
5 Virgil Trucks
8 Satchel Paige
10 Paul Trout
Numbers 2, 6, 7, and 9 are all missing. So instead of a total of 168 expected cards, you are down to 98 to complete the set. 
There is no consistency to the numbers that are missing, so good luck recognizing any patterns. 
No one knows if this was a false scarcity tactic to sell more packs or if they simply had planned a later release and never went through with it.
1948 Leaf Jackie Robinson #79
Many assume that this is the first Jackie Robinson card printed. While it is highly regarded as his rookie (along with 49 Bowman), he has earlier cards in 1947 Bond Bread. This was his first major release. 
Prices for the card are incredibly high and will continue to hold strong as Jackie's impact on baseball and the world are extraordinary. Just 1 year earlier to this release, he broke MLB's color barrier and helped bring more African Americans to major US sports.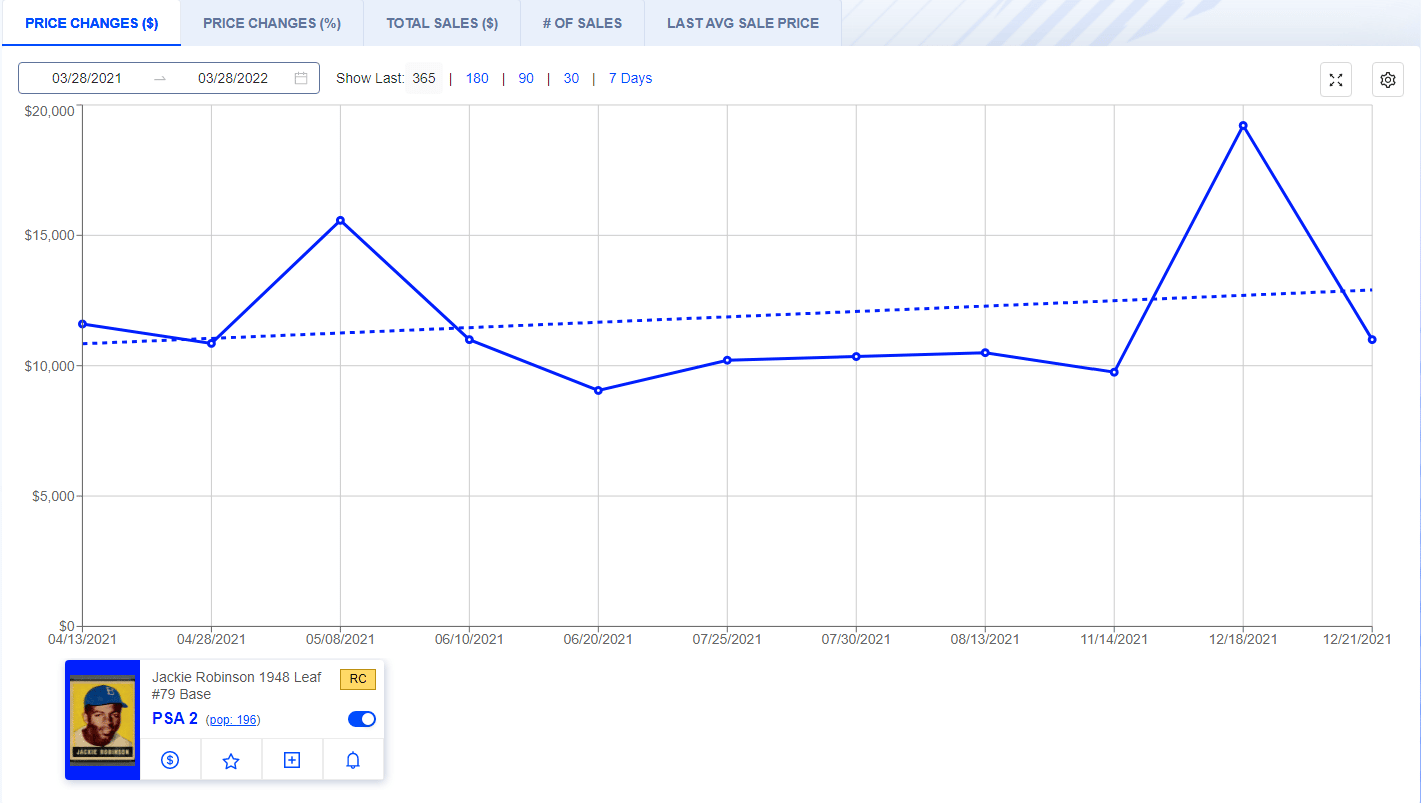 A PSA 2 in this card is averaging above $10,000 with a peak close to $20,000. This was grabbed from Market Movers. Get your first month for $1 using code BREAKOUT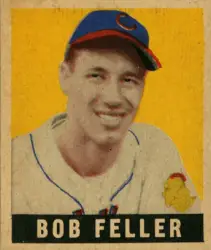 Bob Feller was one of the most dominant pitchers during the 1940s and 50s. His Leaf baseball card is a Short Print with less than 150 total graded.
1948 Leaf Larry Doby #138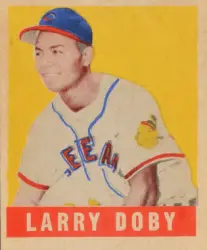 Larry Doby broke the American Leagues' color barrier a few months after Jackie made his MLB Debut. Unlike Robinson, the Doby rookie is an SP, however, it doesn't command the same value of the Doby Card.
A Jackie Robinson is worth at a minimum 4x of the Doby yet there are close to 1600 graded Robinson's compared to 160 of the Doby
1948 Leaf Satchel Paige #8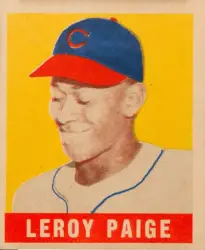 Satchel Paige was one of the greatest Negro League pitchers.
He was such a good player, he would tell his outfielders to come in early as he knew he would strike out a batter. He finally got his chance at the big leagues at the age of 42.
At the time, this made him the oldest rookie to debut in the league. He also ended up being the oldest player as well when he pitched 3 innings in 1965 at the age of 58.
The Satchel Paige rookie is the holy grail of this set. It combines everything the previous cards had: ridiculous demand and being a SP. Also its 1 of 3 playing day cards. His only other cards are from 1949 Bowman and 1953 Topps.
Expect to pay $20,000+ for even a PSA 1.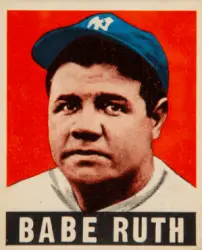 This card was issued shortly after Babe Ruth's death. He had passed away at the age of 53 from cancer in August, 1948 which made it a really desirable card to collect.
It's just as expensive as some of the 1920s strip cards of Ruth. This probably makes this the most expensive base card of a retired player.
1948 Leaf John (Honus) Wagner #70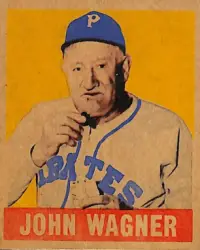 While this card isn't worth a lot, it has an interesting story. The card shows Honus Wagner using tobacco. Many individuals spread a rumor that Wagner didn't want a T206 card as he was against tobacco.
This card, however, shows another side to the story. In my opinion, it was a dispute over money as Wagner has other baseball cards in the early 1900s.
1 Joe DiMaggio
3 Babe Ruth
4 Stan Musial
5 Virgil Trucks 
8 Satchel Paige
10 Dizzy Trout
11 Phil Rizzuto
13 Cass Michaels
14 Billy Johnson
17 Frank Overmire
19 Johnny Wyrostek
20 Hank Sauer
22 Al Evans 
26 Sam Chapman
27 Mickey Harris
28 Jim Hearn
29 Elmer Valo
30 Billy Goodman
31 Lou Brissie
32 Warren Spahn
33 Peanuts Lowrey 
36 Al Zarilla SP
38 Ted Kluszewski 
39 Ewell Blackwell
42 Kent Peterson
43 Ed Stevens 
45 Ken Keltner
46 Johnny Mize
47 George Vico
48 Johnny Schmidtz
49 Del Ennis
50 Dick Wakefield
51 Alvin Dark
53 Johnny Vander Meer
54 Bobby Adams
55 Tommy Henrich
56 Larry Jansen
57 Bob McCall
59 Luke Appling
61 Jake Early
62 Eddie Joost
63 Barney McCosky
65 Robert Elliott
66 Orval Grove 
68 Eddie Miller 
70 Honus Wagner
72 Hank Edwards 
73 Pat Seerey 
75 Dom DiMaggio 
76 Ted Williams
77 Roy Smalley 
78 Hoot Evers
79 Jackie Robinson 
81 Whitney Kurowski 
82 Johnny Lindell
83 Bobby Doerr
84 Sid Hudson
85 Dave Philley 
86 Ralph Weigel 
88 Frank Gustine 
91 Ralph Kiner
93 Bob Feller
95 George Stirnweiss
97 Marty Marion
98 Hal Newhouser 
102 Gene Hermanski
104 Bud Stewart 
106 Lou Boudreau 
108 Matt Batts 
111 Jerry Priddy
113 Dutch Leonard 
117 Joe Gordon
120 George Kell 
121 Johnny Pesky 
123 Cliff Fannin 
125 Andy Pafko 
127 Enos Slaughter 
128 Buddy Rosar
129 Kirby Higbe 
131 Sid Gordon 
133 Tommy Holmes 
136 Cliff Aberson 
137 Harry Walker 
138 Larry Doby 
139 Johnny Hopp 
142 Danny Murtaugh 
143 Dick Sisler 
144 Bob Dillinger 
146 Pete Reiser 
149 Hank Majeski
153 Floyd Baker 
158 Harry Brecheen 
159 Mizel Platt 
160 Bob Scheffing 
161 Vern Stephens 
163 Fred Hutchinson 
165 Dale Mitchell 
168 Phil Cavaretta