Although he had a 5 decade spanding career, there are very few Satchel Paige baseball cards to collect. 
Leroy 'Satchel' Paige started his baseball career all the way back in 1926 for the Chattanooga White Sox. Throughout the next 22 years, Paige would play all across America and Latin America playing baseball for many different leagues. This would include: North Dakota, California, Cuba, Dominican Republic, Mexico, and Puerto Rico.
In 1946, after the conclusion of WW2,  Paige would go on a legendary Barnstorming tour with legendary players like: Bob Feller, Stan Musial, Hilton Smith, Phil Rizzuto, Bob Lemon, and Buck O Neil.
Two years later after a player tryout, Satchel Paige officially became a part of the MLB when he signed with the Cleveland Indians. At the time, Paige was 42 years old! Which became the record for the oldest MLB debut. 
In 1953 Paige would last play for the St Louis Browns after a "disappointing season". He had a 1.3 Whip, 119 ERA+, 3.53 ERA, and went 3-9. Back then teams didn't favor advanced statistics and relied heavily on Wins/Loss. 
12 years later, Paige signed a one game contract for the Kansas City Athletics. At the game, Paige would be in the bullpen accompanied by a Nurse. 
He pitched 3 innings, got a strikeout, and only gave up 1 hit. This would be the very last MLB game of his career. At the age of 59 Paige was officially done. His "official" last game would come on June 21, 1966 when he pitched for the Peninsula Grays. They were a team located in the Carolina league. 
Also in 1966, Ted Williams lobbied the baseball Writers association to induct Negro League players to the baseball HOF. A ten man committee was formed to decide which players deserved to be inducted to the hall. 
The first player they selected was Satchel Paige and he was officially a member of the HOF in 1971.
How Much is a Satchel Paige Baseball Card Worth
Satchel Paige playing day baseball cards are expensive. Besides the 1949 Cleveland Picture pack, expect to pay over $1,000 for a low to mid grade example of any card.
Satchel Paige Rookie Card Value
Satchel Paige rookie cards range in price depending on the card and condition. The cheapest is the Picture pack – $1,000. 1949 Bowman is about $4,000 and the Leaf is $15,000 since its a Short Print.
Most Valuable Satchel Page Baseball Cards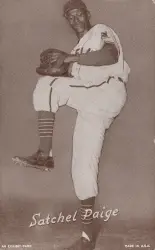 Paige's "first" card is technically his W461 exhibit. The only issue is with how long these cards were distributed. They were produced and sold all the way through the 60s. Due to this and the larger card size, many collectors don't care for them.
While there are less than a total of 100 graded, the last PSA 6 only sold for $1200.
1948 Cleveland Indians Picture Pack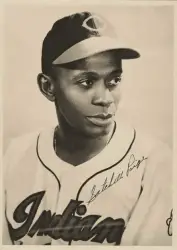 It can be debated whether or not this is an official Satchel Paige card. It's more of a photograph then anything else.
Regardless, these are pretty low pop with only 13 graded at PSA. The last 1 did $750
The 48 Leaf Rookie is considered the holy grail of Leroy Satchel Paige baseball cards. A 1 will run at a minimum of $20,000 and prices quickly rise with higher grades. A 7+ grade will run into the six figures.
The Leaf rookie is a short print within the set and quite tough to find. Jackie Robinson within the set has over 1600 graded whereas Paige has less than 200!
Strong demand for the card as well as a low population will keep this card valuable for a long amount of time.
1949 Bowman Satchel Paige Baseball Card #224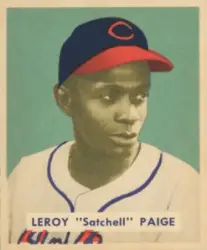 After the 48/49 Leaf, the Bowman is the next go to card. It's the "Budget" friendly option and is much easier to find. There have been over 1000 graded with PSA and you can expect to pay $5000+ for a mid grade example. 
1949 Cleveland Indians Picture Pack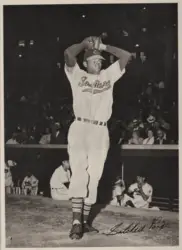 The Cleveland Indians made another Picture Pack in 1949. Like the 48s the population is quite low with only 8 graded as of the moment. The value is significantly less however as a PSA 2 only goes for $360.
1953 Topps Satchel Paige #220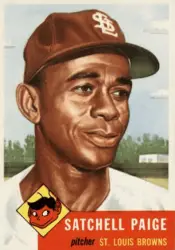 1953 was Satchel Paige's only playing day Topps card. Many consider this to be the best looking example of a card during his career. It's also the most plentiful available as over 4000 have been graded with PSA!
Low graded examples of the 1953 Topps card start at $500. The PSA 9 sold at Heritage Auctions in 2020 for $28,000.
1953 Satchel Paige Baseball Card Value
The 1953 Topps is around a $500 card in PSA 1 condition. Mid grade examples are around $1,500 to $2,500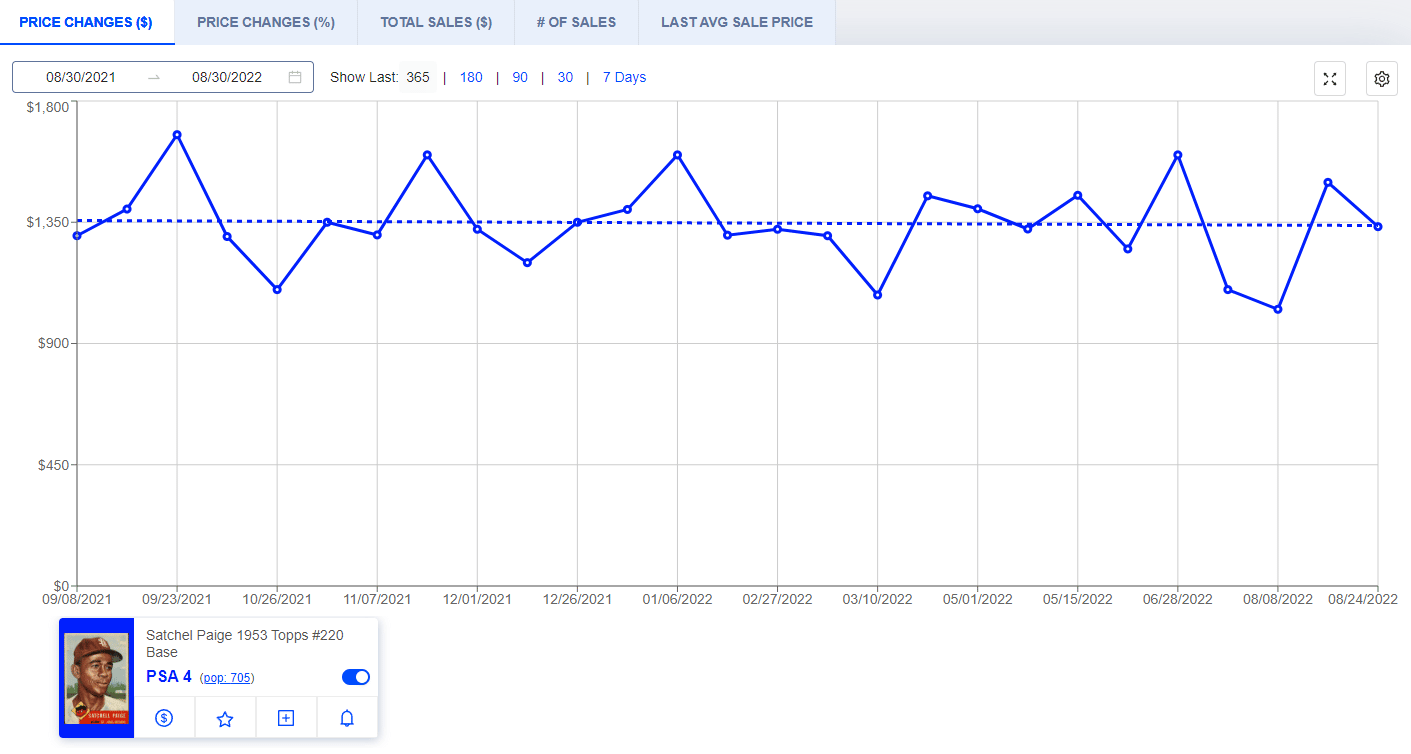 The above chart shows the prices of a PSA 4 1953 Topps Satchel Paige Baseball Card. This was grabbed from Market Movers. Get your first month for $1 using code BREAKOUT
Unlike the earlier exhibit card, the pittsburgh is a tough regional release with a defined year. It's actually Satchel Paige's rarest card. 
As of the moment only 4 have been graded by PSA. The last sale was all the way back in 2017 when a 5 sold for only $300. 
I think this was a bargain at the time as low grade mickey mantle examples can go for $5000+
1967 Topps Venezuela #177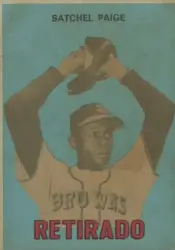 Unlike some of the earlier Topps Venezuelan sets, this one featured retired players. Satchel Paige officially played his last game in 1966. Many of these cards are in terribly poor condition and PSA/SGC have graded less than 50. The PSA 2 sold for 1500 in 2021.
1972 Puerto Rican Winter League Stickers #222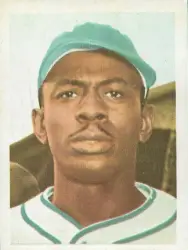 While this set might be famous for the Mike Schmidt Baseball Card, Satchel Paige makes an appearance. This set featured Minor League players as well as former negro league stars. The cards/stickers were meant to be pasted in an album so very few survived. As of the moment, PSA has graded less than 50 Paige examples. 
The last 8 sold in 2021 for $350.
1974 Laughlin Old-Time Black Stars #15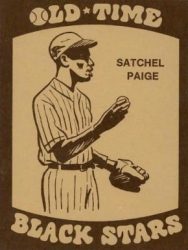 Besides Satchel Paige, the 1974 Laughlin set featured other Negro League stars and Hall of Famers like Martin Dihigo and Josh Gibson. For many within the set, this was their first card that is available. Many earlier cards were latin american releases which are very tough to come across.
Since Paige has a ton of cards available before its not too expensive. An 8 in 2021 sold for 150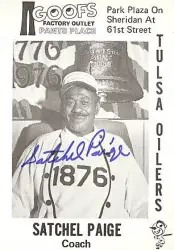 This card depicts Paige in a throwback uniform when he was the pitching coach for the Tulsa Oilers.
There are two versions of this card, an auto and base. Sets were originally distributed by the team for $5 and an auto could be inserted within. 
The last auto sale came in 2020 for $350.
2001 SP Legendary Cuts Cut Signature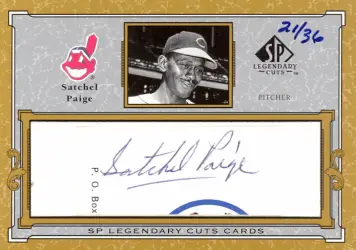 This was the first ever autograph by a major card distributor. Back in 2001 Upper Deck released one of the greatest baseball set of cut autos. You could even find a Cap Anson Cut autograph card!
The Satchel Paige is limited to only 36 copies.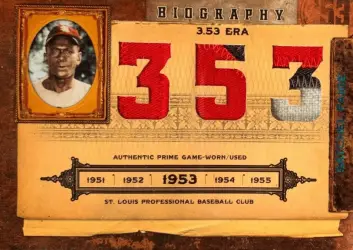 2004 was the first year of Paige relics. I chose Prime cuts over brands like Leaf Certified due to the patches and multi piece relics within the product. Expect to pay at a minum $100 for one and a couple hundred for rarer examples or patches. 
Satchel Paige Baseball Cards Future
Longterm, I see the demand continue to rise for Satchel Paige baseball cards. With a lack of playing day cards and immense popularity, many will continue to try and grab one for their PC.