1955 Topps All-American Football Cards are  essentially an apology set to the past era of football. Set in college uniforms, the set is an admission that football players and cards of the past should have been major release instead of regional, food, or other ways of obscure. The 100 card set features 17 Pro Football Hall of Famers, a Supreme Court Justice, legendary college coaches, and a quarterback who a major award would be named after.
We'll skip the Hall of Famers who have rookie cards in other sets if they fall in 1935 Chicle, 1933-35 Diamond Matchbooks, or 1948 Leaf or Bowman.
Most Valuable 1955 Topps All-American Football Cards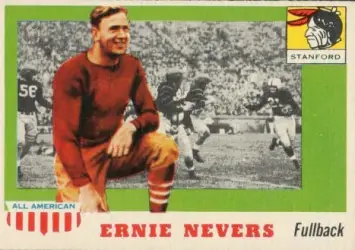 One of the best players of the 1920's, Ernie Nevers was an All-Pro in each of his five pro seasons. Originally retired in 1928 due to injury, came back and had three more All-Pro seasons. Retired after sustaining an injury in a charity game to become a coach. In the same game in 1929, Nevers scored six touchdowns (tied in 2020 by Alvin Kamara), and 40 total points. Both are still records to this day. Has 1926 Spalding, 1927 Middy Bread, 1929-30 Zeenut, and 1937 Kellogg's cards prior to 1955.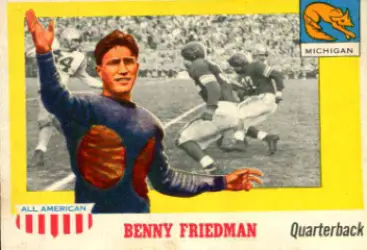 Underappreciated during his time, and way after it, Benny Friedman was the first real quarterback of pro football. Today, if a player takes a snap from center, they're the quarterback. In the 1920's, you were probably running an option play with a pitch. Friedman was All-Pro six times and retired with a then record 66 touchdown passes. Inducted into Canton in 2005, Friedman was before his time. Has 1926 Spalding and 1928 Star Player Candy prior to 1955 Topps.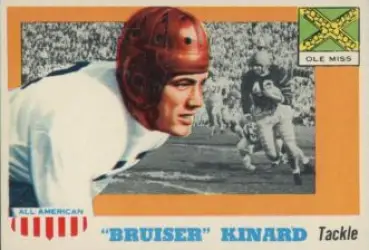 Bruiser Kinard was All-Pro in six of his seven NFL seasons. Teams would call plays specifically for him to pull to utilize his ability to block in space and create holes for the running back. Effective defender also served in World War II for a year. 1955 Topps is his first appearance on cardboard.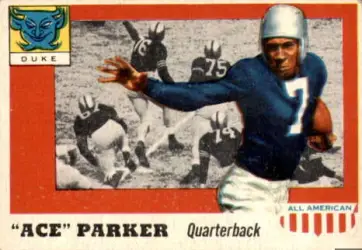 Parker had a chance to be among the top end of all-time greats, but has to settle for lower tier Hall of Fame status. Won MVP in 1940 when Sammy Baugh and Sid Luckman were playing in the league and was a four-time All-Pro. Served in World War 2 to cut down on the prime of his career and came back to see Bobby Layne and Otto Graham in pro football by that time. If he had been drafted to a better overall team, and not served in the war, Parker would be remembered a lot more fondly than just a name to check off the Hall of Fame checklist. 1955 is his first cardboard appearance.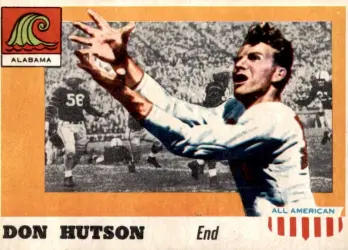 Don Hutson won MVP three times playing wide receiver. Eight of his 11 pro seasons, he was first-team All-Pro. Also lead the league in interceptions in 1940. Hutson didn't invent running designed routes, but he was the first to do it well. Couple this with an era where defenders were looking to stop the run, and he was a cheat code for quarterbacks to throw to. Held the leagues touchdown reception record for 44 years until Steve Largent broke it. Jerry Rice subsequently took that record, but Hutson was putting up legitimate receiving numbers in an era where less than 1,000 passing yards had a legitimate chance to lead the league. His 1936 Wheaties box cover is iconic for its rarity, desirability, and status as the real Hutson rookie. His 1955 Topps is one of the most desired cards in the set.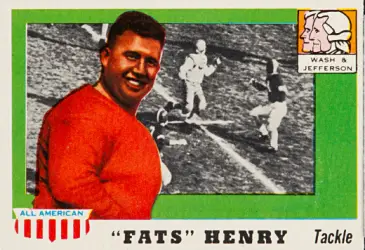 Wilbur Francis Pete 'Fats' Henry was a dominant offensive lineman in the early days of the NFL. Was All-American in college in 1918 and 1919, turned pro, and was first-team All-Pro his first four years. Suspended in 1924 for not playing for the team after they moved, then had injuries derail his career after. That being said, he was a first ballot pro and college football Hall of Famer. Guess the sentiment that moving your job hours away was a legit reason to not follow the team. 1955 is his first apperance on cardboard.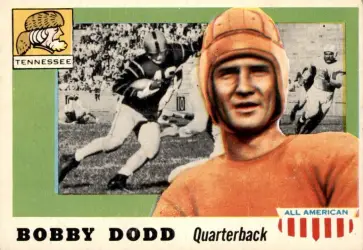 Our first non pro football Hall of Famer is Bobby Dodd. However, Dodd did make the College Football Hall of Fame in 1959 as a player, and 1993 as a coach. Coached Georgia Tech to the 1952 National Title.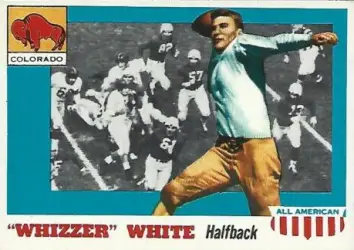 Byron 'Whizzer' White was a three-time NFL All-Pro and collegiate All-American. You think White would be known for football, but he was on the United States Supreme Court for three decades. White also served in World War II and wrote the dissenting opinion in the famous 1984 University of Oklahoma vs the NCAA case where Oklahoma sued the NCAA over the right to negotiate their own media rights deal. White felt that the NCAA should have ultimate control, an opinion that feels out of date with an era today where college players now get paid to play with name, image, and likeness. Likely a pro Hall of Famer if the war doesn't happen, and 1955 is his first card.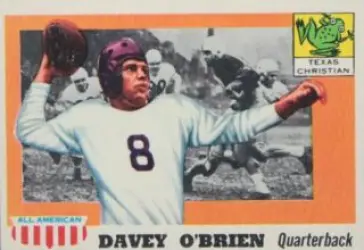 Davey O'Brien won the Heisman Trophy and reluctantly went on to play pro football. Partially due to wanting to explore outside interests, and partially because the Philadelphia Eagles were a dumpster fire during his two seasons, O'Brien retired after only two seasons. Both of those he was second-team All-Pro. Went on to join the FBI after football. Has the Davey O'Brien Award named after him given to college football's best quarterback. Has 1940 Wheaties prior to 1955 Topps.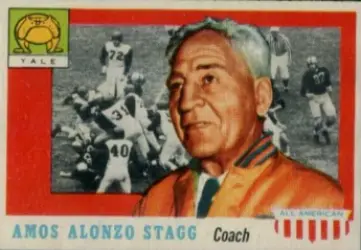 Stagg was a legendary coach after his playing career. Coached from 1890 to 1958 mostly as head coach of various colleges. Won two National titles, along with 12 divisional titles along the way. Has the Division III college championship game named after him. In an era where sport was not thought of beyond just that, Stagg was a giant of a figure. If the pro game existed earlier, good shot he's in the pro Hall of Fame vs just the collegiate one. Has a 1954 Quaker Oats card a year before 1955 Topps.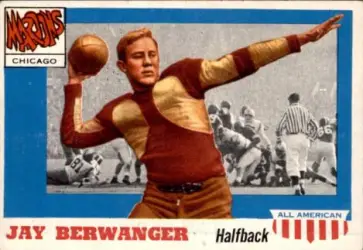 Jay Berwanger was the first pick of the first NFL Draft in 1936. Selected by Philadelphia, who was unable to meet his salary demands, he was traded to the Chicago Bears, who were also unable to meet his salary demands. Chose to work as a coach and do real work instead of just sports.
Many players not named above, sell among the highest within 1955 Topps All-American. Otto Graham, Knute Rockne, Sammy Baugh, Red Grange, Mel Hein, Sid Luckman, and Jim Thorpe are all sought after today. Thorpe gets $100 on the low end, and can be considered a rookie as his prior football cards are all in multi-sport sets. Add in his baseball and Olympic cards before, his 1933 Goudey commanding thousands of dollars, and his 1955 Topps All-American starts looking appealing as an option for the Hall of Fame rookie checklist.
College rarely gets cards today, even after name, image, and likeness passed the NCAA. Going back to an era where getting a burger was frowned upon as taking gifts for athletic achievement, and 1955 Topps All-American starts to look different in hindsight. The players barely got paid upon going to the NFL, much less had protection upon injury or pro team folding. The 100-card checklist is a good reflection of the sports past while setting the table for the future players to shine. The celebration of the game was long overdue, but with the depression, the war, and baseball being king of the era, the celebration occurred in 1955.
1955 Topps All-American Football Cards Set Checklist
1 Herman Hickman
2 John Kimbrough
3 Ed Weir
4 Erny Pinckert
5 Bob Grayson
6 Nile Kinnick
7 Andy Bershak
8 George Cafego
9 Tom Hamilton
10 Bill Dudley
11 Bobby Dodd
12 Otto Graham
13 Aaron Rosenberg
14a Gaynell Tinsley
15 Eddie Kaw
16 Knute Rockne
17 Bob Reynolds
18 Pudge Heffelfinger
19 Bruce Smith
20 Sammy Baugh
21 Byron White
22 Brick Muller
23 Dick Kazmaier
24 Ken Strong
25 Cas Myslinski
26 Larry Kelley
27 Red Grange
28 Mel Hein RC
29 Leo Nomellini
30 Wes Fesler
31 George Sauer Sr.
32 Hank Foldberg
33 Bob Higgins
34 Davey O'Brien 
35 Tom Harmon 
36 Turk Edwards 
37 Jim Thorpe
38 Amos Alonzo Stagg
39 Brud Holland
40 Donn Moomaw
41 Joe Alexander
42 Eddie Tryon
43 George Savitsky
44 Ed Garbisch
45 Elmer Oliphant
46 Arnie Lassman
47 Bo McMillan
48 Ed Widseth
49 Don Zimmerman
50 Ken Kavanaugh
51 Duane Purvis
52 Johnny Lujack
53 Jack Green
54 Eddie Dooley
55 Frank Merritt
56 Ernie Nevers
57 Vic Hanson
58 Ed Franco
59 Doc Blanchard
60 Tiger Hill
61 Charley Brickley
62 Harry Newman
63 Charlie Justice
64 Benny Friedman
65 Joe Donchess
66 Bruiser Kinard
67 Frankie Albert
68 The Four Horsemen
69 Frank Sinkwich
70 Bill Daddio
71 Bob Wilson
72 Chub Peabody
73 Paul Governali
74 Gene McEver
75 Hugh Gallarneau
76 Angelo Bertelli
77 Bowden Wyatt
78 Jay Berwanger
79 Pug Lund
80 Bennie Oosterbaan
81 Cotton Warburton
82 Alex Wojciechowicz
83 Ted Coy SP
84 Ace Parker
85 Sid Luckman
86 Albie Booth
87 Germany Schulz
88 Ralph Kercheval
89 Marshall Goldberg
90 Charley O'Rourke
91 Bob Odell
92 Biggie Munn
93 Willie Heston
94 Chuck Bernard
95 Chris Cagle
96 Bill Hollenback
97 Don Hutson
98 Beattie Feathers
99 Don Whitmire
100 Fats Henry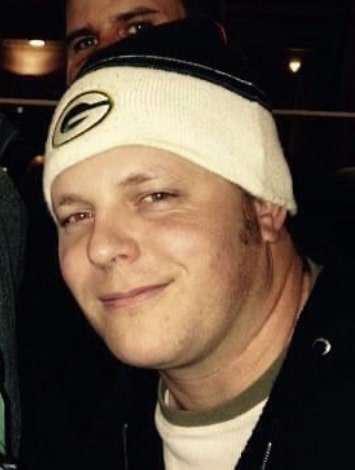 Paul. Card collector since 1993. Serious collector since 2014. PC Pro Football Hall of Famers regardless of team. Go Packers, Seminoles, New Jersey Devils, Milwaukee Bucks, and whoever I have money on in auto-racing. Would rather be found forging my own path than following the beaten one.