Joe Montana Football Cards are extremely desirable to many collectors. People often put Montana on the Mount Rushmore of Football Quarterbacks. 
Joe Montana is one of the greatest players of all time, and one of the hobby greatest football players too. A four-time Super Bowl champion, Montana was the face of the 1980's 49ers.
Yes, those were good teams, and blowout Super Bowl victories over the Broncos and Dolphins prove that, but he could win close games too. The Super Bowl win over the Bengals is an all-time moment. The 1994 nationally televised Monday Night Football game against the Broncos is a great watch today as well. Elway and Montana going back and forth, with Montana throwing a touchdown in the final seconds to take the win is epic.
Not just part of a great team, Montana won the MVP three times, was All-Pro five times, and went to the Pro Bowl in eight seasons. Twice each he led the league in passing touchdowns and rating, while five times he was passing percentage leader.
Montana also gets hobby love from winning a National Championship in college with Notre Dame in 1977. Pounding Texas in the Cotton Bowl, and before an era of the playoff or BCS ensuring number one plays number two, the polls decided Notre Dame was the champion. Plenty of people dislike Notre Dame, but they're still a national brand and every large show will have Montana autographs on Irish items.
How Much is a Joe Montana Football Card Worth
Besides the 1981 Topps rookie card, most 1980s Joe Montana football cards are cheap. You can find them under $15 in mid-grade condition. 
Most Valuable Joe Montana Football Cards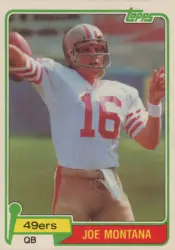 Montana's rookie card comes in 1981 Topps, despite being drafted in 1979. Steve Deberg was at least a competent starter, so Montana took over the starting job in 1980.
The 1981 Topps Montana card has some 1989 Upper Deck Ken Griffey, 1986 Fleer Michael Jordan, and 1989 Score Barry Sanders traits. PSA, SGC, and Beckett have graded approximately 36,000 copies as of writing. 
Despite the population, near-mint graded copies fetch $150-200. Gem mint copies are extremely hard to find, as 216 of the 36,000 are gem for those grading companies. Four copies do exist as Beckett pristine, and there are not Beckett black label 10's or SGC pristine gold labels.
About 2,900 do exist in mint condition graded. Long story short, early 1980's Topps cards are in great shape if they're near mint-mint, and true mint copies carry a good premium, as they should. They're truly rare. Sharing Hall of Fame rookie status in 1981 Topps are Kellen Winslow, Art Monk, and Dan Hampton.
Topps did collaborate with Coca-Cola to create team sets as throw ins with product, but the 49ers were not part of that list. Winslow and Monk do have significantly rarer Coke rookies, while Hampton and Montana do not.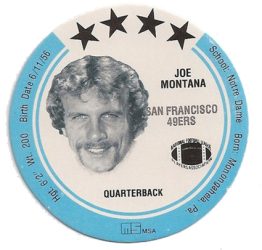 Our old friend the food release gives us an additional Montana rookie with 1981 Holsum discs. Regionally released, the set was distributed with bread, leaving many copies stained.
Montana features a photo from 1979 where he has some sweet facial hair displayed. A true rarity, PSA has graded 318 in the entire set, and 97 Joe Cool's. Raw copies typically fetch $30-40, while graded are whatever is agreed upon. 
They don't sell often enough graded to get real comparison sales. Add the staining and you might want a stained copy knowing it got 'pack pulled' instead of the one of the extra copies they made.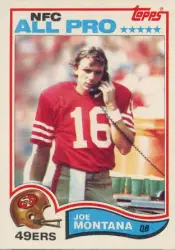 With Topps having the NFL license exclusively until 1989, 1982 Topps is a nice card to hold in high grade due to affordability. PSA 7's of his base Topps sell for around $20, and that feels cheap. 
Montana has a League Leaders dual card with Ken Anderson, an In Action solo card, three solo Topps Stickers inserts, and a team set Topps Sticker. None are overly valuable. Fleer also had a set in 1982 with the NFL license, but not the NFL Players Association, and Montana has two appearances in there. Those are value bin cards as well.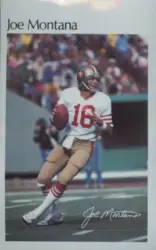 Our second oddball set comes with 1982 Sears. Distributed at the chain store, it only features 12 total cards. More valuable for the sake of rarity than chased after, the most valuable card is Walter Payton at around $40. Montana is normally $20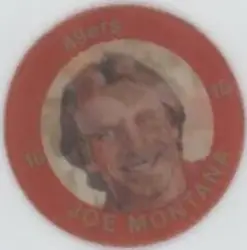 Check your local gas station for details on how to get a commemorative pog in 1983 from 7-11. Most players are around $10 in the 15-disc checklist. 
Marcus Allen is an alternative rookie, and draws the same $10. In 1984, 7-11 switched distribution to east and west side of the country. John Elway, Dan Marino, Eric Dickerson, and Warren Moon command premium if mint or gem mint. Most are $5-10 in 1984 as well ungraded.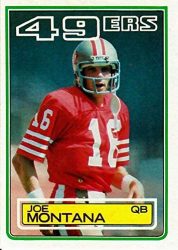 Montana has a base card, a Record Breaker, and four Stickers inserts in 1983. One of the stickers you need two cards to complete the photo. All of these can be found in the value bin. Marcus Allen is the main chase in 1983, and PSA 8 copies are $20-30.
Montana has various alternative cards in 1984 and 1985 Topps as well. Stickers, Instant Replay, Team or League Leaders cards are inserted just as a way to get Joe Cool on more cards. Not having one image to associate with him for any of these years more hurts them all price wise than creating some big chase to get them all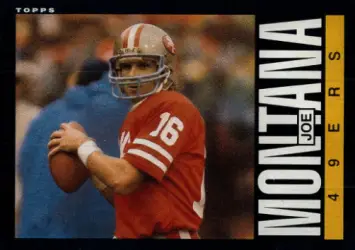 The chase in 1985 is the NFL rookie of Warren Moon. You can often find this Montana card in a bargain bin. 
High grades are expensive though, if you can somehow get a 9 you are looking at a $150+ card whereas a 10 can go for 4 figures.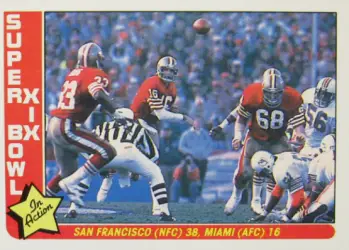 Fleer returns with the NFL license only again, similar to 1982, to create two additional dollar cards player collectors have to get.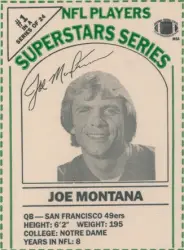 The hand cut bottom of the box will have different players with additional 'cards'. Montana is one of 16, and is around $10-20
Check your local McDonalds for eligibility to get a team sheet of 1986 cards. Distributed, and often today still sold in team sets, most teams are $10-20 and more rare than valuable. Even Montana is only $5-10. 
The chase cards are Jerry Rice, Reggie White, and Steve Young as alternate rookies. The Rice is legit money as they sell for $50-100, with even a near-mint copy being considered good and commanding premium. Unscratched versions are preferred, and command premium to the ones where someone tried to get an extra small fry in 1986.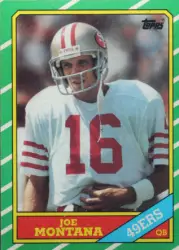 Montana has his normal sticker and league leader cards in 1986, in addition to his base card. The chase is the Jerry Rice rookie in 1986. 
Condition sensitive along the borders, a near-mint/mint copy is an exceptional grade, and carries premium. Mint or gem mint copies of any card in the set can fetch a lot just due to set collectors and scarcity of high grades.
1987 Wheaties Mini-Posters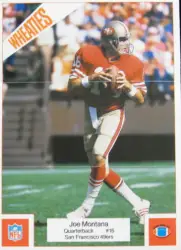 Inserted into cereal boxes, the 1987 Wheaties posters are more fun cards to chase. None of the 27 are overly valuable, but set collectors might have an issue finishing a set and might overpay for lesser collected players. Montana is $10-30.
1988 Kenner Starting Lineup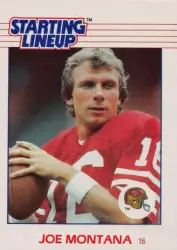 144 toys were released in 1988 with NFL players in poses. Some of the faces are funny to look back at, Montana in particular, for how far off they seem to be. With graded toys becoming more popular, many of the cards will be stuck in the package still. Many got tossed three decades ago as the toy was opened and played with. 
High grades of any Starting Lineup card are hard as they did not have a top loader or penny sleeve along with just banging around from the factory to the consumer. The card itself for Montana is around $10 while new in box versions are $50 or more.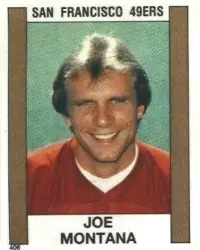 Meant for the sticker album released along with the packs, the Italian company made a set for Europeans to collect American football. None are overly valuable, and it's more of a note that Panini was
making stickers for decades prior to getting the NBA and NHL licenses, but Montana and the NFL does have a European set in the 1980's.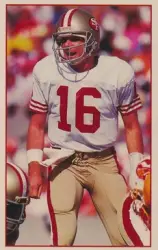 Be a kid and ask a police officer, or be an adult and commit a crime. Either way, the San Francisco Police had a 49ers team set in 1988. Commonly kept in pouches, high grade police cards can be hard to find and commonly were the ones kept at the station as extras.
 Oscar Meyer sponsored this set, along with the 1989 Detroit Barry Sanders alternate rookie. In 1984 Miami police had an alternate Marino rookie as well. The Joe Montana football card is more rare than valuable, but still requires a $20 bill most often.
1991 Arena Holograms Autographed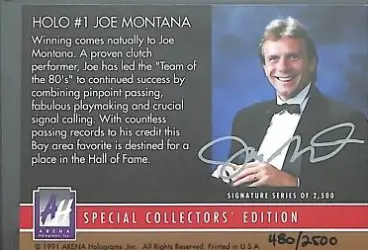 Numbered to 2,500, Montana's first autographed card is in 1991 Arena. If you're not familiar with 1991 Arena, they're sweet hologram cards, but they tried to break into cards in 1991 at the height of junk wax. It went poorly, probably as expected. 
The autographed copies are signed on the back, thus creating less demand than they should for the first Montana autograph. Considering most Montana autographs are $50-100 as is, these are a good one to choose at $50-75 if you only want one signed card of him. His 1992 Pro Line autographed card is another fine way to spend that $50-75.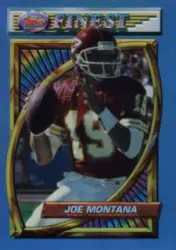 While not the first rare parallel, Wild Card Stripes and Action Packed 24 Karat Gold among the valuable ones, 1994 Finest had the first refractors. Two per box, these parallels are still chased after today across all sports. 220 are on the checklist, so 110 boxes are required per player on average. Montana is featured in a Chiefs uniform for this card.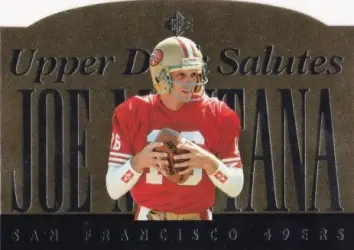 In 1995 SP had a card to commemorate Montana's career. Die cut the card was released one per case. Dan Marino also has a commemorative card one per case as well. Montana is also in 1994 and 1995 SP Holoviews, which have a die cut version that is rare enough to note, and a fantastic chase set featuring a holographic image along with a regular shot. 
Bryant Young, Isaac Bruce, and Curtis Martin are all lower tier Hall of Famers for collecting, but their best rookie cards are likely the SP Holoviews die cut version. Martin has a Finest Refractor as well while the other two do not.
1996 Upper Deck Game Jerseys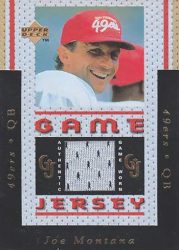 1-2,500 packs, 1996 Upper Deck game jerseys are extremely sought after. Montana being a part of the set is almost an afterthought due to it being the first memorabilia football set. The last two Montana's on eBay have done $843 and $1,825. It's a set you need some coin to put together. Most Montana one
color game used cards are $10-20, two color 49ers are $30-75, and three-color Chiefs cards are $50-100. Unique patches like a laundry tag are closer to $500 range but can easily eclipse if you have a game used NFL shield. Those are whatever two people agree to, but I would guess multiple thousands of dollars.
2013-2014 Fleer Retro Precious Metal Gems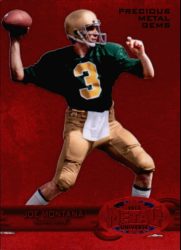 This is one of the most expensive post playing day Joe Montana Football Cards. Montana had retired by the time 1997 Fleer Metal Precious Metal Gems was released. 
However, he does get a PMG in 2013 and 2014 Fleer Retro. In 2013 he gets two versions with the traditional 1997 version and 1998 version as well. The 1997 throwback has blue, green, and red while the 1998 version has magenta, teal, and gold.
 For 2014, the PMG's have magenta, teal, and gold as well, but feature a totally different front design. Russell Wilson, Bobby Wagner, Davante Adams, Mike Evans, and Deandre Hopkins are the desired rookie PMG's, while Peyton Manning, Barry Sanders, Dan Marino, Jerry Rice, LaDainian Tomlinson, Steve Young, Aaron Rodgers, Ben Roethlisberger, Joe Namath, Drew Brees, and John Elway are desired on the veteran and/or retired list.
Final Thoughts on Joe Montana Football Cards
Joe Montana was elected into the Hall of Fame in 2000, his first year eligible, and essentially had his spot collecting dust after their second Super Bowl win. He's in the discussion for greatest player ever, and is only hurt in the hobby due to a large number of cards. Montana used to be shy about signing autographs, but not so much anymore. He's a fantastic player to collect due to his status as one of the best players of the 1980's. Reggie White and Jerry Rice have an argument as better overall players, but Montana was the face of the decade and the 49ers dynasty. Many collectors will want a Joe Montana Football card in their collector for a long time!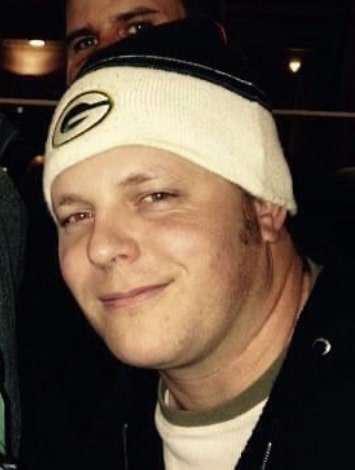 Paul. Card collector since 1993. Serious collector since 2014. PC Pro Football Hall of Famers regardless of team. Go Packers, Seminoles, New Jersey Devils, Milwaukee Bucks, and whoever I have money on in auto-racing. Would rather be found forging my own path than following the beaten one.