Yogi Berra baseball cards are extremely collectible by both Yankees fans and vintage collectors. One of the best catchers of all time, many want one in their collection. 
Larry "Yogi" Berra was born in 1925 in Missouri. He grew up in Italian culture and played many sports ranging from baseball to roller hockey. Berra acquired his nickname from a teammate who said he sat like a Hindu Yogi waiting to bat. 
In 1942, Berra was drafted to the Yankees and played on their minor league team. However, he didn't get to go right to the pros as he served in World War 2 from 1943 to 1946. It wasn't until later in the 1946 season that Yogi Berra made his debut.
Berra initially struggled as a catcher until 1949 when he became the primary catcher. Berra made himself known as a good hitter as he slammed 20 or more home runs for most of his years in the league. Not bad for a catcher.
In his career, Berra was a 3 time MVP and 10 time World Series winner. He was named an all-star in 18 out of his 19 seasons. 
After his playing days came to a close, Berra became a coach and a manager. He managed the Yankees and the Mets and found success there. After his manager days, Berra was awarded the Presidential Medal of Freedom which was a huge honor. 
Berra was renowned for for having funny remarks. For example he would say things like: "baseball is 90% mental and the other half is physical".  This added to his  lovable character that Yankees fans cherished.
Most Valuable Yogi Berra Baseball Cards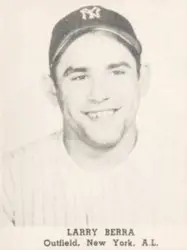 This is one Yogi Berra's first baseball card. This one is the most desirable as it looks nice and was not hang cut. PSA has only graded around 30 of these, so they are hard to come by. The condition on these cards is very sensitive as they were packaged with the bread.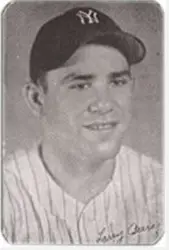 The Bond Bread Yogi Berra baseball card is considered somewhat controversial. This is because there are lots of reprints of this card around.
According to our research, only the square cornered cards actually came from bond bread (not the sharp cornered cards). This is why only the square corner ones are graded. The only cards with sharp corners from bond bread that are graded are the bond bread exhibits. Keep this in mind if you are looking to add this card to your collection 
1947 Sports Card Exchange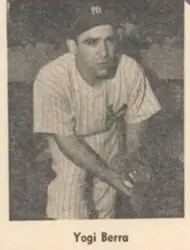 These cards were hand-cut. Surprisingly, there are some copies that have survived in nice condition. It's an interesting card and a cool alternative rookie card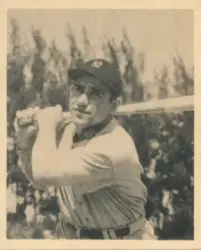 1948 Bowman Baseball is Berra's first mainstream release. It's his main rookie and  it's in black and white. You can find a PSA 4 for around $1,000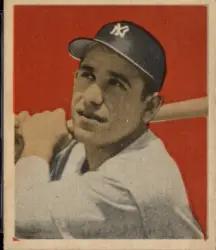 The 1949 bowman Yogi Berra baseball card has a distinct red background and is Berra's second bowman card. You can find lower grade versions for a few hundred dollars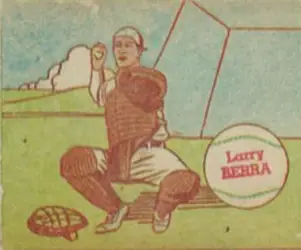 This card looks cartoonish and has light colors. The M.P. card is the first that shows Yogi in his catching gear. It's a unique card and one of his earliest cards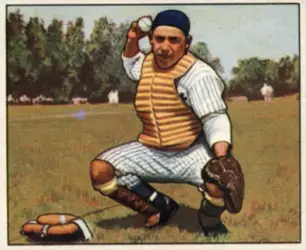 The 50 Bowman looks similar to the 49 M.P. card but has much better imagery. You can find low to mid grade versions for a few hundred bucks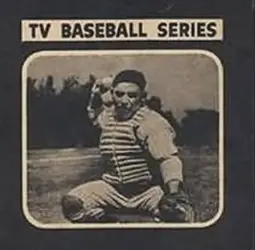 This card has the exact same image as the 50 Bowman. However, the picture is smaller and has a "television"  look to it. This card is fairly expensive as a PSA 7 recently sold for about $1,100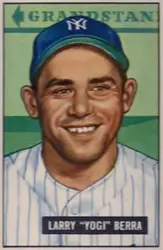 This is a good portrait drawing card of Berra. It says "Grandstan" in the background and gives off classic New York vibes. You can find raw low grade versions of this card for about $75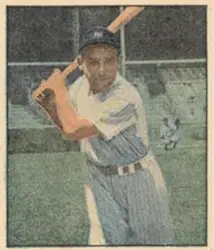 The Berk Ross card is perforated. This is because it's an attached card. He shares a card with Warren Spahn. This card sells for about $150 in low grade.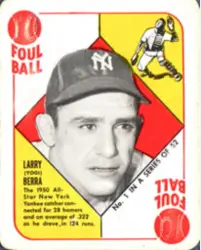 Contrary to popular belief, this is Topps's first baseball set. These cards have blue and red backs with the blue ones being rarer. You can get this card raw from around $50-75 in poor condition.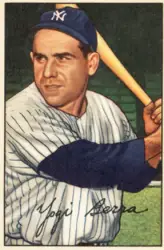 This card shows Berra batting. It can also be obtained for around $50-75 in low grade.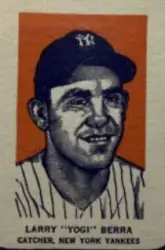 This is Berra's first Wheaties card. The card features the classic Wheaties colors It has rounded corners and is a fairly affordable card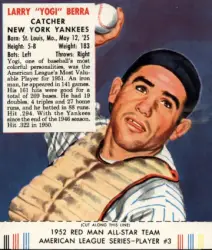 This is an oversized card and Red man's first card. Believe it or not, Redman was a tobacco company. They are unique because most tobacco companies did not produce oversized cards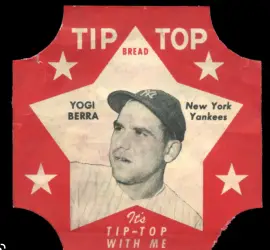 Tip Top Bread also made cards in 1952. However, this one looks vastly different from the 47 release. It has an odd shape to it and is very rare. Certainly a card collectors would pay a premium for.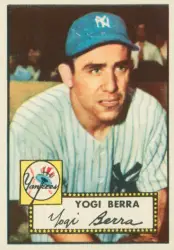 The iconic 1952 Topps baseball card set features Yogi Berra. His card is not a high number and is fairly affordable low grade versions go for a few hundred bucks, however higher grade versions can easily climb into the thousand dollar range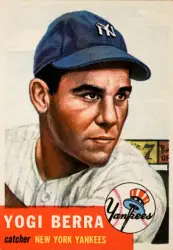 The 1953 Topps may be the best-looking Yogi Berra baseball card. A PSA 7 recently sold for $1,275. This is a very high grade because of the red color border at the bottom. Most examples are heavily damaged and wear shows easily.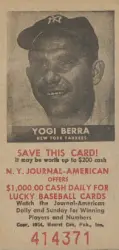 These cards a long in size and made up of New York players. It's scarce and can demand a bit of a premium.
1955 All-American Sports Club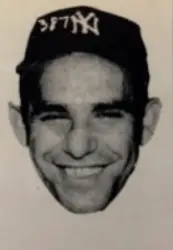 These cards are hand cut and a multi-sport release. Basketball, Football, and many other sports are also featured in this set. Its smaller in size and can sell for a few hundred bucks in low grade.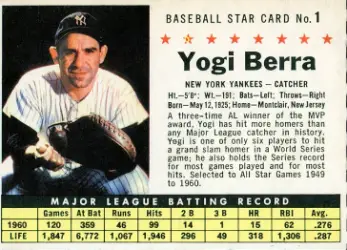 This is Berra's first cereal card. It was hand cut and came on the back of a cereal box. This is a very affordable card and can be found for about $10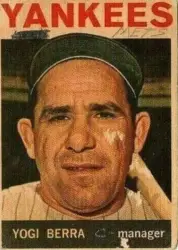 This is Yogi's first Venezuelan card. It's not too expensive, but certainly outsells the normal Topps version.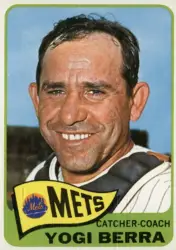 This is Berra's final playing day card. It's extremely affordable. Crazy how his career spanned 3 different decades.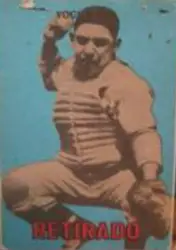 This Yogi Berra baseball card was issued shortly after his career was finished. It was part of the Retirado Venezuelan set which is filled with Hall of Famers. 
Final Thoughts on Yogi Berra Baseball Cards
With Mantle prices increasing year after year, I believe that Yogi Berra baseball cards will continue to follow that path. While he may not have had the stats Mantle did, he was still popular even outside the Yankees fanbase.