After the 1957 Topps set, basketball cards weren't produced for four years. In 1961, Topps did not make a basketball set; Fleer did. This set has vibrant colors in the background of each card which make it easily recognizable. It also contains rookie cards of many Hall-of-Famers and is considered a small set with only 66 cards overall.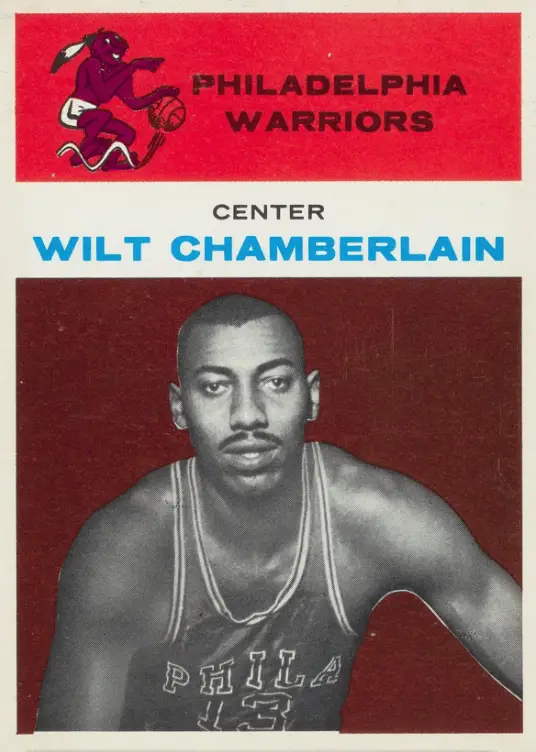 The most infamous of which is the Wilt Chamberlain card. It depicts him on the Philadelphia Warriors with a maroon background.
Wilt Chamberlain averaged 30 points and 22 rebounds a game over his entire 15 year  career. During this time, Chamberlain was a 2x NBA champ, 4x MVP, 7x scoring champ, and also once won the assist champ title as well. He also once scored 100 points in a single game!

One fact about Wilt Chamberlain that most people don't know is that he was not only inducted in the basketball hall of fame but also in the volleyball hall of fame.
According to the data above, there aren't too many Wilt Chamberlain's out there as it's a fairly uncommon card. It's been trending up down and is between the $4,000 – $6,000 range.
This was grabbed from Market Movers. Get your first month for $1 using code BREAKOUT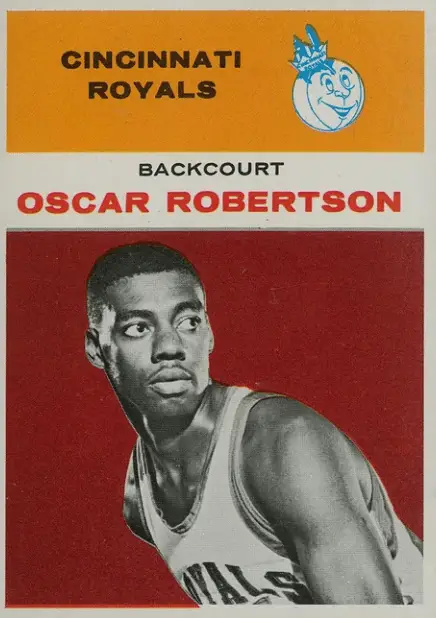 Robertson averaged 25 points 7 rebounds and 9 assists per game for his career. That means he almost averaged a triple double. The big O was a 6x assist champ who also won the MVP and NBA champion.
Believe it or not, Robertson hase a card that predates the 1961 Fleer. It's in the 1960 Kahn Weiners set and it's an oversized card.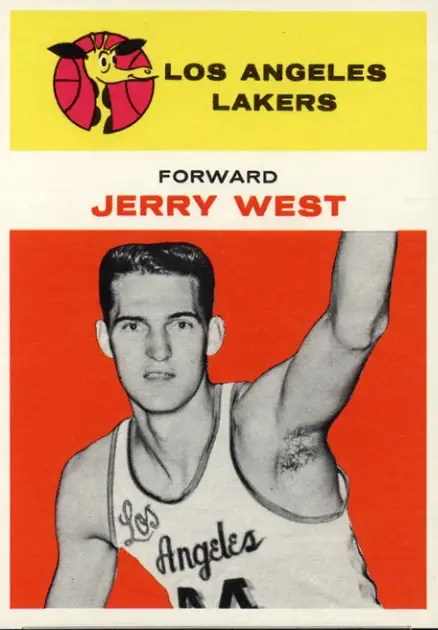 West averaged 27 points, 5 rebounds, and 6 assists per game. He also won one NBA championship, a scoring champ, and was an all-star in every season of his career.
Similar to Robertson, West also has his debut card in the 1960 Kahn's Wieners set.
As mentioned earlier, the 1961 Fleer cards do have a colorful background and these colors do vary. On the front, the top of these cards have the team name of the player and the logo on the top left. The position and name of the player are below the team name. Below all the text is a picture of a player.
The backs of these cards are horizontal. On the right, there is a teal stripe with the card number circled. The text on this card has an in-depth bio and stats on the bottom of 1960-61 and the player's whole career.
One unique aspect of this set is that it has an "In Action" card of some of the players in the set. These are unique as most sets don't have two separate cards of certain players. Out of the 66 cards in the set, 22 of them are "In Action" cards. Here is a checklist down below of the 66 cards in this set.
1961 Fleer Basketball Checklist:
*Cards 45-66 are In Action
1 Al Attles
2 Paul Arizin
3 Elgin Baylor
4 Walt Bellamy
5 Arlen Bockhorn
6 Bob Boozer
7 Carl Braun
8 Wilt Chamberlain
9 Larry Costello
10 Bob Cousy
11 Walter Dukes
12 Wayne Embry
13 Dave Gambee
14 Tom Gola
15 Sihugo Green
16 Hal Greer
17 Richie Guerin
18 Cliff Hagan
19 Tom Heinsohn
20 Bailey Howell
21 Rod Hundley
22 K.C. Jones
23 Sam Jones
24 Phil Jordon
25 John Kerr
26 Rudy Larusso
27 George Lee
28 Bob Leonard
29 Clyde Lovellette
30 John McCarthy
31 Tom Meschery
32 Willie Naulls
33 Don Ohl
34 Bob Pettit
35 Frank Ramsey
36 Oscar Robertson
37 Guy Rodgers 
38 Bill Russell
39 Dolph Schayes
40 Frank Selvy
41 Gene Shue
42 Jack Twyman
43 Jerry West
44 Lenny Wilkens
45 Paul Arizin 
46 Elgin Baylor
47 Wilt Chamberlain
48 Larry Costello
49 Bob Cousy
50 Walter Dukes
51 Tom Gola
52 Richie Guerin
53 Cliff Hagan
54 Tom Heinsohn
55 Bailey Howell 
56 John Kerr 
57 Rudy Larusso
58 Clyde Lovellette
59 Bob Pettit 
60 Frank Ramsey 
61 Oscar Robertson
62 Bill Russell 
63 Dolph Schayes 
64 Gene Shue 
65 Jack Twyman 
66 Jerry West