1966 Philadelphia Football Cards takes the cake for the four years Philadelphia made football cards. The two most valuable cards across all four years of Philadelphia appear in 1966, and they appear on the same team, both as rookies. Gale Sayers and Dick Butkus are both no-brainer Hall of Famers that with a 22-year gap (1963 to 1985) between Bears championships give them more focus among Chicago collectors. Like the other Philadelphia sets, a recently retired Jim Brown, Johnny Unitas, and Bart Starr are among the most valuable non-Bears mentioned previously.
Most Valuabld 1966 Philadelphia Football Cards
Butkus is a top tier Hall of Fame linebacker as an eight-time All-Pro and two-time Defensive Player of the Year. Was named the most feared tackler of all time by NFL Network in 2009. Retired young due to knee injuries, but Butkus had a skill set to play in any era of the game.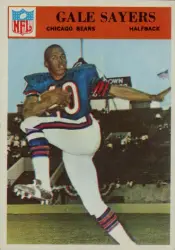 Sayers was generational talent who was only injuries away from being remembered equally to Payton, Brown, Grange, and Tomlinson. First-team All-Pro every year he wasn't injured, his speed and vision were second to none. 
Sayers was also the best kick returner during his time as well. His highlight package is must watch. The acceleration and moves leave defenders looking silly frequently. This is one of the most iconic 1966 Philadelphia Football cards.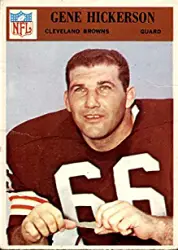 Hickerson was a seven-time All-Pro selection and a key member of the 1964 Browns title team. The Browns had the league's leading rusher seven of his ten pro seasons. Suffered from dementia and thus has an autograph worth more than the average fan would realize.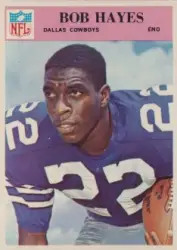 Hayes won two gold medals in the 1964 Olympics in the 100 meters and 4×100 meter relay. Drafted by the Cowboys despite not playing college football, Hayes upside was immediately realized. 6'0" 187 LBs might not seem big today, but in the 1960's it was. 
Add on gold medal speed with a team good enough to use him to his strengths, Hayes was a threat for a long touchdown on every play. In modern terms, think Tyreek Hill with more size, but less agility. 
Hayes tends to be worth more than you would think in high grade just from a combination of the Cowboys fanbase, along with not getting into the Hall until 2009. It wasn't thought of as a priority to have high grades until after he got in. Even in 1966 you would see Butkus or Sayers in high grade and take care of it. Hayes did not get this treatment.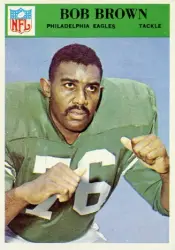 Brown was thought of highly enough to be taken 2nd overall (Eagles) and 4th (Broncos) in the NFL and AFL draft. That means the Broncos thought highly enough of him to use a first-round pick for the chance to negotiate a contract, and lose. 
Brown also backed up this hype by being named All-Pro nine times in ten pro seasons. Traded twice, both times because of contract issues, and kept performing at a high level. Retired early due to knee injury, but Brown's status as a legend was long cemented.
Final Thoughts on 1966 Philadelphia Football Cards
There is a very true element that 1966 Philadelphia Football Cards is only three cards (Butkus, Sayers, and Hayes), or six if you include the established stars (Unitas, Brown, and Starr). However, the set does become more iconic as a whole with the help of those three cards. 
Just like 1965 Topps is enhanced by Joe Namath, and 1986 Fleer is enhanced by Michael Jordan, 1966 Philadelphia is a great representation of the era. The entire Hall of Fame group Unitas played with, and seven Packer Hall of Famers grace the checklist. Canton is well represented in 1966 Philadelphia with 37 of the 198 cards on the checklist eventually gaining a bronze bust.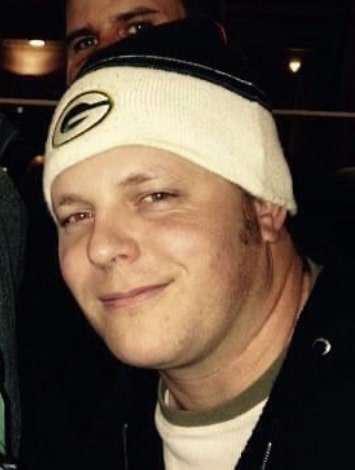 Paul. Card collector since 1993. Serious collector since 2014. PC Pro Football Hall of Famers regardless of team. Go Packers, Seminoles, New Jersey Devils, Milwaukee Bucks, and whoever I have money on in auto-racing. Would rather be found forging my own path than following the beaten one.