This is Fleer's third consecutive set produced in the 80s. Prior to 1986, The 1961 Fleer set was the first basketball set that this company produced. Crazy how Fleer didn't produce a basketball set for 25 years after their initial set. 
Keep in mind, this set was created during the junk wax era, so prices for most cards are relatively cheap. However, there are still a few cards that hold some value.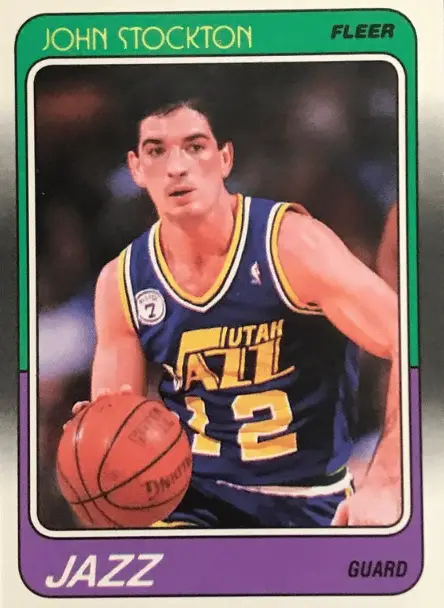 John Stockton was one of the best point guards of all-time. He holds the all-time record for most assists during a career with over 15,000. Additionally, he was the assist champ 9 times in his 19 year career as a member of the Utah Jazz. Crazy how he led the NBA in assists for almost half of his career.  Stockton averaged a double double in his career with 13 points and 10 assists per game.
This card is considered one of Stockton's rookie cards. He also has XRCs in the 1984 Star sets which is the first year he appears on a card. However, the Star sets are not technically full sets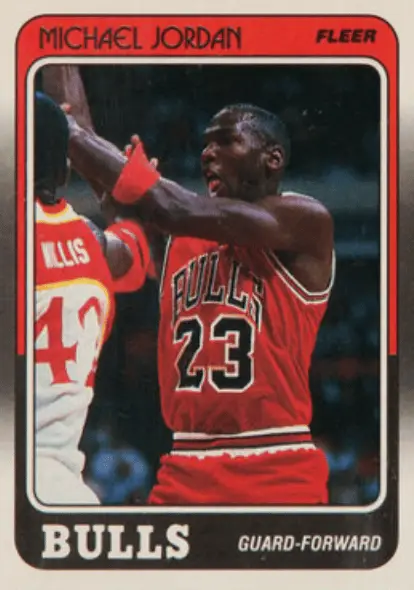 Jordan is considered by many to be the best basketball player of all-time. He was drafted into the NBA in 1984, however some consider his 1986 Fleer card to be his rookie card because it's the first Michael Jordan card in a full flagship set. This card depicts Michael Jordan's 3rd year in a true full set.
Jordan shined as an all-star when he entered the league. He took a lackluster Bulls team from the bottom of the league to NBA champions.
Jordan has many insane accolades including being a 6x NBA champ, 5x MVP, 10x scoring champ, rookie of the year, and defensive player of the year.  Crazy how he accomplished almost everything amazing a player would ever dream of during his career.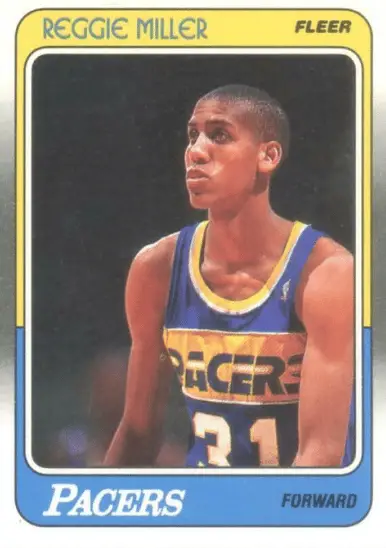 Reggie Miller played for the Indiana Pacers for 18 years. He averaged 18 points a game and was one of Michael Jordan's key rivals. His rookie card comes from this set as he was drafted in 1987.Nowadays, you can find him on TV as an NBA commentator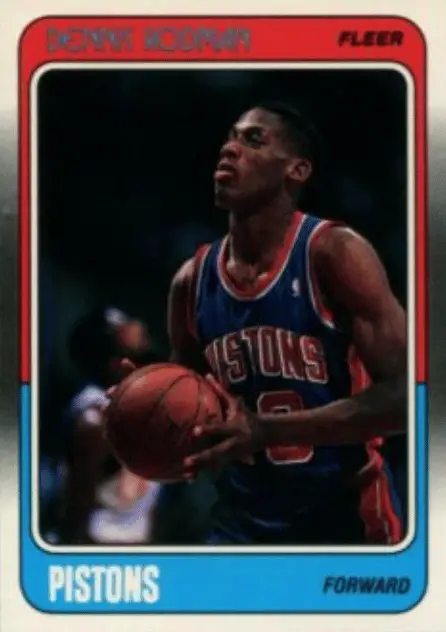 Dennis Rodman was nicknamed "the worm" for his ability to get between defenders and grab rebounds. He wasn't well known in college and definitely made his mark in the NBA. Rodman averaged 7 points and 13 rebounds a game. Insane how he averaged almost twice as many rebounds as points in his entire 14 year career. He also led the league in rebounding for half of his years in the NBA.
His additional accolades include winning defensive player of the year twice and being a 5 time NBA champion.
In this set, there are 132 cards and 11 sticker cards. The cards are normally sized and all 11 players with sticker cards are notable all-stars. Due to these cards being readily accessible, only cards graded by a professional company in a 9 or a 10 hold their value.
The design of the cards are weird as are different sizes and fonts of the player's name, team name, and position on the front of the card. The colors on the outer part of the card match the player's team in a simplistic design.
As far as the back of the card goes, The player's name, card number, vital stats, and basketball stats are shown. There is no player bio which is typical of more modern cards.
1988 Fleer Basketball Checklist
1 Antoine Carr 
2 Cliff Levingston
3 Doc Rivers
4 Spud Webb 
5 Dominique Wilkins 
6 Kevin Willis – Atlanta Hawks
7 Randy Wittman 
8 Danny Ainge
9 Larry Bird 
10 Dennis Johnson 
11 Kevin McHale 
12 Robert Parish 
13 Muggsy Bogues 
14 Dell Curry 
15 Dave Corzine 
16 Horace Grant 
17 Michael Jordan 
18 Charles Oakley 
19 John Paxson 
20 Scottie Pippen 
21 Brad Sellers  
22 Brad Daugherty 
23 Ron Harper 
24 Larry Nance
25 Mark Price 
26 John Williams 
27 Mark Aguirre 
28 Rolando Blackman 
29 James Donaldson 
30 Derek Harper 
31 Sam Perkins 
32 Roy Tarpley 
33 Michael Adams 
34 Alex English 
35 Lafayette Lever
36 Blair Rasmussen 
37 Danny Schayes 
38 Jay Vincent 
39 Adrian Dantley 
40 Joe Dumars 
41 Vinnie Johnson 
42 Bill Laimbeer 
43 Dennis Rodman 
44 John Salley 
45 Isiah Thomas 
46 Winston Garland 
47 Rod Higgins 
48 Chris Mullin 
49 Ralph Sampson
50 Joe Barry Carroll 
51 Sleepy Floyd
52 Rodney McCray 
53 Akeem Olajuwon 
54 Purvis Short
55 Vern Fleming 
56 John Long 
57 Reggie Miller 
58 Chuck Person 
59 Steve Stipanovich
60 Wayman Tisdale 
61 Benoit Benjamin 
62 Michael Cage 
63 Mike Woodson 
64 Kareem Abdul-Jabbar 
65 Michael Cooper 
66 A.C. Green 
67 Magic Johnson
68 Byron Scott 
69 Mychal Thompson 
70 James Worthy
71 Dwayne Washington 
72 Kevin Williams 
73 Randy Breuer 
74 Terry Cummings
75 Paul Pressey 
76 Jack Sikma 
77 John Bagley 
78 Roy Hinson 
79 Buck Williams 
80 Patrick Ewing 
81 Sidney Green 
82 Mark Jackson
83 Kenny Walker 
84 Gerald Wilkins 
85 Charles Barkley 
86 Maurice Cheeks 
87 Mike Gminski
88 Cliff Robinson 
89 Armon Gilliam 
90 Eddie Johnson 
91 Mark West 
92 Clyde Drexler 
93 Kevin Duckworth 
94 Steve Johnson 
95 Jerome Kersey 
96 Terry Porter
97 Joe Kleine 
98 Reggie Theus 
99 Otis Thorpe 
100 Kenny Smith 
101 Greg Anderson 
102 Walter Berry 
103 Frank Brickowski
104 Johnny Dawkins 
105 Alvin Robertson 
106 Tom Chambers 
107 Dale Ellis 
108 Xavier McDaniel 
109 Derrick McKey 
110 Nate McMillan 
111 Thurl Bailey 
112 Mark Eaton 
113 Bobby Hansen  
114 Karl Malone 
115 John Stockton
116 Bernard King 
117 Jeff Malone 
118 Moses Malone 
119 John Williams 
120 Michael Jordan 
121 Mark Jackson 
122 Byron Scott 
123 Magic Johnson 
124 Larry Bird 
125 Dominique Wilkins 
126 Akeem Olajuwon 
127 John Stockton
128 Alvin Robertson 
129 Charles Barkley 
130 Patrick Ewing 
131 Mark Eaton 
132 Checklist (#1-132)
1988 Fleer Basketball Sticker Checklist
1 Mark Aguirre
2 Larry Bird
3 Clyde Drexler 
4 Alex English 
5 Patrick Ewing
6 Magic Johnson 
7 Michael Jordan
8 Karl Malone
9 Kevin McHale 
10 Isiah Thomas
11 Dominique Wilkins