The 1986 Rock Stars were a Brazilian Sticker set that featured many of the Rock & Pop artists of the 70s and 80s. Within the set you can find both band and solo cards of Motley Crue, Metallica, Van Halen, and Twisted Sister.
These stickers are extremely tough to source and many that you find will not have backs.
During this era of Brazil stickers, backs were peeled off and put into albums. These stickers are also often miscut and deal with staining.
Este Cromo E Parte Integrante Do Livro Ilustrado "Rock Stars"
Translated: This Sticker Is An Integral Part Of The Illustrated Book "Rock Stars"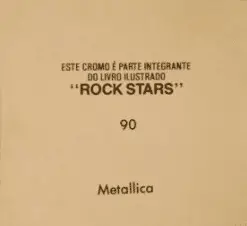 While the first-ever Motley Crue card to showcase the band was in 1984, the solo rookie cards were first present in 1986. Nikki Sixx is the only member to have a dual sticker. While the other members have single panels. 
In 1985 Motley Crue had just released Theatre of Pain which featured hits like Smokin' in The Boys Room & Home Sweet Home. 
While Aerosmith has an earlier release in the 1978 Sgt. Pepper release, this is the first solo card of lead singer Steven Tyler. 
Besides fronting Aerosmith Tyler spent a few years as one of the judges of hit show American Idol and recorded a solo country album.
Metallica has an earlier Album card in 1984, but these were the first cards to showcase the faces of band members. 
Three rookies are in the set, the full band (#84/85), Lars Ulrich #88, and James Hetfield. The Hetfield is actually an error card as the back mentions Kirk but uses a picture of James. 
This set would also be the only cards to feature Cliff Burton before he passed away. In September of 86 Cliff had passed away when the Metallica bus crashed in Sweden.
Metallica (Lars Ulrich) #88
Kirk Hammet (James Hetfield) #89
1986 was a pivotal year for the Band. With the release of Slippery When Wet came the singles: Living on a Prayer, You Give Love a Bad Name, and Wanted Dead or Alive. Bon Jovi has an earlier Rookie card within the 1985 Wonder Bread Rock Stars set. It's quite common to find in comparison to the 1986 Rock Stars. 
Jon Bon Jovi, the lead singer, has his first solo appearance in the set. 
Sammy Hagar (Van Halen) #178
In 1985 David Lee roth would leave Van Halen to pursue a solo career. Later that year Sammy Hagar would perform with Van Halen for the first time at Farm Aid. 
Many Van Halen fans are split over Roth vs Hagar. Both are featured in the set, however this is the first Van Hagar card.
1986 Rock Stars Checklist
1 Tina Turner e Brian Adams
2 Tina Turner/Mad Max
3 Tina Turner e Mick Jagger
4 Tina Turner
5 Roland Orzabal (Tears for Fears)
6 Curt Smith (Tears for Fears)
7/8 Tears for Fears
9/10 Motley Crue
11/12 Nikki Sixx (Motley Crue)
13 Motley Crue
14 Nikki Sixx (Motley Crue)
15 Tommy L (Motley Crue)
16 Nick Mars (Motley Crue)
17/18 Motley Crue
19 Vince Neil (Motley Crue)
20/21 Angus Young (AC/DC)
22/23 Brian Johnson (AC/DC)
24 W.A.S.P
25 Chris Holmes (W.A.S.P)
26 Blackie Lawless (W.A.S.P)
27 Randy Piper (W.A.S.P)
28 Aerosmith
29/30 Steve Tyler/Aerosmith
31/32 RATT
33 RATT
34 Robin Crosby (RATT)
35 Stephen Pearce (RATT)
36 Warren De Martini (RATT)
37 Joan Croucien (RATT)
38 Yngwie Malmsteen
39 Yngwie Malmsteen
40/41 Madonna 
42 Madonna
43 Madonna/Procura-se-Susan
44 Madonna
45 Madonna
46/47 Prince
48 Prince
49 A-Ha
50 A-Ha
51 Til Tuesday
52/53 Bruce Springsteen
54 Bruce Springsteen
55/56 Bruce Springsteen
57/58 Duran Duran
59/60 Simon Le Bon (Duran Duran)
61 Duran Duran
62 Nick Rhodes (Duran Duran)
63/64 Power Situation
65 Robert Taylor (Power Situation)
66 John Taylor (Power Situation)
67/68 Billy Idol
69 Billy Idol
70 Billy Idol
71 Scritti Politti
72/73 Scritti Politti
74/75 Depeche Mode
76/77 Eddie (Iron Maiden)
78/79 Bruce Dickinson (Iron Maiden)
80 Steve Harris (Iron Maiden)
81 Iron Maiden
82 Bruce Dickinson (Iron Maiden)
83 Iron Maiden
84 Nicko McBrain (Iron Maiden)
85/86 Metallica
87 Metallica
88 Metallica
89 Kirk Hammet (Error Shows James Hetfield)
90 Metallica
91/92 U-2
93 Bono Vox (U2)
94 Bono Vox (U2)
95 Euritymics
96 Euritymics
97 Rick Springfield
98 Rick Springfield
99 The Cure
100 Robert Smith (The Cure)
101 The Cult
102 Culture Club
103/104 Boy George
105 G.I. Orange
106 The Smiths
107 The Smiths
108 The Smiths
109 Thompson Twins
110 Marillion
111 Phil Collins
112 Howard Jones
113 Vandemberg
114 Corey Hart
115 Echo & The Bunnyman
116 Mick Jagger (Rolling Stones)
117/118 Frankie Goes to Hollywood
119 Holly Johnson
120/121 Dee Snider (Twisted Sister)
122 A.J. Pero (Twisted Sister)
123 Dee Snider (Twisted Sister)
124 J.J French (Twisted Sister)
125 Twisted Sister
126 Dee Snider (Twisted Sister)
127 Stryper
128 Stryper
129 Pretty Maids
130 Jimmy Page/Led Zeppelin
131/132 Joe Elioitt (Def Leppard)
133 Def Leppard
134 Joe Elioitt (Def Leppard)
135 Def Leppard
136/137 Sting
138 Sting
139 Sting
140/141 Queen
142 Freddie Mercury/Queen
143 Sade
144 Jin Kerr/Simple Minds
145 Simple Minds
146 John Waite
147/148 Cindy Louper
149 Cindy Louper
150 Mark Knopfler (Dire Straits)
151 Dire Straits
152/153 Keel
154/155 Vandemberg
156 David Bowie
157 David Bowie
158 Jon Bon Jovi
159 Bon Jovi
160 Midnight Oil
161 Y&T
162 Y&T
163 Heart
164 Whitesnake
165 Kiss
166 Gene Simmons/Kiss
167/168 Ronnie James Dio
169 Dio
170 Ronnie James Dio
171 Brad Gillis/Night Ranger
172 Night Ranger
173 Night Ranger
174/175 David Lee Roth (Van Halen)
176 Van Halen
177 Eddie "Ban Halen"
178 Sammy Hagar (Van Halen)
179 David Lee Roth (Van Halen)
180 Pete Burns/Dead or Alive
181/182 Dead or Alive
183 Pete Burns/Dead or Alive
184/185 Quiet Riot
186 Kevin Dubrown (Quiet Riot)
187 Quiet Riot
188 Carlos Cavazo (Quiet Riot)
189 Exploited
190 ZZ Top
191 Palm Springs
192 INXS
193 Jeff Beck
194 Julian Lennon
195/196 Wham
197 Andy (Wham)
198 George Michael (Wham)
199/200 Accept
201 Udo (Accept)
202 Accept
203 Wolf Hoffman (Accept)
204 Malice 
205 R.E.M
206 Judas Priest
207 Judas Priest
208 Rob Halford (Judas Priest)
209 Judas Priest
210/211 Judas Priest
212 Judas Priest
213/214 Deep Purple
215 Richie Blackmore (Deep Purple)
216 Deep Purple
217 Ian Gillan (Deep Purple)
218 Roger Glover (Deep Purple)
219/220 David Coverdale (Deep Purple, Whitesnake)
221/222 Peter Biff Byford (Saxon)
223 Saxon 
224 Peter Biff Byford (Saxon)
225/226 Scorpions
227 Claus Meine (Scorpions)
228 Scorpions
229 Dokken
230 Dokken
231 Geoge Lynch (Dokken)
232 Dokken
233 Go West
234 Daryl Hall & John Oates
235 Sheila E
236 Foreigner
237/238 Autograph
239 Steve Linch (Autograph)
240 Autograph
241 Paul Young
242 Bob Geldof
243 Stevie Wonder
244 Fine Young Cannibals
245 New Order
246 Lemmy/Motorhead
247 Brian Adams
248 John Cougar
249 Tigers of Pan Tang
250 Rudy Sarzo
251 Ozzy Osbourne
252/253 Ozzy Osbourne