A Johnny Bench baseball card is a must for any serious vintage collector. One of the best catchers of the 60/70s, Bench has many different Topps releases including rare test issues and cards from Canada and Venezuela.
Johnny Lee Bench was born in 1947 in Oklahoma. His father was a semi-professional baseball player. Despite being in a smaller town, Bench grew to love the game of baseball. He excelled in both baseball and basketball in high school.
Believe it or not, Bench was known as a great fastball pitcher in high school, but also learned the role of the catcher. When Bench turned 17, he was offered scholarships in baseball or basketball, however he was also drafted by the Cincinnati Reds organization. I think we all knew which path he took.
Unfortunately, early in his minor league career, Bench broke his finger playing and got into a serious car accident while recuperating back home. Despite the setbacks, he played the next season and eventually got called up to the Reds major league team. 
In his first year, Bench won his first golden glove and rookie of the year. Johnny Bench was a key force that drove the Big Red Machine which was when the Reds dominated baseball.
Bench is considered as arguably the best catcher of all time. He won 2 MVPs, 2 World Series with the Reds, and 10 golden gloves in his 17 year career. He had 75 WAR and almost 400 home runs in his career as a catcher
Most Valuable Johnny Bench Baseball Cards
This is considered Bench's flagship rookie card. He shares a card with Ron Tompkins who was a rookie pitcher for the Reds as well. Shared rookie cards were typical in this era as even Nolan Ryan shared a card with Jerry Koosman. There is also a Venezuelan version of this card which is extremely scarce.
The 1968 Topps is Bench's first appearance in a mainstream set. This card is fairly affordable as you can get a PSA 6 for about $400.
The Venezuela version is very rare and condition sensitive. There have only been 20 copies graded by PSA and the highest example is a PSA 6 (only 1 PSA 6 in existence). Even a low grade example will cost you north of $1,000
Johnny Bench Rookie Card Value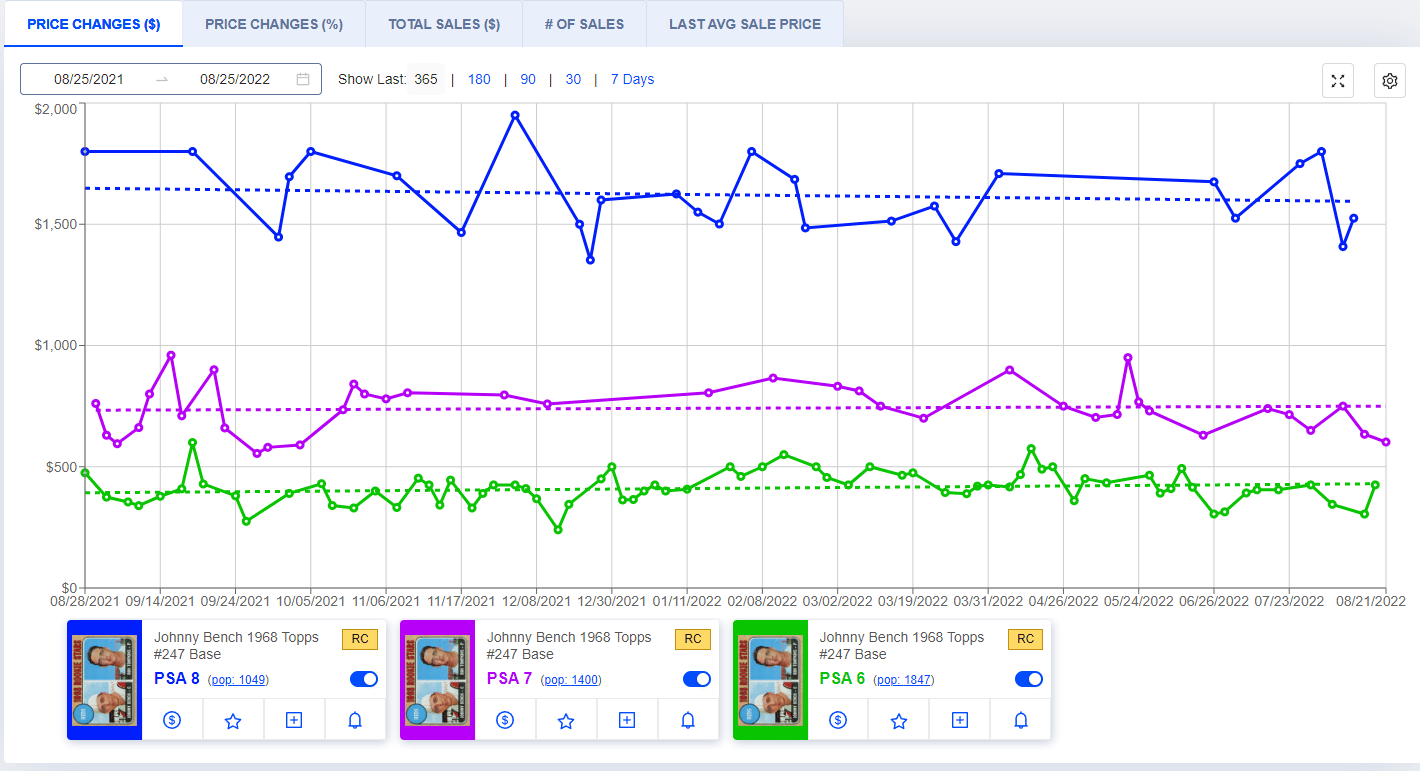 The above chart shows the prices of a PSA 6,7, and 8 Johnny Bench Rookie Card. This was grabbed from Market Movers. Get your first month for $1 using code BREAKOUT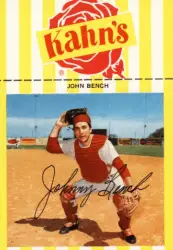 This is one of Johnny Bench rookie cards with just him in it. The card came from Kahn's wieners which was a hot dog company. This was one of the last years this company produced cards and considered to be a tough regional release.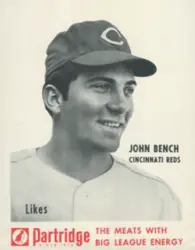 The Partridge Reds is an oversized card. For reference, its not as big as a cabinet card, but bigger than the previous Kahns card that we talked about.
This card was given to people when they bought meat. The card is in black and white, however the ad is in a bright red text so it can stand out.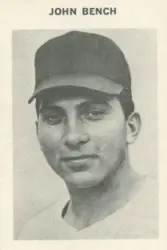 The Milton Bradley is considered one of Bench's second year cards. Unlike the Nolan Ryan rookie card, Bench doesn't have a Milton Bradley version. 
This is his first Milton Bradley and its a little bland looking, but still a cool card.
The 69 Topps a second year Johnny Bench baseball card. Even though it has a rookie cup symbol, it's still considered a second year card. There are two versions: the Topps and O-Pee-Chee. The OPC version differs from the Topps because it is lighter in appearance and has "Made in Canada" written on the back. Additionally, the OPC has a noticeable rough cut edge.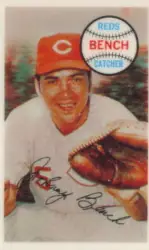 These Kelloggs cards came with… you guessed it, Kelloggs cereal. They featured shiny holographic looking backgrounds and were thinner cards in terms of width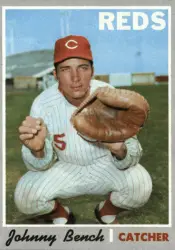 Along with the Kelloggs, this is Bench's 3rd year card. This is considered a high number which means it was printed less often then some other cards in the set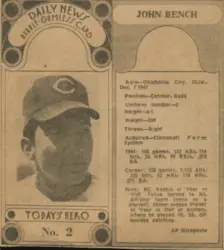 This card was hand-cut and has a very unique look to it. 
The Dayton Daily News was a regional set out of Ohio. The player's picture is shown on the left and there is a player bio shown on the right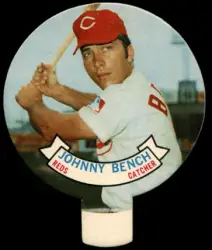 This is Bench's first candy lid made by Topps.
It's a super unique card and condition sensitive due to ice cream stains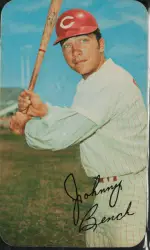 The Topps Super is an oversized card with a bright blue background. It has rounded corners and high grades are readily availible
This Johnny Bench baseball card has a normal Topps and OPC version as well which is similar to the 1969 Topps card. The black borders of this card are prone to chipping. Similar to the 69 Topps card, this edition's OPC is also lighter on the front than the Topps counterpart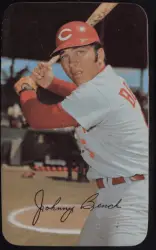 This card looks similar to the previous year's version except it's darker. The signature was also moved to the middle instead of to the right. 
1972 Topps Candy Test Lid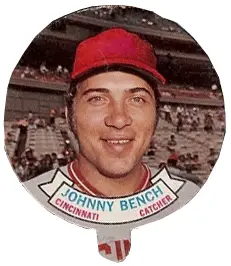 This is Bench's second lid. It shows a picture of just his face which differs from his previous lid. Another lid that is difficult to find in high grade.
This is easily one of his coolest cards. Bench is tracking down a fly ball and is about to catch it. A unique pose for a catcher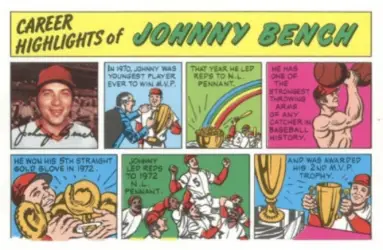 This card looks funny, but is much more scarce than you might think. It was not released to the public and is considered a rarity by many collectors.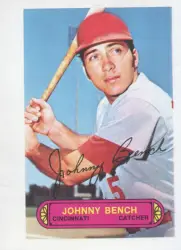 This card was also not released to the public. It's naturally off-centered to the point where centering is not considered when grading this card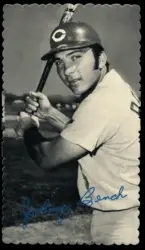 The card is oversized and looks like a tall boy. it has crinkled edges and is in black and white. The facsimile signature is in blue font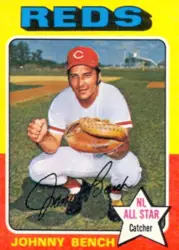 In 1975, Topps made a miniature version of the standard card. These are not worth as much as the normal card, but they are cool as this was the only time this  was done.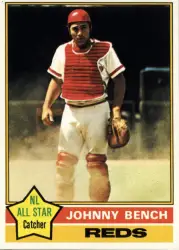 This card is one of Bench's later playing day cards. He looks tough standing where the dust hasn't settled. This card is affordable as you can pick one up for about $5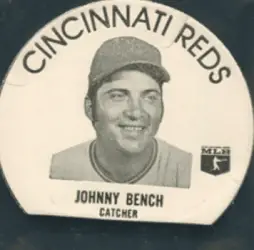 The Icee company produced a unique Johnny Bench card. It has a flat bottom and semicircular appearance. The card has no color and is fairly small
2000 Bowman's Best Franchise Favorites Autograph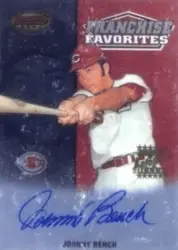 This is considered Bench's first baseball card auto. There is also a version of this card without the auto. This is a chrome card and it's an on card auto
2001 Fleer E-X Behind the Numbers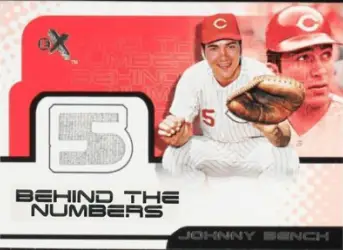 Many different brands had Jerey/Bat cards in 2001. This one is pretty cool as it has multiple different versions. The best one is a Jersey Auto numbered to 5! 
Johnny Bench Long term Potential
Johnny Bench baseball cards will always be desirable. Being one of the greatest catchers of all time, many collectors want to have at least a rookie card within their PC.