Rogers Hornsby was one of the greatest baseball players of all time. Across his 23-year career, he accumulated 2 MVPs, 2 Triple Crowns, a World Series Championship, 2900 hits, and 127 WAR. 
While those stats sound insane, what's crazier is that during a 5 year stretch from 1921-25, Hornsby hit .402. In 1922 he had one of his best seasons when he hit .401 with 42 Home Runs. It's no surprise that he has a lifetime 175 OPS+ and a .358 Batting average.
Rogers Hornsby Rookie Card
Depending on who you ask, Hornsby has two different Rookie cards. His 1916-1920 W-UNC and 1917 E135.
Due to distribution years with the strip card, it technically is his first card but spans over a few years. His E135 is his first single-year release.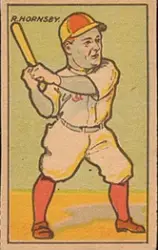 The W-UNC is also known as Big Heads were strip cards distributed from 1916 to 1920. Besides Hornsby, it also features a rookie card of George Sisler. Hornsby only has 12 graded with PSA so finding a copy of this card can be tough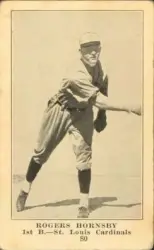 The E135 Hornsby is much more desirable than the Big Head. These were larger cards that had a black/white photo and an advertisement back. Each back was from a different company including the likes of  Collins McCarthy and Boston Store. In total, the set has 200 cards. 
If you are looking for a low/mid-grade copy, expect to pay 5 figures or more. They are tough cards to find and have a strong collector base.
1921 E253 Oxford Confectionery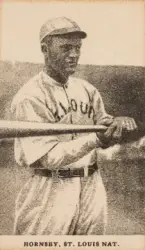 This was a series of 20 candy cards released in 1921. The cards feature a full image going across the top with a name underneath it. 
Steven owns a Babe Ruth from this set.
1922 E120 American Caramel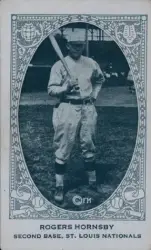 I wanted to feature a card from Hornsby's best season. One which I'd argue is also one of the best seasons all-time by a baseball player.  In 1922 he hit over .400 with 41 HRs while winning the Triple crown.
This was Fleer's first sports card release. The design on them lines up with the W515. The only difference is the back of the card. The W515 strip cards have a blank back whereas the fleer has a back saying Frank H. Fleer Corporation.
Pictured below is the W515 that I have in my collection
1933 Goudey #119 and #188
Hornsby has two Goudey cards within the set. One is a horizontal card that has him fielding. The other features him kneeling at the top of a dugout.
The horizontal card #119 has him with the Cardinals and the Vertical #188 is when he was with the Browns.
In 1933, the Cardinals had cut Hornsby mid-way throughout the season. Hornsby was still having a productive season batting .325 in only 46 games. After that, the St. Louis Browns picked him up. Hornsby would play the remainder of his career with them as a player-manager.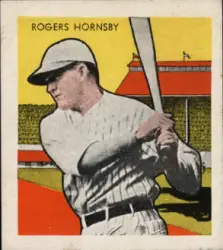 Tattoo Orbits were another release in 1933 year. Produced in Chicago, they mainly focused on midwestern teams as the source of the players featured.  The Rogers Hornsby is considered an SP within the set (Only HOF SP) and is the most expensive card from the release.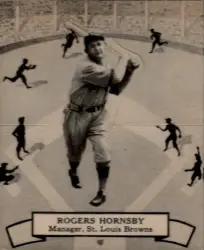 Many people know that OPC created cards throughout the 60s when Topps gave them a license to print their cards. In fact, one of the rarest Nolan Ryan Cards is a 1968 OPC Rookie!
But in 1937 OPC had a baseball set. These cards are really tough to come across. 
I've never seen one in person to this day. For Hornsby, his 37 OPC is considered to be the last playing day card in his career.