When people think of Old Judge Baseball cards, they often gravitate towards the N172s. One of the most historic baseball card sets of all-time. However, the Old Judge Brand created a few other releases during the late 1800s.  As a part of Goodwin & Company, OJ released the N167, N172, and N173 sets. Each one features a completely different design.
1886 N167
The 1886 N167 set is considered to be the first-ever baseball card set produced. Its checklist is very small as it only featured 12 players from the New York Giants. However, 6 of these players are members of the baseball HOF.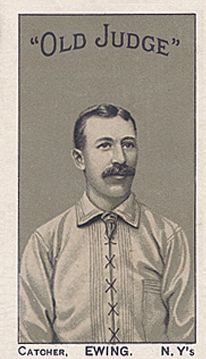 Roger Connor
Larry Corcoran
Mike Dorgan
Dude Esterbrook
Buck Ewing 
Joe Gerhardt
Pete Gillespie
Tim Keefe 
Jim O'Rourke 
Danny Richardson
John Ward 
Mickey Welsh 
Also to note, these cards are extremely rare and expensive. Expect to pay 6 figures minimum for one as they rarely make it out to auction. In total there is estimated to be a population of 50.  Between the scarcity and the historic nature of the set, there are many collectors who would view having any copy as a holy grail of their collection.
The N172s are one of the most unique sets ever produced. Unlike cards of today, these were photos attached to cardboard backing. This made the cards very thick/heavy and prone to fading over time. 
Many early collectors would remove the photo or cut off part of the back before putting it into a scrapbook.  For most cards, you have to worry about the surface, corners, edges, and centering. With OJs, you also have to look at fading and check to see if cards were rebacked.
Fading with these cards is often more important than the grade itself. And in response, many collectors purchase cards just based on the image instead of the grade. Striking pictures can fetch 4-5 figures depending on the scarcity of the card and the player.
While there isn't an exact number of cards in the set, PSA has found over 1,843 different cards.  Assuming some one-of-a-kind cards were thrown away or destroyed, there could be over 2,000 different examples.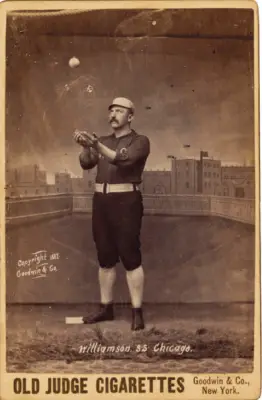 The N173s featured the Old Judge design from the N172 but on a cabinet card (A huge size difference).
Unlike the previous cards, the only way to get these was from a coupon exchange program. 
The cabinet cards were most commonly found with a yellow back, but you can also find them in black, pink, or red backings.
The total card checklist was 374 but as of this time, PSA has only graded 78 different subjects. Many have been lost or were simply never printed.
Hall of Famer Old Judge Checklist
Old Judge features 25 different Hall of Famers in the different sets. 
John Clarkson
Bid Mcphee
Cap Anson
Jacob Beckley
Dan Brouthers
Charles Comiskey
Ed Delehanty
Hugh Duffy
Buck Ewing
Clark Griffith
Billy Hamilton
Mike Kelly
Connie Mack
Kid Nichols
Wilbert Robinson
Harry Wright
Charles "Old Hoss" Radbourn
Tim Keefe
John Montgomery Ward
Roger Connor
Pud Galvin
King Kelly
Sam Thompson
The Merger of Tobacco card brands
In 1890, production stopped for the Old Judge baseball cards. Goodwin & Company merged with other tobacco brands including Allen & Ginter to establish the American Tobacco Company.
The ATC would later produce the Famous t206 card set in 1909.