The 1946-47 Propagandas Montiel were a multi-sport release from Cuba right after WW2. It features some of the biggest stars in Baseball, Boxing, and Wrestling along with a subset of minor leaguers. Many of the athletes depicted in this release were retired from their respective sports. For example, John Sullivan who boxed in the 1800s.
The 180 card set has two distinct designs depending on the card number.  Both feature black/white pictures of the athlete with an orange border. Cards 1-100 just have the picture whereas 101-180 have a plaque and the name of the athlete as well as the card number.
The backs feature the set & player name as well as a short bio. For cards 1-100 it also includes its card number.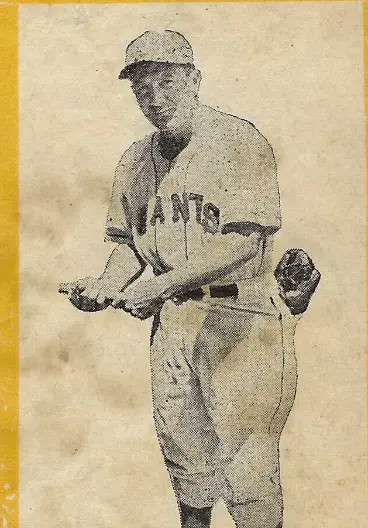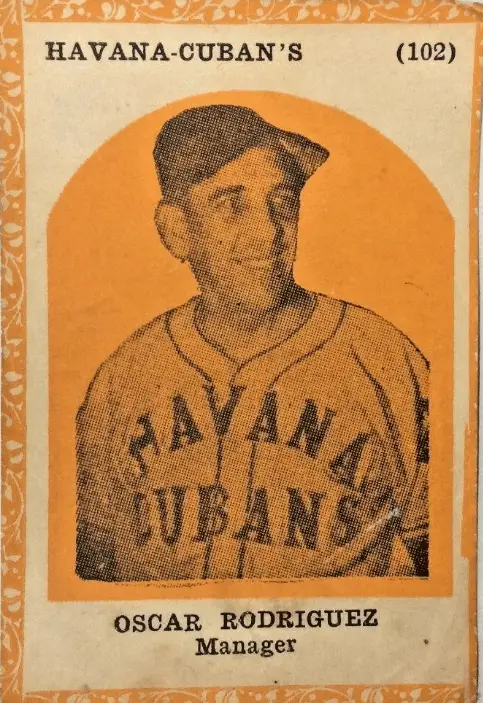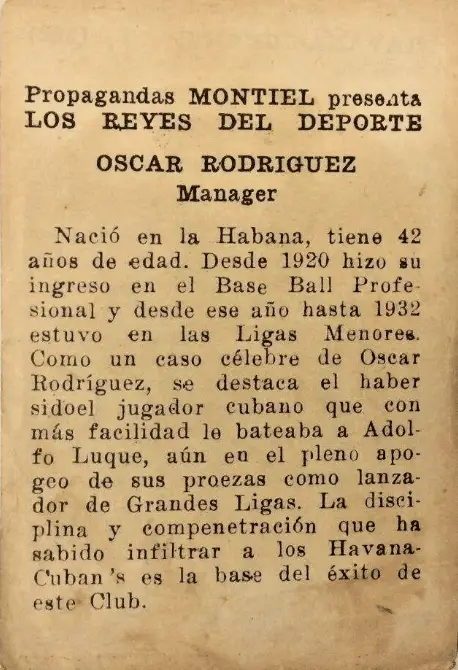 These cards are incredibly difficult to find in great shape for a few reasons: 
They were printed on a very thin cardboard stock
Released in Cuba, which makes getting them graded or shipped to the US tough
Originally meant to be pasted in an album like Panini Stickers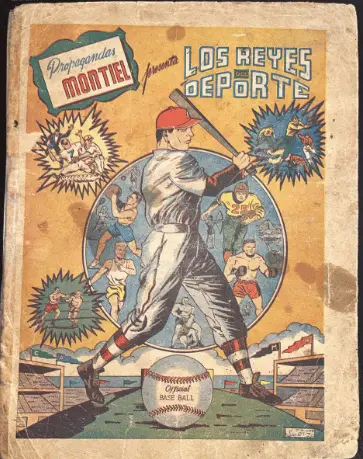 The highest graded example from the set without a qualifier is a PSA 5. I'd argue that these are even tougher to get in high grade than the Topps Venezuela releases in the 1960s.
2 Notable Cards in the Set
1946 Propagandas Montiel Stan Musial #64
The Musial card is technically a Rookie or XRC. It's his first depiction on cardboard making it sought after by many different collectors. It's 1-2 years earlier than his 1948 Bowman Baseball card.
The pop report is also quite low and this card's price has been rising a lot the past few years.
Steven (who helps run Breakout Cards) recently picked up an authentic version of the card. One day. I also hope to grab one for my PC.
 

 

View this post on Instagram

 
1946 Propagandas Montiel Martin Dihigo #39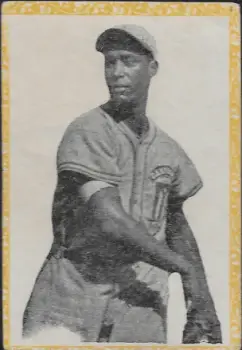 Dihigo was a two-way player well before the Shohei Ohtani days. He spent the majority of his career in the Latin and Negro leagues throughout the 1920s-40s. Elected in the Baseball HOF in 1977, finding a playing day Martin Dihigo baseball card is extremely tough. 
Many HOF collectors desire to have a copy in their collections as the total pop of both is under a T206 Honus Wagner.
1946 Propagandas Montiel Bob Feller #355
1946 Propagandas Montiel Los Reyes del Deporte Checklist
1 John L. Sullivan
2 James Corbett
3 Robert Fitzsimmons
4 James J. Jeffries
5 Tommy Burns
6 Jack Johnson
7 Jess Willard
8 Jack Dempsey
9 Gene Tunney
10 Max Schmeling
11 Jack Sharkey
12 Primo Carnera
13 Max Baer
14 James Braddock
15 Joe Louis
16 Georges Carpentier
17 Tommy Loughran
18 Tony Zale
19 Johnny Dundee
20 Billy Conn
21 Holman Williams
22 Kid Tunero
23 Lazaro Salazar
24 Napoleon Reyes
25 Roberto Estalella
26 Juan Oliva
27 Gilberto Torres
28 Heberto Blanco
29 Adolfo Luque
30 Luis Galvani
31 Miguel Gonzalez
32 Chuck Klein
33 Joe Legon
34 Carlos Blanco
35 Santos Amaro
36 Kid Chocolate
37 Henry Armstrong
38 Silvio Garcia
39 Martin Dihigo
40 Fermin Guerra
41 Babe Ruth
42 Ty Cobb
43 Alejandro Crespo
44 Ted Williams
45 Jose Maria Fernandez
46 Dom DiMaggio
47 Julio Rojo
48 Armando Marsans
49 Dick Sisler
50 Antonio Rodriguez
51 Joseito Rodriguez
52 Antonio Ordenana
53 Armandito Puente Pi
54 Paul Derringer
55 Bob Feller
56 Bill Dickey
57 Lou Gehrig
58 Joe DiMaggio
59 Hank Greenberg
60 Red Ruffing
61 Tex Hughson
62 Bucky Walters
63 Stanley Hack
64 Stan Musial
65 Mel Ott
66 Dutch Leonard
67 Frank Overmire
68 Mort Cooper
69 Eddie Miller
70 Jimmie Foxx
71 Joe Cronin
72 James Vernon
73 Carl Hubbell
74 Andy Pafko
75 David Ferriss
76 Johnny Mize
77 Spud Chandler
78 Joe Medwick
79 Christy Mathewson
80 Nelson Potter
81 Jim Tabor
82 Marty Marion
83 Rip Sewell
84 Phil Cavarretta
85 Al Lopez
86 Rudy York
87 Walter Masterson
88 Roger Wolff
89 Jacob Early
90 Oswald Bluege
91 Zoko Godoy
92 John Kelly Lewis
93 Nell Stewart 
94 Bruce Campbell
95 Sherrod Robertson
96 Rose Evans
97 Maurice Tillet
98 Nicholas Altrock
99 Helen Wills
100 Borrest Smith
101 Merito Acosta
102 Oscar Rodriguez
103 Octavio Rubert
104 Antonio Lorenzo
105 Agustin Del Toro
106 Hector Arago
107 Augustin DeLaville
108 Valeriano Fano
109 Orlando Moreno
110 Pedro Dunabeitia
111 Rafael Rivas
112 Jose Traspuesto
113 Mario Diaz
114 Armando Valdes
115 Alberto Matos
116 Humberto Baez
117 Orlando Suarez
118 Manuel Hidalgo
119 Fernando Rodriguez
120 Jose Cendan
121 Francisco Gallardo
122 Orlando Mejido
123 Julio Moreno
124 Efrain Vinajeras
125 Luis Suárez
126 Oscar del Calvo
127 Julio Gomez
128 Ernesto Morillas
129 Leonardo Goicoechea 
130 Max Rosenfeld 
131 Oscar Garmendia
132 Fernando Solis
133 Oliverio Ortiz
134 Osmaro Blanco
135 Oral Ratliff
136 Deo Grose
137 Homer Daugherty
138 Frank Matthews
139 Roger LaFrance
140 Harold Cowan
141 Richard Henton
142 Banks McDowell
143 Harold Graham
144 Jack Sweeting
145 Bill Wixted
146 Larry Graham
147 Ralph Brown
148 Felipe Jimenez
149 John Ippolito
150 Joe Benito
151 Bernardo Fernandez
152 Buckey Winkler
153 Carl Armstrong
154 Jack Bearden
155 George Bucci
156 John Pere
157 Mickey O'Brien
158 Lamar Murphy
159 Devon Choptman 
160 Hal Johnson
161 Bitsy Mott
162 Charles Cuellar
163 Chester Covington
164 Howard Ermisch
165 Bill Lewis
166 Roy Knepper
167 Bull Enos
168 Joe Wilder
169 Jake Baker
170 Joe Bodner
171 Jackie Myer
172 Mel Fisher
173 Larry Baldwin
174 Richard Farkas
175 Alston McGahgin
176 Ray Weiss
177 Paul Waner
178 Frank Miller
179 John Sabatie
180 John Maire