Elgin Gay Baylor was drafted 14th overall by the Lakers and stayed with the team for the rest of his career. Baylor averged 27 points and 13 rebounds per game. This was very impressive considering he was only 6 foot 5 inches tall. Most centers nowadays have a hard time obtaining those numbers.
He earned the nickname "Big Hurt" from being a bruiser in the paint and was an all-star for almost his entire career. Unfortunately, he did not win a championship in his NBA caree rdue to the dynasty of Bill Russell and the Celtics. Elgin Baylor passed away in 2021 at the age of 86.
This is considered Elgin Baylor's rookie card. 
It has a giraffe on it and looks strikingly similar in color to the Oscar Robertson card from the set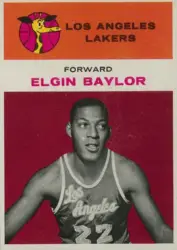 Believe it or not, this is considered Baylor's second year card
This set was not released to the public which makes it so rare to come by
The back of the card has a part of a picture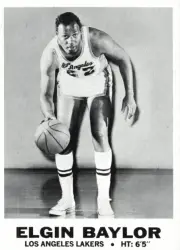 This card is his first tall boy
It's the next obtainable card following the 61 Fleer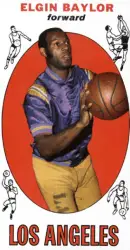 This card is also a tall boy
It looks strikingly similar to Baylor's 1969 Topps card
One distinction from the 1969 topps is that this card has a blue background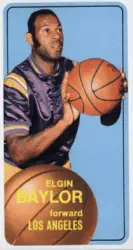 This is Elgin Baylor's last playing day card
It shows him in the shooting form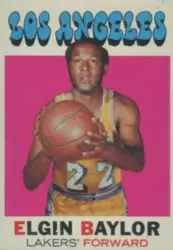 Elgin Baylor was a lakers legend despite not winning a championship
He played in an era of legendary big men and dominated
Baylor is gone but never forgotten