Bob Feller baseball cards span over 3 decades and include prominent pre & post-war sets. 
Feller was born in 1918 in Iowa and grew up on the farm. Feller's dad had some influence on him as he was a semi-pro pitcher back in his day. Bob Feller had a pitching mound on the farm that he used to practice on and throw to his dad.
When Feller was 12, he and his dad built a whole baseball field on the farm. Many people came to the farm and watched him pitch. This exposure attracted many major league scouts.
He made his major league debut at 17 when he joined the Indians mid-season in 1936. Feller ended up doing well and even earned the nickname "Rapid Robert" for his fastball. However, he was still a raw prospect and decided to go back to high school to get his diploma. Upon graduating, he ended up coming back to the Indians.
Bob Feller has many baseball cards that collectors chase after. Like Ted Williams and Joe Dimaggio, his cardboard spans three decades. During his 18-year career, Feller won a triple crown and was an 8x all-star. Before WW2 he led the league in strikeouts 4 years in a row. Unfortunately, since he served in the war, Feller lost around 4 years of his prime.
This caused him to miss milestones like 3000 strikeouts and 300 wins. 
The true Bob Feller rookie card can be considered the 36/37 Goudey premium, O-Pee-Chee, Wheaties, and W463 Exhibits. The 1938 Goudey is debateable. Many people call the 1948 a "Bob Feller Rookie Card' but it is incorrect. He had many releases before it.
Most Valuable Bob Feller Baseball Cards
1936 Goudey Wide Pen Premiums (R314)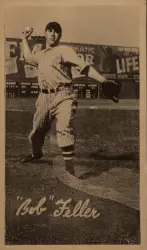 The Goudey Wide Pen Premiums were issued in both 1936 and 37. These were not like the other Goudey releases as they were a much thinner stock and larger in size. Due to it being thin, they were prone to be damaged relatively easily.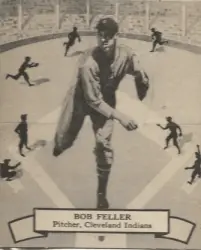 While many people associate the OPC brand with Hockey cards, in 1937 they made a baseball card set. The cards look very similar to the 1934-36 batter ups. There is a cut out of the player in the middle to stand up.
The 1937 O Pee Chee baseball cards are tough to find and command a premium when an auction house sells them. Less than 40 have been graded. Even lower graded examples go for a few thousand dollars. Expect 5 figures on anything 7+.
1937 W463-7 "4-on-1" Exhibits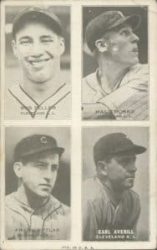 This Bob Feller rookie card featured 3 different players on one card. It's sort of like the 1935 Goudeys that were produced a few years earlier except much larger in size. You can find feller on the Top left of the card.
Also featured on the exhibit card is Earl Averill. A six-time all star who is in the Baseball Hall of Fame.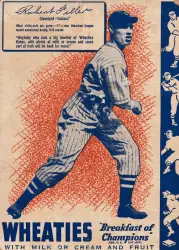 The 1937 Wheaties were cut off the back of cerial boxes.  It's technically a rookie, but no where near as popular as some of his other cards.
To many collectors, the 38 Goudey Heads Up is the go to Bob Feller baseball card!
Each card in this set has two different versions. One with a plain background and one with a cartoon.
Like the OPC this is an expensive card. Low-graded versions fetch 4 figures regularly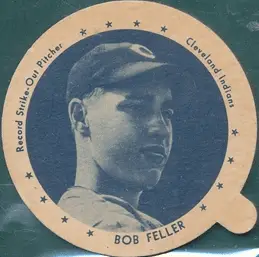 The 1938 dixie lids were the top part of the ice cream treat. Many of these are missing the tab as collectors cut them off to make a fully circle card. The set was much more than Baseball Players. Within my own Personal Collection, I have a Bronko Nagurski. A HOF Football Player and Wrestler.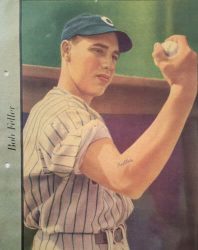 The dixie lids premiums featured the same exact players as the ones on the lid. You can see for the Feller the same exact picture is used. However, the premium is much larger and presents way nicer in color.
Each card also features two holes on the side. They were supposed to be inserted into a binder/book called "My Scrapbook of Stars".
1939 Goudey Premiums (R303)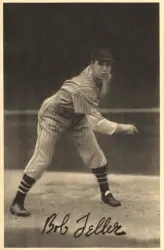 While Goudey didn't have a full set in 39, they had a small premium Release. There were a total of 24 photo cards and you can find many different stars including Hank Greenberg and Joe DiMaggio within it.
1939-46 Exhibit Salutations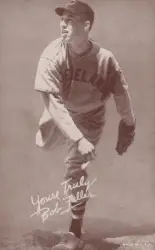 This is Feller's first exhibits card. It has text at the bottom that states "Yours Truly, Bob Feller"
This card is typically cheaper as it spans multiple years and isn't too rare. You can pick this card up for about $20 in low to mid grade.
With regards to these panels, there are three athletes per sheet. these panels were located on the back of Wheaties boxes. These cards have to hand-cut and are fairly long. The panels featured nay different sports, not just baseball.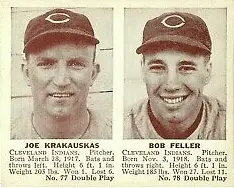 The 1941 Double Play set features Two players on one card. Feller is shown with one of his teammates. 
This card is not too expensive as SGC 4s sell for around $100
1946 Propagandas Montiel #55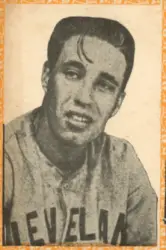 The Propagandas Montiel card is a cuban release. It's a scarce card with a super thin stock. This is first card made after World War 2. Good luck finding this card in a high grade as the highest example graded by PSA is a 4/10.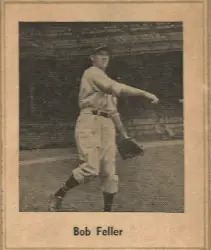 This Bob Feller baseball card was hand cut and unnumbered. Although the pop report isn't that high, there are a decent amount of high grades of these cards available. 
This card in particular is tough as there is only one example graded by PSA.
1948 Bowman Bob Feller #5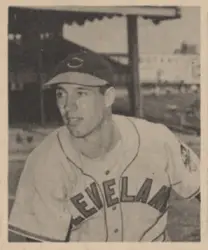 This was the inaugural release of the Bowman baseball set. Each card is a black and white square. For some reason, many collectors view this card as a rookie. However, he has cards from 12 years earlier so I tend to disagree.
1948 Swell Sports Thrills #19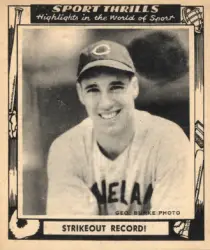 The Swell Sports cards were produced bu the Philadelphia Gum Company. Most of the cards actually promote Bob Feller's book on how to pitch!
Each of these cards had a certain phrase written on the front. This card has "Strikeout Record!" which is super cool. There are about 100 of these graded according to PSA.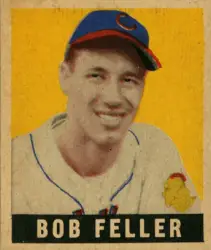 The 1948 Leaf Bob Feller baseball card is one of the short-printed cards from the iconic Leaf set. PSA has graded less than 150 copies compared to others from the set which tend to have 1,250 examples.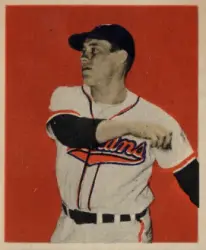 This is Feller's 2nd year bowman. It features bright color backgrounds similar the leaf release. These cards look nicer than the 48 Bowman release, and some collectors would prefer this card over the 48.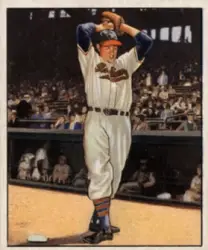 The 1950 Bowman might be his best looking card out of any release. Awesome Imagery of Feller winding up. There are many colors and the card looks ahead of its time. This is Feller's last year Bowman card. 
There are Two different designs within the 52 Wheaties set. Both of which are hand cut and have circular corners. This allows for high grade copies to exist.
You can mind mid grade versions of this card for about $50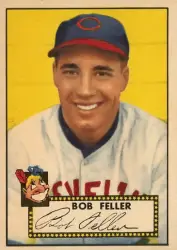 Like the T206 set, every HOF player is highly collectible within the classic 52 Topps set. A mid-grade example will set you back a few hundred. It's not a rare card and I often see them at card shows. I even have owned a few of them.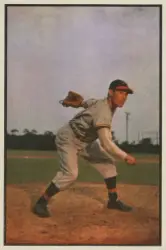 In 1953, Bowman had two sets: black and white and color. The Bob Feller baseball card was featured in the color set along with most other Hall of Famers. There was 160 cards in the set, and there were a few notables such as Jackie Robinson and Willie Mays that were omitted from the set because at the time they were exclusive to Topps.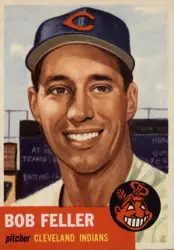 Along with the bowman Color, Feller was also featured in the Topps counterpart. There were 280 cards in this set. The last sixty of which are considered high numbers. Feller's card is not a high number, but he still one of the most notable players from the set. 
1999 Upper Deck Century Legend #BF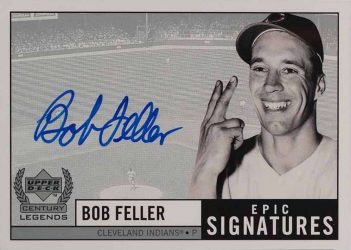 This is considered Feller's first autographed card. It's an on-card auto and the card is unnumbered. It's not too expensive as you should be able to get one for around $100
2001 Leaf Certified Jersey Card /21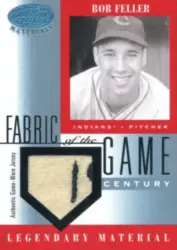 This is one of Feller's first jersey cards. It's numbered to 21 which is fairly scarce. There is one listed on eBay for $250
Bob Feller Baseball Card Potential
Early Bob Feller Baseball cards can be tough to find, however, his 50s are plentifully available. Newer collectors will research and learn about Feller over the next few years.