George Mikan Basketball cards should be a part of any seasoned basketball collector's collection. He was one of the most important figures in the development of the game today!
George (a.k.a. Mr. Basketball) Mikan was basketball's first superstar. He was born in Illinois in 1924 and grew to be 6 foot 10 inches which was extremely tall for the time. However, when Mikan was a kid, he wasn't very interested in basketball at all and was an established marble shooter. Talk about a unique hobby.
During his high school years, he attended an Arshbishop school in Chicago. He made the basketball team, however, was cut after his coach found out he could not play without his glasses. It was a different time back then. 
Mikan decided to play for a youth organization, but that ended up being short-lived because he tripped on a ball and broke his leg. When his leg healed, he started playing basketball again and yearned for a scholarship to Notre Dame. Unfortunately, the coach of the team thought he was too tall for the game and too slow. Most people do not realize this, but at the time he was viewed as an outcast. 
Fortunately for Big George, the coach from Depaul university believed in him enough to give him a full scholarship. He worked with Mikan to gain coordination of his body and improve his shooting. 
Mikan started his professional career playing for the Chicago Gears in 1946. One year later, Mikan was signed to the Minneapolis Lakers and began dominating basketball. He would spend his entire career in Minnesota and brought popularity to the sport. Fans instantly loved him.
Despite having played only 7 years and 439 games, Mikan is in the basketball hall of fame and part of the NBA 75 team.
This is because in that 7 year span, he was a 5 time NBA champion, MVP, and was the scoring champion three times. He had averaged 23 points per game and 13 rebounds in an era where teams didn't score a lot of points.
Mikan still has cards printed today. His legacy will continue to live on forever.
Why are his cards so expensive?
Aside from George Mikan being the most dominant player of his time, there were not that many Mikan basketball cards made during his playing days.
This is because he had a short career and basketball cards were not too popular. Unlike today, they weren't produced yearly by Topps or Panini. Releases were scarce and dominated by many different brands.
Due to the rarity of his cards and the player he was, they uphold their value.
Most Valuable George Mikan Basketball Cards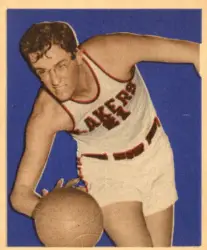 This is Mikan's only card in a mainstream set. The 1948 Bowman Basketball is considered by many as his true rookie card. It shows him dribbling with a blue background. Many basketball collectors would put this on their Mount Rushmore of Basketball cards.
It's the first major rookie card in a fully dedicated basketball set. Also, the print run with the 48 Bowman is very little in comparrison with the cards of today.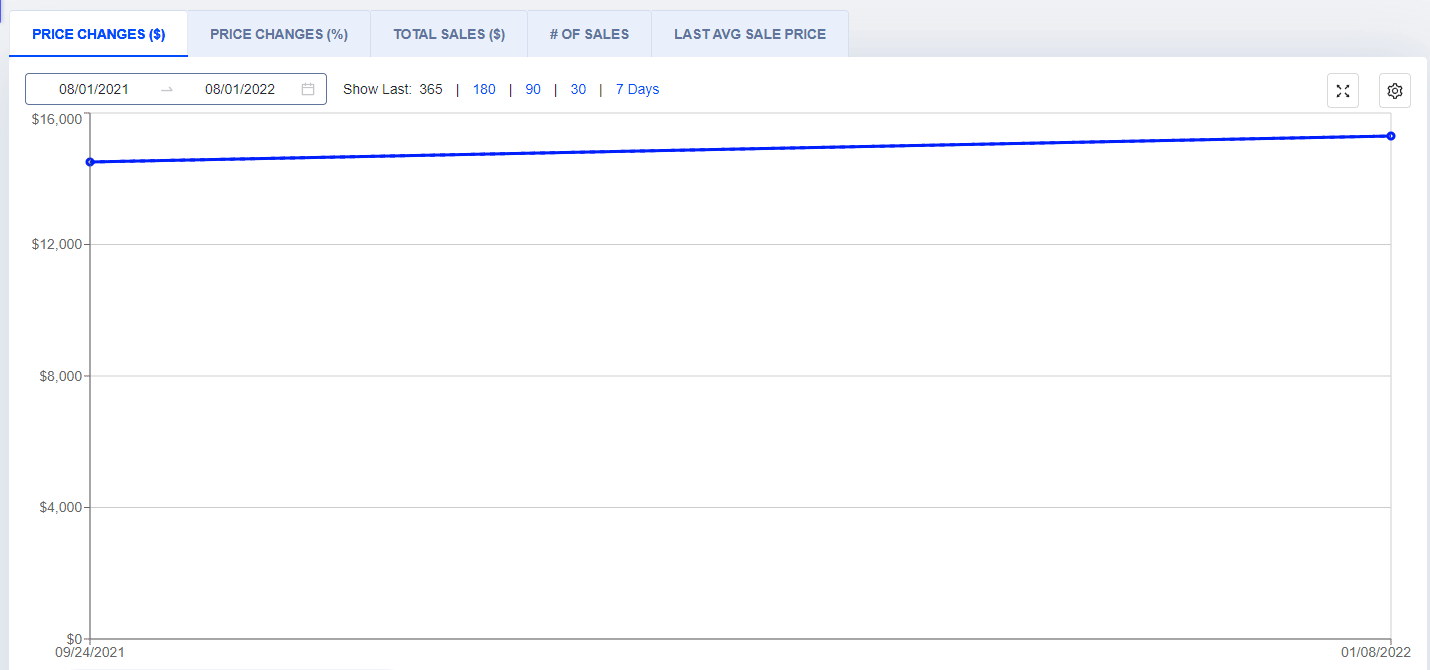 It's Mikan's most valuable card. As Shown on Market Movers, the PSA 5 constantly sells for around $15,000. You can get your first month of Market Movers for $1 with code BREAKOUT
1948 Bowman Gray Variation
Mikan also has a version of this card with a gray background that is short-printed. This print defect is also seen within the 1949 Bowman baseball set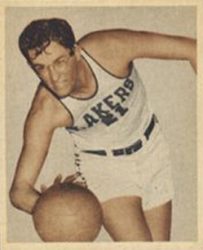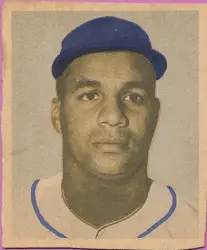 Roy Campanella 1949 Bowman
1948 Topps Magic Photos #5-Q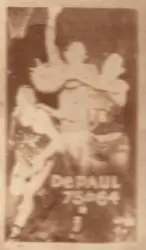 Many people think the first topps set was the 1952 Baseball release, however, the Topps company first produced cards in 1948. 
The 1948 Topps Magic cards are small rectangular photos. The card depicts Mikan in his college playing for DePaul University.
This is considered another one of Mikan's rookie cards although it is quite cheaper. The total PSA pop of this card is only 16.
1948 Kellogg's Pep Cereal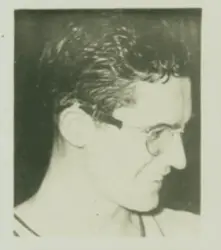 The 1948 Kellogg's Pep Cereal card is bigger than the Topps Magic but smaller than the Bowman.
It was part of a multi-sport set and Mikan's first card associated with food. Like the Topps Magic, its quite cheaper than the Bowman.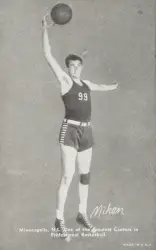 This is one of the largest George Mikan Basketball cards. Originally distributed through vending machines, It shows Mikan reaching for the ball trying to catch a pass.
The card contains a facsimile auto on the front and a blank back.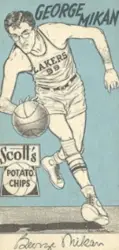 Scott's Chips are a rare regional release from 1950. This chip company produced cards of Mikan and other Minnenapolis Lakers.
These cards were thrown away or redeemed, so they are now considered extremly rare. In fact, the last PSA 4 sold for $13,000 in a summer 2022 Heritage Auction.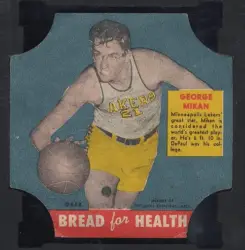 Fischer's Bread created cards in both 1950 and 1951 under the Bread for Health and Bread for Energy names. The Bread for health has a blue background with a red banner at the bottom.
This George Mikan Basketball card is really tough to find, expect to pay a crazy amount if you find it at an auction or card show.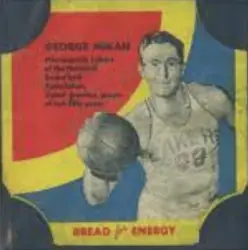 The following release has a mixture of red, yellow, and blue colors. Unlike the 50, there isn't a banner at the bottom. Instead it just stated Bread for Energy.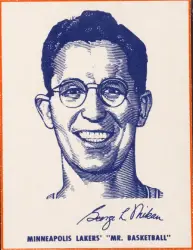 Between 1951 and 52 Wheaties produced multi-sport card panels. Throughout the releases, Mikan has 3 cards. His 1951 features a portrait on a white card.
Mikan, like many of the athletes, has two 1952 Wheaties cards. A portrait like 51 and an action pose. Both feature a bright orange background.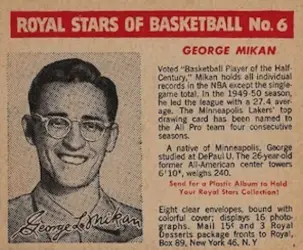 The 1952 Royal Desserts were distributed in two different methods:
Method A: Collectors could mail in 15 cents and 3 Royal Dessert package fronts for a full 8 page album.
Method B: Collectors can cut off the cards directly from the packaging of Royal Puddings, Royal Tapioca Puddings, Royal Gelatin Desserts, and Royal Custard Flavor Dessert Mix.
PSA only has 5 total Mikans graded making it a tough
1955 All-American Sports Club #21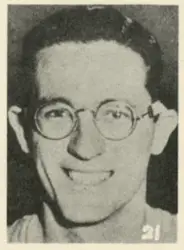 With Mikan's last season being the 1955-56, this is officially considered his last playing day card.
It came from a multi-sport release that contains Bill Russell's pre-rookie card.
These cards are small in size and all of which are numbered. You can see the lettering on the bottom right of the portrait.
1992 Courtside Flashback Autographs #26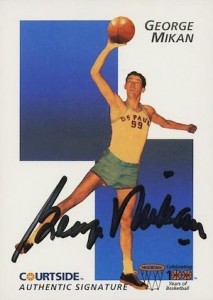 The 1992 courtside Flashback is the first George Mikan Basketball Card Auto. Unfortunately, it doesn't feature a Lakers uniform. Instead, he is pictured with a DePaul jersey. 
1996 TOPPS STARS Auto #30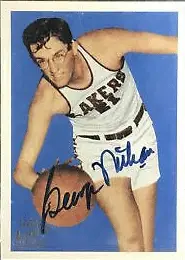 In 1996 Topps had a reprinted 1948 bowman signed on card by George Mikan. This set featured on card autos from members of the NBA 50 team. A PSA 9 copy with a 10 auto will cost you approximately $500. 
2003-04 Upper Deck Legends /99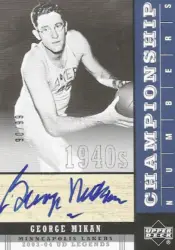 Mikan does have some autos from the early 2000s. This is considered one of his last cards because he passed away in 2005.
This one is numbered to /99 and is a nice choice for collectors
Final Thoughts on George Mikan Basketball Cards
Mikan was a tall kid from Illinois who wasn't originally good at basketball, but then gradually improved
George Mikan Basketball cards are rare and he only has one playing day card from a major release
He will always be remembered as basketball's first superstar