Sammy Baugh Football Cards should be a staple of any vintage Football collectors collection.
Sammy Baugh is the definition of football. Born in Texas and attended TCU, Baugh led the team to two bowl victories. That might not seem like much today, but money was tight in the 1930's and only a few teams made bowl games. Also beat the Green Bay Packers 6-0 with the college All-Stars when the talent level of the pro game was not much better than the college game. This more speaks to lack of money the pros were being paid to entice them to keep playing a sport versus starting real life work. Baugh himself even considered going into coaching football over keeping playing in the pros. Later on, Doak Walker retired early to pursue outside interests.
Once in the pros, Baugh continued his dominance with eight All-Pro selections, was a four-time league passing yardage leader, passing percentage leader eight-times, and won two championships. Not just a quarterback, Baugh lead the league in punting average five times. In 1943, he also led the league in interceptions. Imagine a player leading the league in passing percentage, interceptions, and punting average all in one season. In modern terms, Patrick Mahomes, Minkah Fitzpatrick, and Andy Lee were all one player for a season
Most Valuable Sammy Baugh Football Cards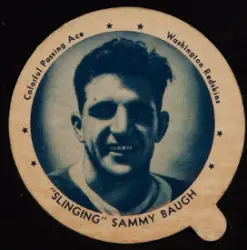 Cards wise, Baugh also has some ultra-elusive product. Many consider his true rookie the 1938 Dixie series. Between the ice cream lids, and other food products, PSA and SGC have graded 55 of them. The ice cream version is preferred, and carries a premium if the pull tab is still attached. 
The full-size Dixie Lids sheet is no slouch however, and is a piece of art. The front carries the same portrait image as the ice cream, and the back has three action shots. Many also do not grade/authenticate/encapsulate the full sheet because it requires a more expensive slab due to the size.
1939-1940 ROSS JEWELRY MATCHBOOKS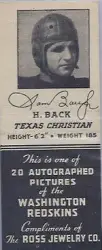 In 1939 and 1940 Ross Jewelry created a matchbook set of all Washington players. The set is more like a regional food issue than true set however. Hall of Fame receiver Wayne Millner has a card in here that can be considered a pre-RC along with his 1936 Wheaties. In 1941 and 1942 Home Laundry was the sponsor of the Washington matchbook set with a similar checklist and look.
Due to World War II, football cards just weren't made again until 1948, and Baugh has a rookie in 1948 Bowman. Featuring an image of his throwing the football, this is one of Baugh's two mainstream rookie cards. As of writing, only 657 total are in SGC and PSA cases. Rare backs do exist either oversized print, or a back of the wrong player stamped on the back.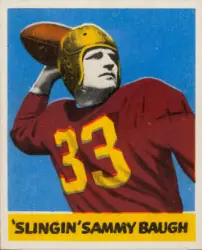 1948 Leaf football can either be looked at as an ugly set with weird colors, or the first football set to feature many Hall of Fame rookies. Baugh has two versions, each with a different shade jersey color. Only 464 are in PSA and SGC slabs as of writing. Wrong player backs also exist in 1948 Leaf, but none have been graded of Baugh.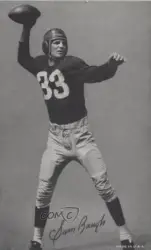 Year of origin is tough to pin down on the Exhibits cards as many have them as 1948-1952. Dispensed from essentially gum ball machines, you would put your coin in, and get a random card. Oversized cards that were not the most collectable back then or now, Baugh copies can be had for $10-30 ungraded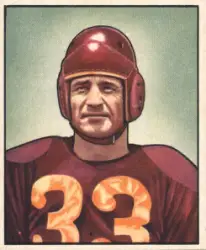 1950 Bowman Football is an undersized set that features many Hall of Fame rookies. The entire Cleveland Browns team was a rookie, which is why Marion Motley and Otto Graham are the headliners of this set. The Sammy Baugh football card typically sells in the $80 range for decent eye appeal but lower grade conditon raw.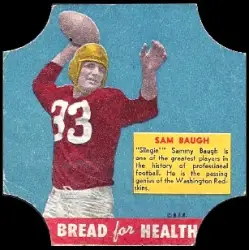 The Bond Bread company put these cards in food products. Extremely rare, common players typically sell for around $200. A star like Baugh is whatever a buyer and seller agree upon.

In 1951, a local Pontiac dealership took up the design of the 1939-1942 matchbooks from above. Rare, but not valuable, most of the cards can be had for $10.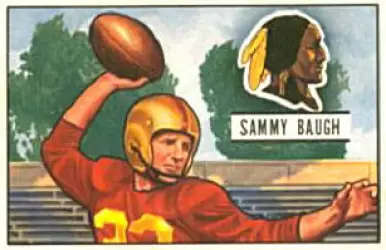 The key rookie in 1951 Bowman is a Hall of Famer not in for being a player, Tom Landry. Many got thrown away as he was a backup player, but went on to become the Dallas Cowboys legendary coach. The Sammy Baugh football card typically runs $40 for a presentable copy.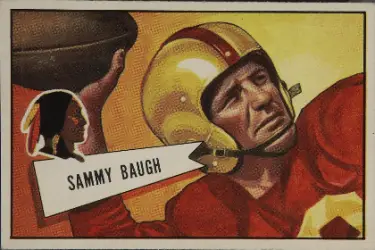 Two versions of 1952 Bowman exist. In both large and small, 1952 Bowman is legendary. The standout rookie is Frank Gifford, but because the coaches got a card, George Halas also appears as a rookie card. Baugh is a little north of $50 in large version.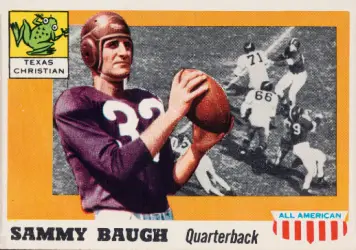 Realizing the card companies missed lots of legendary players, Topps created a set of former football stars in 1955. The two main standouts are Don Hutson and Jim Thorpe, but many players have their 'rookie' in this set despite being post playing career. Sammy Baugh runs $50 for a decent copy.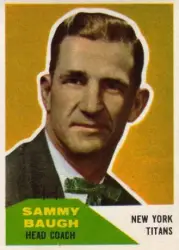 Baugh was chosen to coach the New York Titans, later renamed Jets, in the newly formed AFL. This Sammy Baugh football card is more memorable for having the name 'New York Titans' on the front than anything. Baugh was a .500 coach. Three Hall of Fame rookies are in here, but two are coaches and one is an offensive lineman.
Sammy Baugh Autograph + Patch Cards
Baugh's first pack pulled autograph card was in 1995 for Collectors Edge. Due to their status as low-end junk wax era product, none of the autographs in that set carry premium. 2007 sees his first memorabilia cards, but due to being in numerous products that year, they do not carry a higher price as well. Patch cards are really hard to find of Sammy Baugh, carry a significant premium to one color and the writer of this article would really like one.
Final Thoughts on Sammy Baugh Football Cards
In conclusion, Sammy Baugh is one of the pioneers of football. He was the first player to really master passing the ball. Couple that with being an elite defensive player, and standout punter, he was truly one of a kind. From a long-term view, if vintage football ever gets the love it's due, Sammy Baugh football cards like the 1938 Dixie and 1948 rookies would be some of the cards to feel the rising tide first.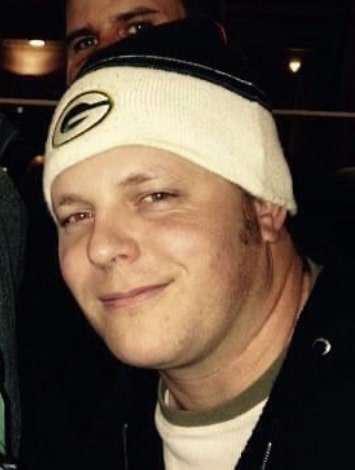 Paul. Card collector since 1993. Serious collector since 2014. PC Pro Football Hall of Famers regardless of team. Go Packers, Seminoles, New Jersey Devils, Milwaukee Bucks, and whoever I have money on in auto-racing. Would rather be found forging my own path than following the beaten one.