1957 Topps football cards may be known for Bart Starr and Johnny Unitas, but is a much better set than just those two. Featuring seven total Hall of Fame rookies, and 37 total Hall of Famers out of 155 total cards, the set is filled with stars.
1957 Topps Football cards are iconic for the front of the card as well. Featuring a dual image, the left side features a portrait style photo, and the right has an action shot, albeit with a solid background. Looking almost painted, the set has a classic look. The back of the cards are also split. The left features biographical information and a short write up, while the right has little blurbs about the player with a children's caption.
For example, Unitas says 'revenge is sweet' in regard to being cut by the Steelers, while Jack Butler has 'me and my shadow' for shadowing the wide receiver. They're a great way to remember this hobby is about kids, while needing an adult paycheck for the top three cards.
Most Valuable 1957 Topps Football Cards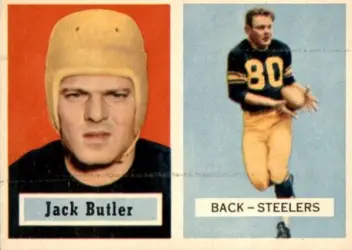 Butler played on many average Steelers teams in the 1950's. Member of the 1950's All-Decade team, he was named to four All-Pro teams during his time. Did play a little bit of offense in addition to his normal cornerback duties. Retired at the peak of his career due to a knee injury and went on to be the director of BLESTO Scouting Service. 
With the NFL Combine not a thing yet, teams would employ scouting services. Through this, Butler was in charge of creating a formula that led to the modern combine. He's a Hall of Famer for his cornerback play, but could very well get another nomination for his contributions off the field. The Hall is pretty backed up with non-players at the moment, so Ozzie Newsome (Ravens GM) and Butler will likely be left out for a while, but he could get a dual member at some point posthumously. Butler is one of the tougher autographs to find on the Canton checklist.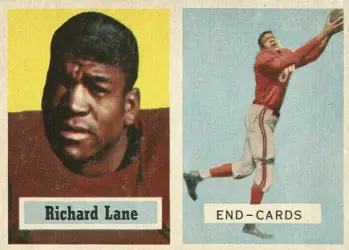 Dick 'Night Train' Lane gives Dick Butkus a legit run as hardest hitter in league history. Quite a reputation despite only playing one year of college football, and then taking time off the military service. Working on aircraft, Lane would pass by the Los Angeles Rams office going to work, and asked to try out. His first season, Lane then proceeded to lead the league in interceptions and instilled more fear in opponents with his use of the clothesline tackle.
 10 All-Pro nominations later, and Lane's bust in Canton was assured. In 2020 Lane was also given a spot on the NFL 100th Anniversary team. To be blunt, his cards are underappreciated, his autograph is not as easily found as the price tag leads you to believe, and his jersey cards should be more than $5-10 for single color. Patch cards are really hard to find. He's a fantastic player to collect.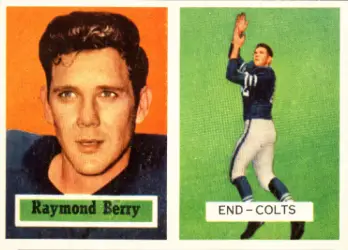 Raymond Berry is the guy you think of when you see Johnny Unitas throwing a pass to a receiver. Undersized with poor eyesight and poor speed, there's a reason Berry lasted until the 20th round of the NFL Draft. His footwork and hands are why he's in Canton as he was one of the first to run precise routes with seemingly glue on his fingers. In an era where defenders would play off knowing a bad pass or hands could lead to many interceptions, Unitas throwing accurate passes to Berry with great hands was a lethal combo.
 Six-time All-Pro as a player, Raymond Berry would go into coaching upon retirement. Berry won the championship in 1958 and 1959 with the Colts, but faced the 1985 Chicago Bears in the Super Bowl when he coached the New England Patriots. Simply overmatched, the Bears crushed Berry's Patriots. One of the least collected Hall of Famers, his autograph and relic cards can be found in value bins. They're a fantastic pickup if priced correctly.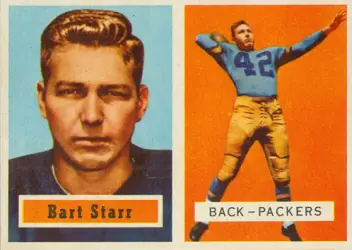 Quarterback of the Packers dynasty has his own article on this blog. His 1957 Topps football card is one of THE cards to chase for vintage football, and his autograph is not found nearly as often as an eBay search would make you believe. One color Starr relics can be found easily enough, but patches are a real struggle. Bart Starr is a fantastic player to collect.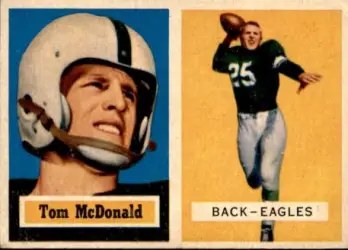 The first of two double print Hall of Fame rookies, Tommy McDonald fits everything you want in in a player. Dependable, versatile enough to play running back and receiver, with enough top end talent to be named to six Pro Bowls, McDonald had it all. Unfortunately, McDonald is not the player you remember from that 1960 Philadelphia Eagles championship team, as Chuck Bednarik running down Jim Taylor to preserve the victory is what is remembered. 
McDonald also has a lot of autographs, so resale on them is low. Jersey, and specifically patch cards are tougher to find, but McDonald simply lacks overall collectors with the double print rookie and $10 autograph. Being on the Oklahoma college team to win 47 straight games does not help his prices enough to get out of the value bin.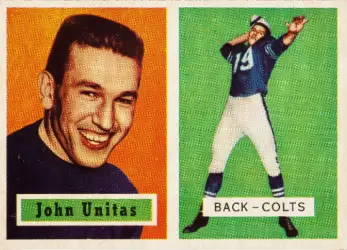 The other double print Hall of Fame rookie in 1957 Topps football cards is Johnny Unitas. He does have enough cache to break out of the value bin however. One of the vintage football's true chase cards, his smiling face on 1957 Topps is sought after. Even with Baltimore losing the Colts in 1982, Unitas never lost his luster. His relic and autographed cards still sell quickly, and dealers never seem to put their best copy of 1957 in the showcase. The full article written about him is a fantastic read.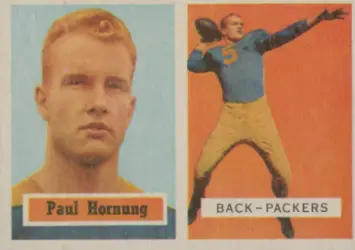 Hornung was a star before ever stepping foot on an NFL field. Nicknamed 'The Golden Boy', Hornung won the Heisman Trophy while at Notre Dame in 1956. Combined with Starr's quarterbacking, and Lombardi's ability to get the line in order, Hornung could use his natural running talent to full effect. Not even a 1963 suspension for gambling on NFL games could keep him out of Canton. 
Kind of like Joe Namath who made Canton off seemingly one game, Hornung was more the Packers flashy running back for four titles than undisputed running great. Maybe the Packers should have drafted Jim Brown instead and won every game instead of just a large majority with Hornung. A happy drunk, Hornung signed a lot during his life. Relic cards can be easily found, but patches you have to dig for. As far as 1957 Topps goes, you're competing with the Packer fanbase to get to a higher price than normal for the middle of the road Hall of Famer.
Other 1957 Topps Football Cards
No other 1957 Topps Football card rookies have a legitimate chance at making the Hall of Fame. Pete Retzlaff was a good player, but not a great one. Pat Summerall has a Topps rookie in 1957, but has a Bowman in 1955. For veterans, Lenny Moore has a second-year card in 1957, but none of the other Hall of Famers really break the mold in 1957. Not even Chuck Bednarik commands premium as a top player
Final Thoughts on 1957 Topps Football Cards
1957 Topps football is a great set to collect, but you also knew that back then as well. The headlining rookies, Unitas and Starr, made you take notice early on that this was a set to collect. Hornung being included a rookie, uncommon for the time, speaks to his star power at the time as well. Night Train is a must have for anyone who calls themselves a football fan. You can argue the 'other' Hall of Famers, but with the design, collectability, and cache of the top guys, 1957 Topps football cards will never be disputed as a top set.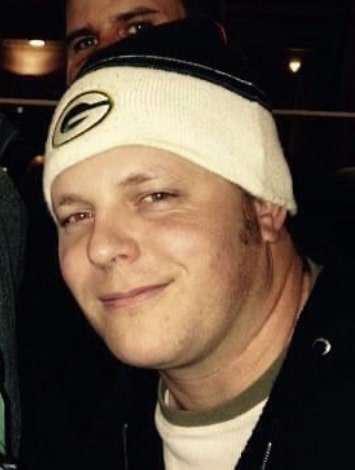 Paul. Card collector since 1993. Serious collector since 2014. PC Pro Football Hall of Famers regardless of team. Go Packers, Seminoles, New Jersey Devils, Milwaukee Bucks, and whoever I have money on in auto-racing. Would rather be found forging my own path than following the beaten one.