Ken Griffey Jr. Rookie Cards can be found in almost every baseball card collector's collection. The face of baseball in the 1990s, Griffey dominated the sport as well as advertisments.
Ken Griffey Jr. was born in 1969 in Pennsylvania. Ken Griffey Jr.'s father was a professional baseball player, so he embraced the culture early on in his life. In 1987 Griffey Jr. was drafted into the MLB with the first overall pick by the Mariners.
Ken Griffey Sr. was playing on the Reds when Griffey Jr. made it into the MLB in 1989. This made them the first father-son duo in MLB history. Griffey Sr. got traded to play with his son and they played together until 1991.
As for Griffey Jr, he got injured his first year in the league. Upon his return he ended up dominating the MLB. Griffey Jr. had a. batting average of .280 and hit over 600 home runs. Griffey Jr. won MVP, 10 Golden Gloves, 7 time silver slugger, and 13 time all-star
Ken Griffey Jr has a lot of cards, so in this post today we are only going over his rookie cards
Most Valuable Ken Griffey Jr. Rookie Cards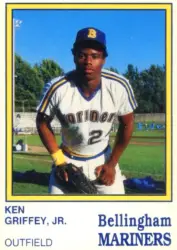 This is Griffey Jr.'s first card. It's his only card from 1987 and depicts him in his first year in the minor leagues. This card is affordable as a PSA 10 recently sold for $400
1988 San Bernardino Spirit (Platinum) /5000 (/1300)
This card has two versions: a base version and a platinum version. It's said there are around 5,000 copies of the base card and 1,300 copies of the platinum version. The design of the card looks similar to the 1986 Topps Traded set.
1988 Cal League San Bernardino Spirit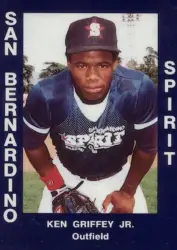 The Cal league card has a generic look and almost appears as if it's unlicensed. This card is fairly affordable and cheaper than some other counterparts
1988 Procards Vermont Mariners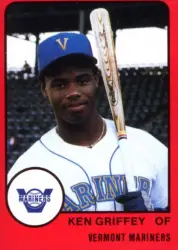 This card shows Griffey Jr. on the last team before he made it on the Mariners. This card has a distinct red border and is naturally off centered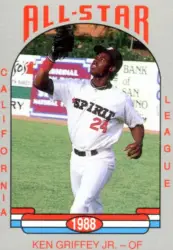 His second card from this set is his all-star card. This one shows Griffey catching a fly ball. 
1989 Donruss Rated Rookie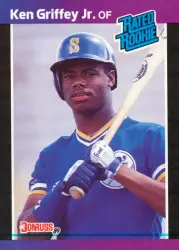 This card has a classic rated rookie design. It's a cheap card as a lot were produced. You can probably find this card online or at a card show for $3-5.
1989 Donruss Baseball's Best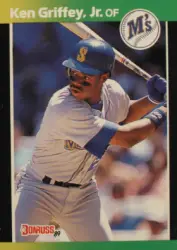 This is Griffey's other rookie card from this set. It's slightly cheaper than the rated rookie version as it's not as desirable
1989 Sports Collector Digest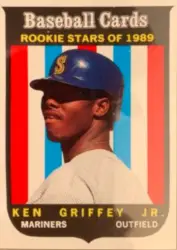 This card is unique as it's also a pocket price guide. It shows the price of the 1989 Donruss rated rookie card at it's issuance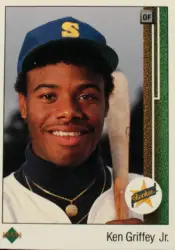 The Upper deck rookie card is the flagship Ken Griffey Jr. Rookie card. It's a portrait of him and has become one of the most iconic sports cards. It's one of the most graded sports cards as there are about 4000 PSA 10s.
1989 Baseball Card Magazine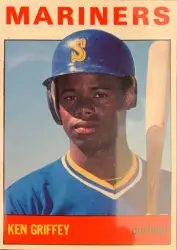 This card came is a cut out from a magazine. It mimics the 1959 Topps set and can be found for around $5
1989 Phoenix Collecting Magnetic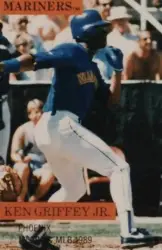 This card is a magnet and can be graded. PSA 10 versions of this card sell for about a couple hundred dollars.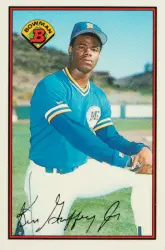 This Ken Griffey Jr. Rookie card has two versions: a paper card and a glossy Tiffany card. The paper card is cheap and can be obtained for about $5. 
1989 was the first year Topps revived the Bowman brand, They originally purchased it in the 1950s and never used the intellectual property. These cards are also slightly oversized like early 50s baseball cards.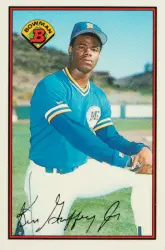 The Tiffany version on the other hand is much more expensive as a PSA 10 sold recently for about $7,000. These were only found in complete sets and feature a premium glossy cardboard stock.
1989 Mariners Mother Cookies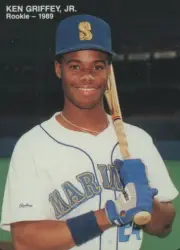 This card has many variations what depict different angles of Griffey. These cards were distributed at a card show and also packaged with cookies.
1989 Star Ken Griffey Jr.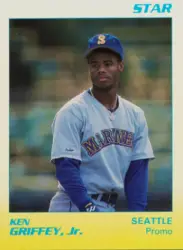 This is the same Star company that produced the iconic 1984 Jordan rookie card. Unfortunately this card is not worth nearly as much as the Jordan card. As it can be found for about $5 and is considered a promo card.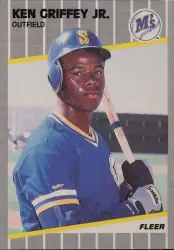 This card has two versions: a glossy and nonglossy version. The nonglossy card is worth a few bucks.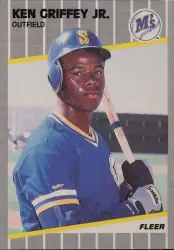 The glossy one sells for around $275 in a PSA 9. Not as valuable as a Tiffany, but still expensive and a premium over the other junk wax card.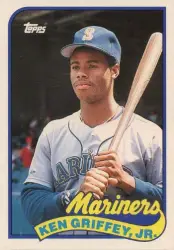 The Topps Traded card has 2 versions: a base card and a Tiffany. The base card is worth a few bucks.
1989 Topps Traded Tiffany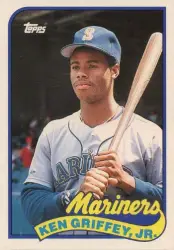 The tiffany sells for around $3,000 in a PSA 10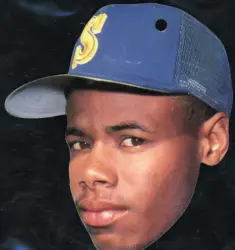 This Ken Griffey Jr. Rookie card was a test issue card. Very few copies are known. Because of this, its a very scarce card. In 2019 this a PSA 6 sold for $700. A higher graded example should eclipse 4 digits if not 5.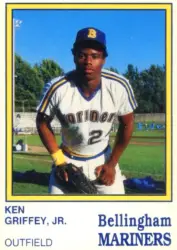 This is another cheap Griffey card as most of them are. Score is an affordable brand and Griffey is no exception to this. It can be found for around $3
Final Thoughts on Ken Griffey Jr. Rookie Cards
Ken Griffey Jr. rookie cards are mostly inexpensive minus a few cards. You'll always pay a premium for a 10, but the junk wax era made it so any collector at any level can have one in their collection.