1950 Bowman Football cards have many rookie cards of top football stars of the decade.
Football cards weren't exactly new season, new rookie cards from that season to chase in 1950. However, in 1950 Bowman, you had new teams get added to the checklist all together. The soon to be bankrupt Baltimore Colts and New York Yanks, San Francisco 49ers, and Cleveland Browns find their major release rookies in 1950 Bowman.
In fairness to the card companies, you had no idea who was going to be around in five years to take the time to photograph the players of those teams. The Baltimore Colts mentioned above were a different team than what Johnny Unitas quarterbacked in the 1960's. Most of the All-America Football Conference went under and the players went into the NFL Draft for 1951. Only the 49ers and Browns made it to the NFL without going bankrupt. We'll call whatever the Baltimore Colts going 1-11 for one season and folding not making it.
Doak Walker and Leo Nomellini are technically 'rookie' cards in 1950. Walker has 1948 Leaf and Topps Magic cards, but 1950 was his rookie year. Nomellini has 1948 Leaf and is a 1950 rookie as well. Card companies did not know they couldn't promote college athletics, or their players at the time. They were more interested in keeping college athletics pure and void of money. Writing this in 2022, with name, image, and likeness for college players where they can get paid tells you how that worked out.
Most Valuable 1950 Bowman Football Cards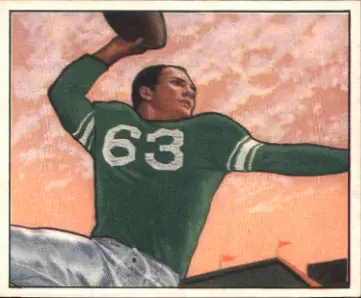 Originally played for the original Baltimore Colts named above, Tittle was a star in the AAFL, but became a Hall of Famer with the NFL. Underrated because he never won a championship, and signed his autograph liberally, Tittle won MVP in 1963, and went to seven Pro Bowls. 
When he retired, Tittle was the all-time leader in passing yards, touchdowns, attempts, and completions. Yes, he played a long time, but Tittle was truly great. The image above where he leaves the field bloody is iconic from the era where he played. This is one of the best cards in the 1950 Bowman football card set.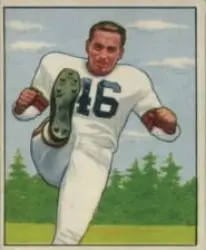 Lou Groza was the greatest kicker of his era. The collegiate award for the best kicker is named after him. However, Groza was also a solid starting offensive tackle as well. 
Retired after 1959 due to an injury, but came back in 1961-1967 to kick, because that is less stressful on the body than offensive tackle. No brainer Hall of Famer was inducted in 1974.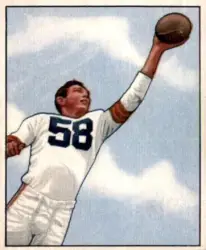 Originally drafted by the Detroit Lions, but did not sign because of World War II, was ultimately signed to the Cleveland Browns. Six times Speedie was first-team All-Pro in the NFL. Left for the Canadian Football League late in his career over pay. 
Very good chance that kept him out of the Hall until 2020 due to Paul Brown not being a fan of that decision. Due to not making the Hall until after death, Speedies autograph is very expensive.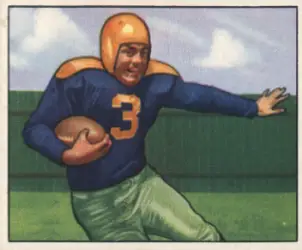 Canadeo played multiple positions across two stints with the Packers divided by his time serving in World War II. Splitting time with other Hall of Famers, and the war, didn't leave much time for Canadeo to make a total impact. However, he was a three time All-Pro and was proficient on defense and punting. 
Being a nice guy and signing his autograph a lot, Canadeo isn't remembered as much as he should be for his all-around game. The Packers had 1948 Bowman and Leaf cards, and leaving out Canadeo feels like a disgrace in hindsight.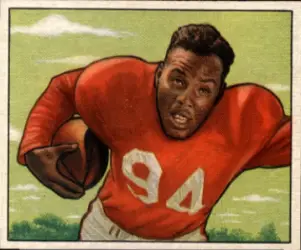 Joe Perry, no not the Aerosmith guitarist, was the first player to break 1,000 rushing yards in a season back-to-back in 1953 and 1954. However, playing for the 49ers where he never won a championship hurt his long-term hobby collectability. 
Retired as the league's all-time rushing leader at the time. Has an easily found autograph, although jersey cards you have to look for.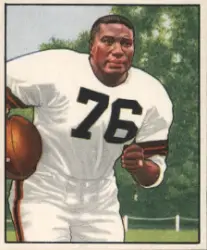 Arguably the best fullback of all-time, Marion Motley could do it all. Excellent blocker, runner, and pass catcher was big enough to run over defenders, fast enough to run around them, and big enough to block defensive ends. Was also good at linebacker, in an era where playing both sides was common. This 1950 Bowman Football card is easily the 2nd best in the set.
Paul Brown, who coached both, considered him better than Jim Brown for what that's worth. Along with Joe Perry, Motley was a source of racism and is a champion for overcoming it to perform at historic levels.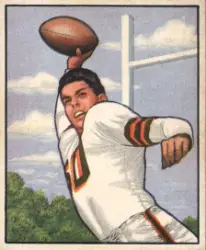 Probably the most famous card within the 1950 Bowman Football card release.
A possible GOAT, Otto Graham played ten seasons, and played for the league championship in all ten, winning seven of them. The five-time MVP (counting AAFL) has a separate article on this blog that you should check out after finishing this one.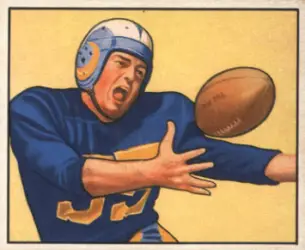 Tom Fears twice broke the NFL single season receptions record at receiver. Also played defensive back to show versatility. However, Fears is not remembered due to a few factors. 
He wasn't the receiver you remember from those Rams championship teams, he signed a lot, and only made All-Pro once. Clear Hall of Famer, but lacks the sizzle you find with other Hall of Famers.
Elroy 'Crazy Legs' Hirsch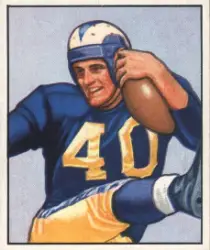 Crazy Legs Hirsch is the receiver you remember from the Rams 1950's Championship teams. Hirsch however started in the AAFL with the Chicago Rockets, but joined the Rams upon the AAFL folding. 
Blessed with good hands and an open field running ability like few others, Hirsch was a threat to score every time he touched the ball. Good looks allowed Hirsch to transition to Hollywood movies and advertisement TV roles as well.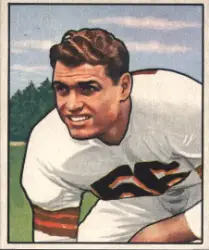 'Glue fingers' Lavelli served in World War II, and was one of the crucial pieces to that Browns dynasty. Refined route runner with great hands, Lavelli was the guy you had to stop to have a chance to win. 
He also was the guy who formed the NFL Players Association, that fought for greater pay and medical benefits to the players. He was truly a forgotten legend.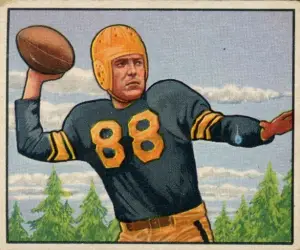 James Finks was a primarily backup football player. So how did he make the Hall of Fame? In the 1950's and 1960's Finks was the general manager of the Calgary Stampeders honing his skills he would later use in the NFL. 
Starting in 1968, Finks was the GM of the Minnesota Vikings for their Super Bowl runs. Hired future Hall of Famer Bud Grant from Canada during his time there too. Joined the Bears in 1974, and while Walter Payton helped, they got better throughout his tenure. 
The 1985 team that won the title was mostly Finks guys despite him leaving in 1983. Took over the New Orleans Saints in 1986, and turned an annual dumpster fire into a playoff team. Was the leading candidate to replace Pete Rozelle as commissioner, but that ultimately went to Paul Tagliabue. If you made an all-time team, coaches, staff, and everyone around a team, Finks would be a serious candidate for General Manager role.
Final Thoughts on 1950 Bowman Football Cards
While the cards in 1950 Bowman football cards were undersized, the Hall of Famers were top notch. 1948 Leaf football and 1948 Bowman get the advantage of being all rookie cards with no football cards for 13 years prior, but 1950 Bowman has an awesome checklist. Luckman, Layne, Baugh, Bednarik, and others all sell for real money, despite not being rookies. 
Otto Graham being a rookie gives the card a headliner. Tittle gives another banner card as Hall of Fame rookie. Marion Motley doesn't get discussed outside of football nerd communities, but he should. Crazy Legs went to Hollywood. For a set that had the disadvantage of not having pick of the litter at rookie, they hit a grand slam.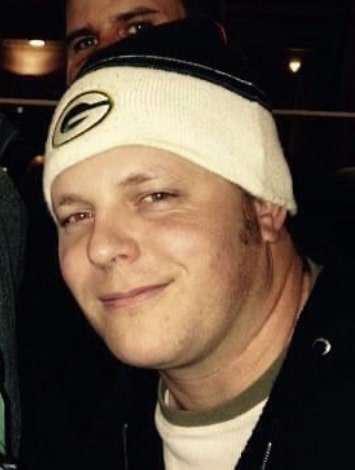 Paul. Card collector since 1993. Serious collector since 2014. PC Pro Football Hall of Famers regardless of team. Go Packers, Seminoles, New Jersey Devils, Milwaukee Bucks, and whoever I have money on in auto-racing. Would rather be found forging my own path than following the beaten one.