The 1945-46 Caramelo Deportivo set depicts players from the 1945 Cuban League winter ball season. These cards are smaller in size, they measure 1  7/8 by 2 5/8 and have a very thin stock (which is similar to other Cuban releases such as Propaganda Montiel). There are 100 cards in this set. All of these are black and white and a number displayed on the bottom left.
The back is written in Spanish. It features a bio, card number, and the Phone Number/Address of Felices (The company who created the set).
Most people who collect the set only get to 99/100 cards. While commons can be found routinely under $25, the Napoleon Reyes card is often a struggle to find. Due to it being a redemption, not many are around. We talk about it in more details near the end of the article.
Besides the baseball players in the set, you can also find umpires, coaches, and pennants. Card #1 in the set is a header card and #2 shows a baseball field.
Most of the cards found today were originally pasted within an album. Back in 1945 it only cost 5 cents to buy the album. Today you are looking at a minimum of a few grand if the set is in tact.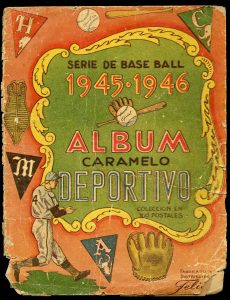 Most Valuable 1945- 46 Caramelo Deportivo Baseball Cards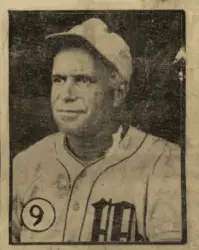 While early on his career Jose Fernandez was a catcher, in this set he was featured as one of the managers. During this time period he was in charge of the New York Cubans. A team in which he managed from 1939 to 1950.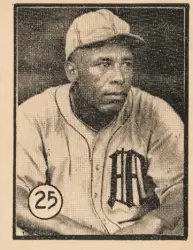 Ray Dandridge is considered one of the best third basemen in the Negro and Mexican Leagues. He could hit for average and was great defensively. While Dandridge has a few other cards from his playing day era, this is considered the rookie.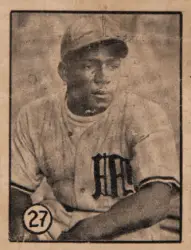 Most don't realize it, but the first Minnie Minoso baseball card is in the 1945-46 Carmelo Deportivo set! He is the only player within the release to also play in the MLB. The Minoso is one of the most expensive cards and you won't be able to find one under $1000.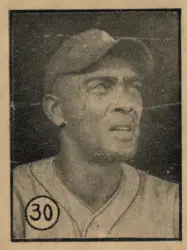 Like Minoso and Dandridge, this is Ray Brown's first card. Brown is widely considered to be one of the greatest pitchers in the Negro Leagues. He has very few cards so many collectors chase after this one for their PC. 
Manuel "Cocaina" Garcia #43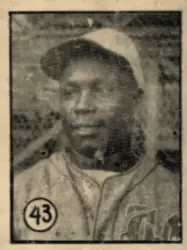 Manuel Garcia was a pitcher in both the Negro and Mexican leagues. His cards fetch a premium over commons in a set, however, he is not a MLB hall of famer.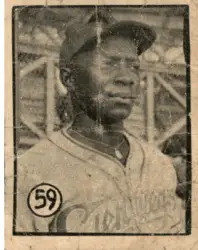 Like Garcia, Crespo isn't a hall of famer. He played in both the Mexican and Negro leagues as an outfielder. He also ended his career playing minor league baseball for the Charlotte Hornets, but never made it to the MLB.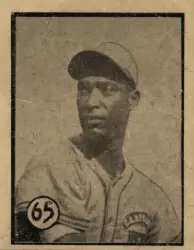 Martin Dihigo was enshrined in 5 Hall of Fames! He was a baseball legend and most people don't know too much about him. Like Shohei Ohtani, Dihigo had the capability to both hit and pitch! This is technically a later career baseball card of Dihigo. His first cards were in the Doble Aguila set.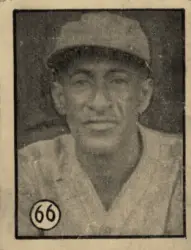 Luis Tiant was a pitcher who played in both the Negro and Latin American leagues. His most famous pitch was a wicked screwball. His son was a 19 year MLB veteran who played for both the Red Sox and Indians.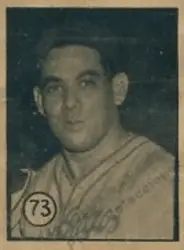 Napolean Reyes was not as good of a player as the other players here. However, his card is extremely rare and only few copies exist. He has cards in other sets, however none are as valuable as this one.
The reasoning is that this is a redemption card. Collectors had to have the full set before being issued it. 
Each one has a stamp saying "EXCLUSIVAMENTE Para Coleccionar" which when translated states: For Collecting Only.
If you need this card for your set build, expect to pay a few thousand dollars. The total combined PSA/SGC pop is 6. 5 are graded with SGC and 1 with PSA.
1945-46 Caramelo Deportivo Checklist
Introduction Card
Action Scene
Maestri
Rodriguez
Magrinat
Conde
Marianao Banner
Marsans
Fernandez
Colos
Orta
Serrel
Duany
Castanos
Arteaga
Valdivia
Cabrera
Salazar
Moreno
Ortiz
Knerr
Campos
Adams
Consuegra
Dandridge
McDaniels
Minoso
Parra
Estalella
Brown
Havana Banner
Gonzalez
Rojo
Blanco
Formental
Monteagudo
Blanco
Hernandez
Linares
Ordenana
Jiminez
Kaiser
Garcia
Hernandez
Klein
Hidalgo
Sisler
Rebel
Navarro
Medina
51. McDuffie
52. Martin
53. Acosta
54. Cienfuegos Banner
55. Luque
56. Ramos
57. Perez
58. Rodriguez
59. Crespo
60. Gladu
61. Pages
62. Garcia
63. Colas
64. Maglie
65. Dihigo
66. Tiant
67. Roy
68. Roger
69. Zabala
70. Gallart
71. Zardon
72. Berres
73. Reyes
74. Gomez
75. Xiques
76. Almendares Banner
77. Coreiro
78. Portuondo
79. Rogue
80. Arago
81. Torres
82. Ortiz
83. Rodriguez
84. Clark
85. Guera
86. Comellas
87. Otero
88. de la Cruz
89. Diaz
90. Aloma
91. Davenport
92. Mayor
93. Bragana
94. Canizares
95. Ulrich
96. Avila
97. Amaro
98. Floita
99. Martinez
100. Montero