Stan Musial is considered one of the legends of baseball. Across his 3 decade career, he was able to win 3 MVP awards and World Series Championships. Counting stats-wise, Musial has 128 WAR and  3600 hits which is extremely impressive.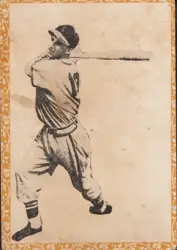 This was the first-ever card produced of Musial and it's extremely scarce. This card was distributed in Cuba and has extremely thin stock. Many of these were also pasted in books leaving the backs torn up when removed.
Finding a high grade is impossible on these. Even lower graded examples will cost you thousands at an auction house.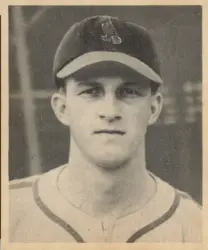 Two years after the Cuban release, Bowman printed the first US based card of Stan Musial. 
These cards were small squares and only had black and white color. This would be the first inaugural set for the Bowman baseball brand, however the producer GUM Inc. created cards in the 30s.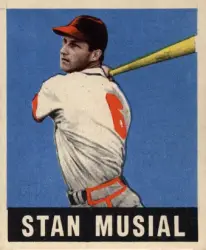 Another 1948 release for Musial is his leaf rookie. This came after his Bowman release and is rumored to have a two-year print run between 1948 and 49. I actually picked on up at the Miami Card show a while back for my PC.
In my opinion, this is a much better-looking card than the Bowman release. It's larger and features color.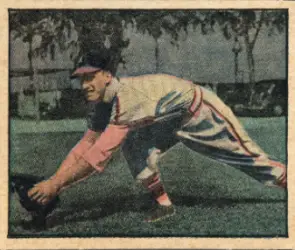 Berk Ross was a set that featured athletes across many different sports including Baseball, Football and Boxing. Each card came in a panel that could be split in the middle. Many that I come across at shows are often split.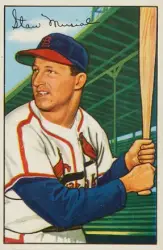 Stan Musial unfortunately didn't have a 1952 Topps card. His first Topps release would come many years later… He was exclusive to the Bowman brand.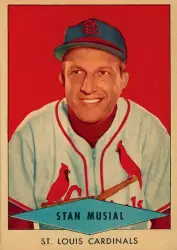 Red Hearts were a classic set from the mid-1950s. The Musial and Mantle are considered the best cards within the release. To receive cards, one had to send in labels of Red heart Dog Food. The Musial is expensive due to two reasons. One is that he didn't have a 54 Bowman. The other is the color match with the red background.
From 1955 to 1957 Stan Musial didn't have a release within a Major brand like Bowman or Topps. Instead, you would have to find cards within products. One such example is the 1955 Rawlings Glove Box. These were a set of 6 Musial cards printed on the side of a box containing a baseball glove. They are hand-cut and come in small and large card sizes. Finding these in high grade is extremely tough as the highest card PSA has authenticated is a  4. A full set of 6 will cost you around 1,000+ depending on condition.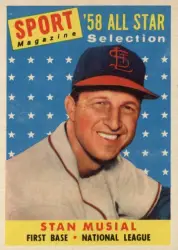 The All-Star Stan Musial was the first Topps release. It feels weird to think that Musial didn't have many of the iconic 1950s Topps cards. 
It's not a super popular card and prices are relatively cheap. You can find mid-grade copies at almost any card show with a vintage dealer.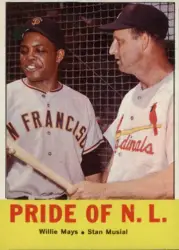 While this is a card super late into his career, many collectors want to have one in their collection. It features two of the biggest National League stars from the 1950s: Willie Mays and Stan Musial. Being that both players are regarded as some of the best of all-time, it's cool to have both on the same card.
At the same time, this can be a condition-sensitive card. With 1963 cards often being chipped due to the color borders.