Many consider the 1935 National Chicle first real football set. 
Yes, there's 1894 Mayo, some 1911 cards in mixed sets, and Diamond Matchbooks, but 1935 Chicle is the first National Football League set that had packs to open. 
Made by the National Chicle Company out of Cambridge, MA, this is a truly iconic set, and the only football set before 1948 Leaf or Bowman with real recognition. It shares the same design as the 1933-36 Diamond Stars baseball set.
A 36-card set that features nearly all rookie cards, 6 members of the Hall of Fame are represented. Knute Rockne would make that seven, but he is only in the college Hall of Fame and not the pro Hall of Fame. 
Beattie Feathers is also on the 1930's NFL All Decade team and Bernie Masterson was another very solid player.
1935 National Chicle Football Most Valuable Cards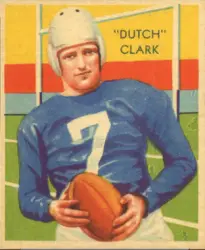 Dutch Clark is the first card in the 1935 National Chicle set and a great way to kick off the product. 
He Played for the Portsmouth Spartans before they moved to Detroit. You may know the team today as the Detroit Lions.
He was predominetly a running back, but would also call plays for the team. Some also consider him to be a quarterback as well.
It was an era where passing was uncommon, so playing both positions was possible, unlike today.
When the Hall of Fame had their first class in 1963, he was a charter member.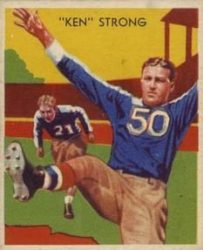 Ken Strong played for the Staten Island Stapletons from 1929-1932 but only because the Giants couldn't agree to financial terms.
This was not uncommon for the era as the first ever NFL Draft pick, Jay Berwanger, chose to work elsewhere because George Halas would not meet his $1,000 per game salary demands.
Strong was an all-around player who played running back, defensive back, and kicker.
He originally retired in 1939, but came back in 1944 when the Giants were desperate for players during World War II.
Strong was inducted into the 1967 Hall of Fame class along with Chuck Bednarik, Paul Brown, and others.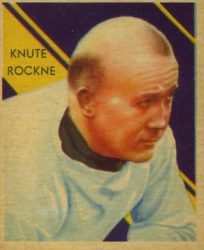 The Kunte Rockne National Chicle card is quite popular with collectors. The greatest college coach of all time has very few cards. In fact his two most popular ones: 33 Sports Kings and 35 Chicle were produced after his unexpected death in 1931.
1935 National Chicle Knute Rockne Value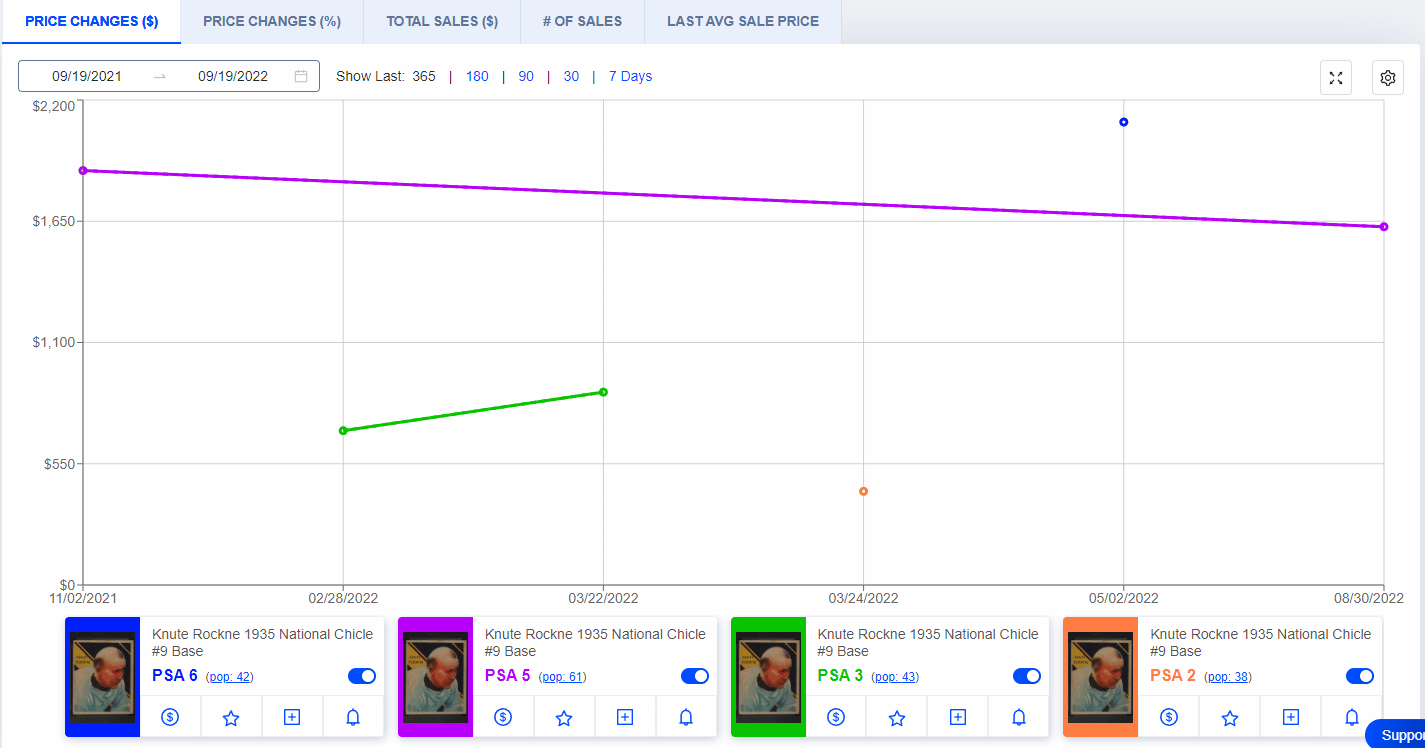 The above chart shows the prices of the 1935 Chicle Knute Rockne Card. This was grabbed from Market Movers. Get your first month for $1 using code BREAKOUT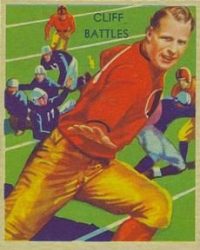 Despite only playing six seasons, Battles was All-NFL for five of them.
To give a perspective on the era, he had 3,511 rushing yards across his career. In modern days, you likely have to get 1,200 or more in a season to be considered an All-Pro.
He won the 1937 Championship with Sammy Baugh as a rookie quarterback.
Initially signed for $175 per game, but left after 1937 due to a contract dispute when the Redskins would only offer $3,000 per season.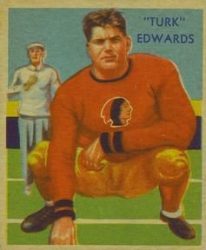 Turk Edwards was a Four time All-Pro in nine seasons at tackle.
A dominant player who first ballot Hall of Famer Mel Hein described as "The greatest tackle I have ever had to play against"
His career ended tragically as his cleat stuck in the ground when trying to return to his bench and his knee gave out.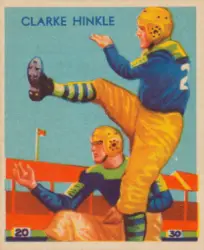 Hinkle was a Four time All-NFL selection as a linebacker and running back.
The legendary Bronko Nagurski claimed that he was the toughest man he ever played against. This was probably due to Hinkle being the only player to ever knock Nagurski out of a game.
Clarke Hinkle was inducted to the pro football hall of fame in 1964.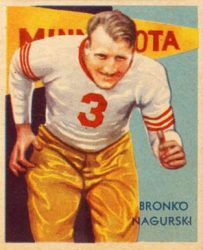 Imagine Derrick Henry as both a running back and a defensive end. That's Bronko Nagurski in this era….
He was bigger than everyone else with enough speed to make you respect him.
His athletic career was a mixture of football and wrestling. He became a pro wrestler after his first stint in the NFL and became a legit World Champion in 1939 with the NWA.
This card is a short print in Chicle and commands four to five digits to get a graded copy. Many consider this to be one of the most significant football cards. 
In short, this set has many no doubt Hall of Famers all of whom got in by the end of the 1960's
As far as ease of finding these cards, without online sites such as eBay, comc, or myslabs, putting together an entire set of the 36 cards would be extremely hard to do.
Most of these cards aren't even at regional 200+ table type shows.
Many of them have tack holes as they were put up on poster boards. And despite the thicker card stock, the corners are usually rounded.
The total population as of writing in PSA cases, is 7,560. In SGC cases, the number is 413. Those numbers are not just the Hall of Famers, but all 36 cards in the set. The highest individual population is Knute Rockne with 361 combined between PSA and SGC.
1935 National Chicle Football Longterm Potential
The 1935 National Chicle set is absolutely iconic. It has top tier Hall of Fame players and is quite difficult to find cards. If any vintage football set has the potential to rise sharply, provide a rock-solid floor, and rarely have to worry about competition when the time comes to sell, it's 1935 Chicle. I personally have all the Hall of Fame rookies in this set, besides Nagurski where I have a 1933 Diamond Matchbooks, and consider them cornerstone cards in any serious football collection.
1935 National Chicle Football Checklist
1 Dutch Clark 
2 Bo Molenda 
3 George Kenneally
4 Ed Matesic 
5 Glenn Presnell 
6 Pug Rentner 
7 Ken Strong 
8 Jim Zyntell 
9 Knute Rockne 
10 Cliff Battles
11 Turk Edwards 
12 Tom Hupke 
13 Homer Griffiths 
14 Phil Sarboe
15 Ben Ciccone 
16 Ben Smith 
17 Tom Jones 
18 Mike Mikulak 
19 Ralph Keheval 
20 Warren Heller 
21 Cliff Montgomery 
22 Shipwreck Kelly 
23 Beattie Feathers 
24 Clarke Hinkle
25 Dale Burnett 
26 John Dell Isola 
27 Bull Tosi 
28 Stan Kostka 
29 Jim MacMurdo
30 Ernie Caddel 
31 Nic Niccola 
32 Swede Johnston 
33 Ernie Smith 
34 Bronko Nagurski 
35 Luke Johnsos 
36 Bernie Masterson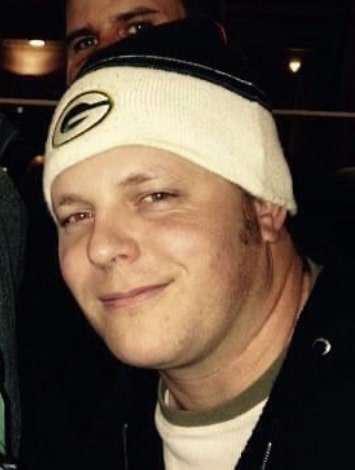 Paul. Card collector since 1993. Serious collector since 2014. PC Pro Football Hall of Famers regardless of team. Go Packers, Seminoles, New Jersey Devils, Milwaukee Bucks, and whoever I have money on in auto-racing. Would rather be found forging my own path than following the beaten one.