The 1954 Johnston Cookies Brave set featured 35 players and personal trainers. Each card measures 2″ wide and 4″ tall. Which is quite different than the standard card size.
Unlike many sets which have random card numbers, the ones in this set were assigned to jersey numbers. For example, Warren Spahn was card #21.
The set is highlighted by 3 HOFs and one Shor Print. Besides the Hank Aaron baseball card, the set is pretty affordable. You can locate many commons under $5. Stars like Eddie Mathews & Warren Spahn are typically under $100 in low to mid grade.
The only issue with building the set is finding the cards. Many of these will not be at your local card show. Instead, you are going to have to locate them at an online marketplace.
The Hank Aaron rookie card is the highlight of the set. The 1954 Johnston Cookies is much harder to find than the Topps. However, the value is significantly less. Most mid-grade examples run under $3500. 
If you are wondering why this isn't card #44, Aaron wore #5 his rookie season. In 1955 he changed his jersey number.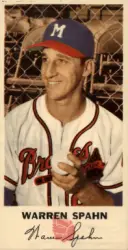 Many consider Warren Spahn to be one of the greatest left-handed pitchers of all time. Across his legendary career, he was able to win 363 games, accumulate 100 WAR, and strikeout 2600 hitters. While this isn't an early card of his, it's still quite collectable by those who PC him.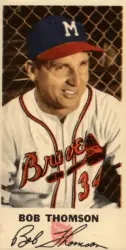 While Bob Thomson was known for his pennant-winning home run for the Giants, this card is valuable due to it being perceived as short print within the set. Thomson was injured early in 1954 and Johnston Cookies decided to cut the print run of the card. 
Looking at the PSA pop report, I'm not totally sure if that is the case. 68 have been graded. Many of the commons have between 50-75 graded with stars being between 1-300.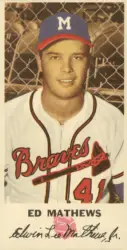 Eddie Mathews is often overshadowed by Hank Aaron, but he was one of the best 3b of all time. Across his career he had over 500 home runs and 90+ WAR. This is a 3rd year card.  Mid grades hover around $100 but the last 9 sold for close to $800.
1954 Johnston Cookies Longterm Value
Over the next 5 years, I can see more collectors chasing after the HOFs within the set. Especially the Aaron as they are harder to find than the Topps releases. The weird size and lack of knowledge by the common collector really make this set tough to judge longterm however. 
1954 Johnston Cookies Braves Checklist
1 Del Crandall
3 Jim Pendleton
4 Danny O'Connell
5 Henry Aaron
6 Jack Dittmer
9 Joe Adcock
10 Robert Buhl
11 Phillip Paine
12 Ben Johnson
13 Sibby Sisti
15 Charles Gorin
16 Chet Nichols
17 Dave Jolly
19 Jim Wilson
20 Ray Crone
21 Warren Spahn
22 Gene Conley
23 Johnny Logan
24 Charlie White
27 George Metkovich
28 John Cooney
29 Paul Burris
31 Wm. Walters
32 Ernest T. Johnson
33 Lew Burdette
34 Bob Thomson
35 Robert Keely
38 Billy Bruton
40 Charles Grimm
41 Ed Mathews
42 Sam Calderone
47 Joey Jay
48 Andy Pafko
Dr. Charles Lacks
Joseph F. Taylor