The 1948 Leaf Football cards were one of the first post WW2 sets. Like 1935 Chicle, the set is almost entirely rookies due to the last football set being released in 1935. None of the players are in both sets.
The set features a 98-card checklist with an astounding 45 cards having variations, mostly for background color or jersey color. Split into two print runs (#1-49 and #50-98), the second half of the set is short print, and difficult to find.
The set also features players in their college uniforms. At the time, this was technically an NCAA violation.  Considering Topps, with the Magic Photo and Felt sets, also had college players, the card companies likely did not know they were creating a problem for the players.
Like 1948 Leaf baseball, the football set is notoriously off center. 1948 Leaf boxing are mostly centered but the same company missed the mark with football. It's rare to find centered cards in this set, and they do command a high premium. Collectors can debate what is most important between edges, corners, centering, and surface, but when a high percentage are miscut, scarcity of centered wins the day here.
Centering is not the only issue with the set as a good percentage of the hobby considers these cards outright ugly. They look like having the original version of Microsoft Paint on Windows 95 was made to make cards. Plain colors, dull images, and when you want to just go back to what you had prior, not possible so you just make another version from memory and one of the 45 variation cards comes to existence.
15 cards out of the 98 on the checklist would end up being Hall of Famers. Out of those, two are in the short print series (Nomellini and Bednarik), and are some of the most valuable Hall of Fame rookies because of it. Let's take a look at the 15 Hall of Famers.
Most Valuable 1948 Leaf Football Cards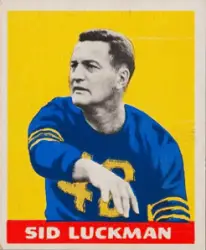 To this day, Sid Luckman still holds some Bears passing records including average yards per attempt. Which considering the era he played in, is crazy. 
A four-time NFL champion, six time All-Pro, three-time yards, passing rating, and touchdown leader, MVP, and 1965 Hall of Fame member, Luckman was top tier.
This 1948 leaf football  card is one of the many variations with the background being different across different printings.
One of only two Hall of Famers from the 1940 NFL Draft, other being George McAfee will be talked about later, Turner was a dominant center.
A seven-time first team All-Pro, was a good enough athlete to lead the league in interceptions one year.
To put that in modern day terms, imagine Trent Williams deciding to play linebacker, and getting interceptions off of skill instead of lucky deflections.
Pro Football Hall of Fame class of 1966 member has four versions of this rookie between different backgrounds and pants colors.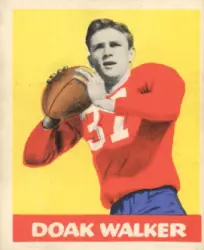 The Doak Walker Award, college football's best running back, is named after him for good reason.
He was popular enough for this to technically be a pre-RC as he was still in college at SMU when the card was released.
The Cotton Bowl had to expand capacity during his time just to service demand for tickets. In six NFL seasons, he was first team All-Pro four times and two-time NFL champion.
He retired young because NFL pay at the time was not what he could earn outside of football. Boy how times have changed.
This is a variation card with the background changing in certain print runs.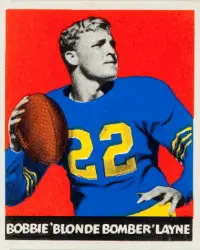 Bobby Layne was originally signed by the Bears but later traded away, because he sat behind Sid Luckman.
He was a six time All-Pro and three-time NFL champion. Layne had truly unreal arm talent.
He was this generations Patrick Mahomes who could instill fear in any opponent.
A hall of Fame member of 1967 this 48 leaf football card has a color variation  as well as a spelling error. Bobbie 'blond bomber' Layne as his card states, is a truly underrated player.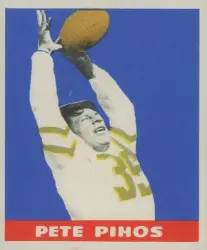 Pihos was a Six-time first team All-Pro in nine total seasons in the league and was enshrined to the Hall of Fame in 1970.
Regularly was among the league leaders in receiving, which amounted to 373 career catches and 5,619 total yards.  Pihos was also in the US Army for the last two years of World War II.
He has two versions of the 1948 Leaf football card rookie, with the jersey color being the variation.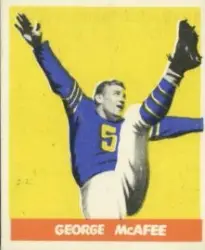 McAfee was originally drafted in 1940 by the Eagles but the Bears had a trade worked out before the draft for his rights. If you wondered why the Bears were a dominant team in the 1940's, two Hall of Famers were taken that draft, and they got both (Turner).
 Elite punt returner in addition to starting defensive back but mostly known for offense. Only first-team All-Pro one time, but missed 1942-1945 being an active servicemember during his theoretical prime. Hall of Fame class of 1966 shows he was
more sum of the part's elite player than master of one trade. Rookie card has a variation where some have 'Gorgeous' listed in his name, and others do not.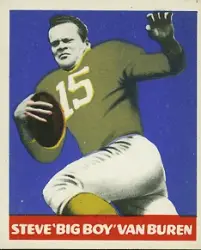 Van Buren was this generations, Derrick Henry.
6'0' 200 LBs doesn't sound that impressive until you realize the average offensive lineman was 220 LBs in the 1940's.
Seven time All-Pro in eight total seasons is a level of dominance rarely seen. Class of 1965 Hall of Famer was a true no brainer induction. Has a yellow and green jersey version of his Leaf rookie.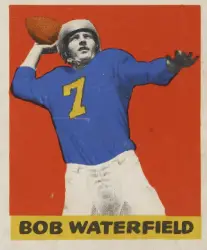 As a rookie in 1945 he led his team to the NFL Championship by outplaying Sammy Baugh, won MVP, and signed the richest contract, to date, an NFL player had received.
The five time All-Pro helped the Rams to another title in 1951 when he split quarterbacking duties with Norm Van Brocklin, a fellow Hall of Famer.
Waterfield's statistical numbers were down due to splitting with Van Brocklin as well, but a 1965 Hall of Fame induction leaves no doubt how good he was.
Color variation on his 1948 Leaf football card rookie with some being black letters, and some white.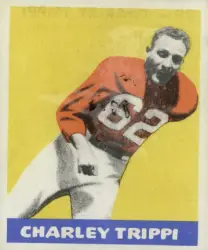 Trippi served in World War II, delaying his NFL debut until the age of 26, but made quite an impression upon arrival.
He would split carries with All-Decade team member Pat Harder and Hall of Fame finalist Marshall Goldberg, to form the 'Million Dollar Backfield'.
Lead the league in all-purpose yards twice despite splitting carries. The class of 1968 Hall of Famer is alive as of this writing, and is one of the few rookies without a variation.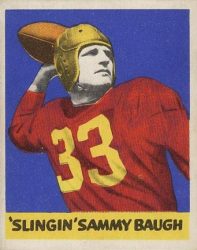 Lead the league in passing yards, interceptions, and punting averages throughout his career for some amazing versatility.
Along with McAfee, Baugh is another player who could be impossible to compare in the modern game for how good he was across multiple positions.
He played 16 seasons and was an All-Pro eight of those. Lead the league in passing yards as a rookie, and won the NFL title the same season.
Sammy Baugh has many Football Cards to collect. Check out the article here.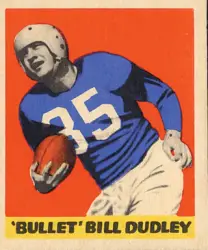 Six time All-Pro across nine seasons that were interrupted by military service. Lead the league in interceptions, return yards, and rushing yards in 1946 to win the MVP. 
Like McAfee, not known for being dominant at one thing, but elite at many. 1966 Hall of Fame member has only one version of his 1948 Leaf football card rookie.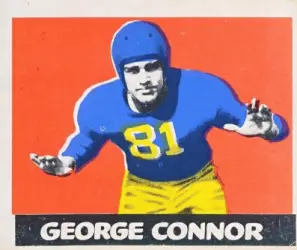 Connor had an eight-year career with six All-Pro seasons. Was the first 'big linebacker' in the league when George Halas experimented trying to stop Steve Van Buren by putting a tackle off the line of scrimmage in Connor.
The plan worked well enough to keep him as a linebacker.
He was enshrined to the Hall of Fame, in 1975. He is also in the first Topps Magic Football set.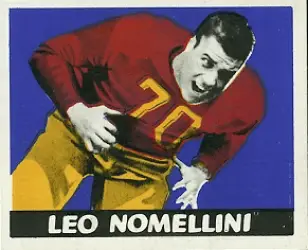 Nomellini was a remarkable nine time All-Pro across 14 pro seasons.
Good enough on offensive and defensive line that he was named All-Pro at both.
Only played in one playoff game for the 49ers across his career, but left a bruising mark on opponents. A 10-time professional wrestling tag team champion during his spare time.
Should have won the World Heavyweight Championship from Lou Thesz but typical rasslin' shenanigans got in the way.
Has three 1948 Leaf football card variations between background and jersey color. Was still in college during 1948, like Doak Walker, and can be considered a pre-RC due to this.
This card is also in the scarce high numbers, and  commands close to four figures in low grade due to it.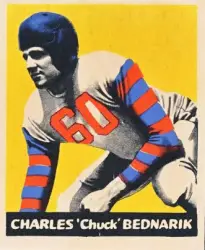 Bednarik was a true two-way player, and a legit candidate for the NFL Mount Rushmore.
'Concrete Charlie' sold concrete during the offseason to supplement the low pay of the NFL back then.
10-time first team All-Pro across 14 seasons also had 30 combat missions over Germany during World War II. Some players above got into Canton on the sum of the parts, but not Bednarik.
Considered the best center of all time was also a feared linebacker.
He hit Frank Gifford so hard, that he sat out an entire season on a legal play.
Since he was a rookie in 1949, his 1948 Leaf football card is a pre-RC. Has two variations in the high number set which command at least four figures for even low grade.
Has a 1948 Topps Magic pre-RC as well if you don't have mortgage payment money laying around for a sports card.
1948 Leaf Football Cards Longterm Thoughts
 1948 Leaf football cards is an iconic set with a boatload of Hall of Famers, with none being considered fringe.
Scarcity on this set is real, with a hair under 20,000 graded copies in SGC and PSA total as of writing.
The most plentiful graded card is Baugh with 679, in SGC and PSA.
These are not easy to find at card shows either. You might find a dealer with a handful of the Hall of Famers, but often won't be even mid-grade.
If you prefer the 1948 Bowman football set from this year for some of the players above, understandable, and I prefer some of those cards myself.
I personally have eight of the Leaf Hall of Fame rookies myself as of writing this, with plans to get more if the opportunity arises.
1948 Leaf Football Cards Checklist
1 Sid Luckman
2 Steve Suhey 
3 Bulldog Turner
4 Doak Walker 
5 Levi Jackson
6 Bobby Layne 
7 Bill Fischer 
8 Vince Banonis 
9 Tommy Thompson 
10 Perry Moss 
11 Terry Brennan 
12 Bill Swiacki 
13 Johnny Lujack 
14 Mal Kutner 
15 Charlie Justice 
16 Pete Pihos 
17 Kenny Washington 
18 Harry Gilmer 
19 George McAfee 
20 George Taliaferro 
21 Paul Christman 
22 Steve Van Buren 
23 Ken Kavanaugh 
24 Jim Martin 
25 Elmer Angsman 
26 Bob Waterfield 
27 Fred L. Davis 
28 Al "Whitey" Wistert 
29 Charley Trippi 
30 Paul Governali 
31 Tom McWilliams 
32 Leroy Zimmerman
33 Pat Harder 
34 Sammy Baugh
35 Ted Fritsch Sr. 
36 Bill Dudley 
37 George Connor 
38 Boley Dancewicz 
39 Billy Dewell 
40 John Nolan 
41 Harry Szulborski 
42 Tex Coulter 
43 Robert Nussbaumer 
44 Bob Mann 
45 Jim White 
46 Jack Jacobs 
47 John Clement 
48 Frank Reagan
49 Frank Tripucka 
50 John Rauch 
51 Mike Dimitro 
52 Leo Nomellini 
53 Charley Conerly 
54 Chuck Bednarik 
55 Chick Jagade 
56 Bob Folsom 
57 Gene Rossides 
58 Art Weiner 
59 Alex Sarkisian 
60 Richard Harris 
61 Len Younce 
62 Gene Derricotte 
63 Rebel Steiner 
64 Frank Seno 
65 Bob Hendren
66 Jack Cloud 
67 Harrell Collins 
68 Clyde LeForce 
69 Larry Joe 
70 Phil O'Reilly 
71 Paul Campbell
72 Ray Evans 
73 Jackie Jensen 
74 Russ Steger 
75 Skip Minisi 
76 Clayton Tonnemaker
77 George Savitsky 
78 Clarence Self 
79 Rod Franz 
80 Jim Youel 
81 Billy Bye 
82 Fred Enke 
83 Fred Folger 
84 Jug Girard 
85 Joe Scott 
86 Bob Demoss 
87 Dave Templeton 
88 Herb Siegert 
89 Bucky O'Conner 
90 Joe Whisler 
91 Leon Hart 
92 Earl Banks 
93 Frank Aschenbrenner 
94 John Goldsberry 
95 Porter Payne 
96 Pete Perini 
97 Jay Rhodemyre 
98 Al DiMarco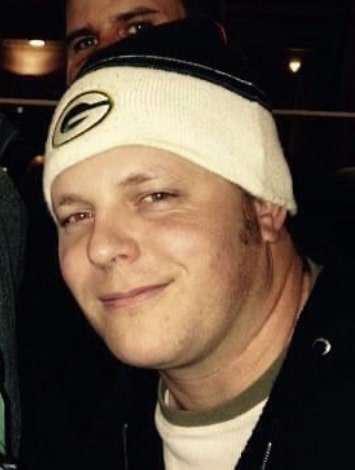 Paul. Card collector since 1993. Serious collector since 2014. PC Pro Football Hall of Famers regardless of team. Go Packers, Seminoles, New Jersey Devils, Milwaukee Bucks, and whoever I have money on in auto-racing. Would rather be found forging my own path than following the beaten one.