The 1965 Topps football release is the football set of the 1960's. Oversized at 2 ½ x 4 11/16th inches per card, this set stands out. A white bordered, solid color behind the player image look is similar to 1961 and 1964, but seems worlds away with the size.
1965 Topps features only the American Football League, as Topps had lost the NFL license to Philadelphia Gum Company, and as a result only has 176 cards.
The set also feels like the little engine that could. Only 16 of the cards depict Hall of Famers, with three of those getting in recently (Tom Flores, Johnny Robinson, and Winston Hill).
Only four of those Hall of Famers are rookie cards. Yet this set is remembered over the others. It's also the little engine that could from a condition standpoint. Centering is a major issue and most are at best 80/20. Not just left-right centering either as up-down can also torpedo a three-letter grading score of your card.
Most Valuable 1965 Topps Football Cards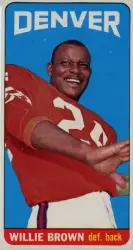 A short print in the set, Willie Brown's rookie card one of the more under-appreciated cards on the Hall of Fame checklist.
Undrafted out of college, whoops, he signed with the Houston Oilers but was released, also whoops.
Picked up by the Denver Broncos he was tested by opponents early, but with nine interceptions in his second year, teams quickly stopped throwing his way.
Traded to the Raiders in 1967 for a third-round pick, whoops, Brown developed into a truly elite player. He pioneered bump and run coverage where instead of simply trying to follow a receiver, the cornerback aims to truly disrupt and throw off the route. It's common today, but back then it was revolutionary. Developed his technique into being a four-time All-Pro. Won one Super Bowl as a player with Raiders and joined the Raiders coaching staff upon retirement and won two more rings.
Most known for being 'old man Willie' for his Super Bowl interception to clinch the game, but was much better than that. Frankly, he only got thrown at again during this era and was 36 when that iconic play happened. A true top tier Hall of Famer, Browns legacy is cemented.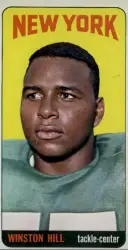 Winston Hill was drafted by the Baltimore Colts, and later released before his rookie season, whoops.
Signed by the New York Jets, Hill developed into a premier left tackle. Was either All-Pro or Pro Bowl in eight of his fifteen pro seasons.
Hard to quantify offensive line but Matt Snell and fellow Hall of Famer John Riggins found running room when they went left.
If you get the time, take the three hours and watch Super Bowl III. The Baltimore Colts are seen as an indestructible force, and Hill simply bullies defenders for some open rushing lanes.
Another short print in the 1965 Topps Football card set, Hills RC is about a $50 card.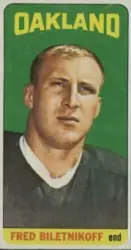 Biletnikoff was one of many players the AFL and NFL battled over.
The Draft in that era was more like college recruiting than a formal draft. Teams had to get creative and offer more money, or other benefits to choose the AFL or the NFL.
Picks were sometimes signed before being formally drafted and the league would often assign a round to take them later as the league realized getting top players into the league was more important than to whichever team.
For example, Biletnikoff went in the late second round, when he was likely already signed to the Raiders. He didn't go in the first round so that Oakland could 'sell' first round money to whoever they picked while also having Biletnikoff in the second to have some semblance of realism.
If the league had merged prior, he's the fourth overall pick behind only Namath, Dick Butkus, and Gale Sayers, who were all known commodities.
Has the Biletnikoff Trophy named after him for college football's best wide receiver in a given season.
Had some of the greatest hands the league has ever seen.
Viewed as a possession receiver by most, he was more than capable of being a deep threat with his body control and hands. Four-time Pro-Bowler was more mister consistency than greatest of all time, but don't let that sour you. Fred Biletnikoff is a deserving Hall of Famer and had a skill set that would work in any era of the game.
Yet another short print in the set, this card will set you back at least $100.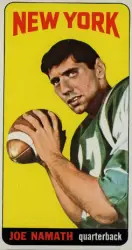 Let's get the bad out of the way first with Joe Namath.
He's a bottom five or so quarterback in the Hall of Fame, and only made one Pro Bowl post NFL merger.
Injuries derailed his career later on and even at his peak, you never confused him for Peyton Manning, Johnny Unitas, or Sammy Baugh.
Now that we got that out of the way, Joe Namath is possibly the most important player in NFL history, and his rookie card is arguably the most important vintage football card in the hobby.
The AFL and NFL bidding war against each other came to a head around Namath's services. The Jets offered a ton of money, $427,000 per year to give some idea on the finances of the game at the time, and got Namath to agree.
Was All-AFL or All-Star every season with the Jets prior to the NFL merger. His guarantee in Super Bowl III changed the game forever.
The established NFL was viewed as the boss and the AFC was seen as vastly inferior. The Jets then proceeded to bully the Colts right in the era when TV money was beginning to boom and owners started to realize reinvesting money into the team was for their betterment.
Modern quarterbacks signing eight figure deals, all owe a little something to Namath.
Namath's 1965 Topps football rookie sticks out, both literally and figuratively. Capping off a 4/4 sweep on Hall of Fame rookies being short print, the card is more associated with the rise of NFL popularity than his borderline Hall of Fame career.
Low grade copies of this card sell well north of $1,000, and near mint graded copies can add a zero behind that.
It's the card that shows up in your mind whenever you see a 1965 Topps football common and is undisputed on the all-time list.
Final Thoughts on 1965 Topps Football Cards
In summary, it's a real shame 1965 Topps Football cards are AFL only. Jim Brown, Bart Starr, Mike Ditka, Deacon Jones, Night Train Lane, and many others don't have a card in this set. They would all look fantastic in a bright colored set in an era where TV was still black and white.
 However, we are left with a set with players who played well enough to merge with the NFL a year later. In modern terms, this would be like the XFL taking NFL cuts during training camp, then going to beat them in a few years. 1965 Topps is filled with eternal hope, and enough of that hope made its way to undisputed status to be sought after forever.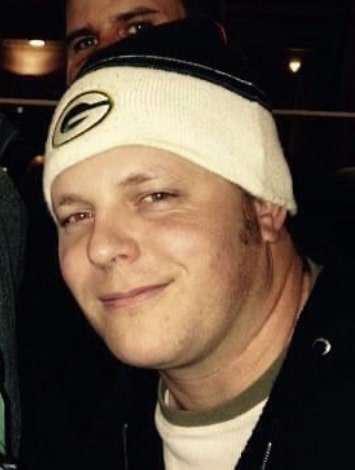 Paul. Card collector since 1993. Serious collector since 2014. PC Pro Football Hall of Famers regardless of team. Go Packers, Seminoles, New Jersey Devils, Milwaukee Bucks, and whoever I have money on in auto-racing. Would rather be found forging my own path than following the beaten one.