Mel ott baseball cards are a must for any pre war baseball card collector. He was easily one of the best players of the 1930s and a member of the 500 home run club.
Melvin Thomas Ott was born in 1909 in Gretna, Louisiana. Ott was one of three children. His dad and uncles played semi-pro baseball and were able to teach the game to him. 
In high school, Ott played about two games a week. On the other days, he played for a semi-pro team. Keep in mind he was only 14 years old at this time. 
A few years later Ott was given a train ticket to go to New York to try out for the Giants. He reported to none other than John McGraw, former player and manger for the team. Mcgraw said he was going to be one of the best  left-hand hitters in the National League. Boy was he right.
Ott officially signed his contract in 1926. In 1929, Ott had his first breakout season in the MLB. This year he had 41 home runs and 151 RBIs.
Mel Ott had an amazing 22 year career in the majors. He had 110 WAR, over 500 homeruns, and over a .300 batting average.
Mel Ott Baseball Card Value
Most playing day Mel Ott cards are going to cost you a minimum of $200+. Prices can vary depending on the scarcity of the card and its condition.
Most Valuable Mel Ott Baseball Cards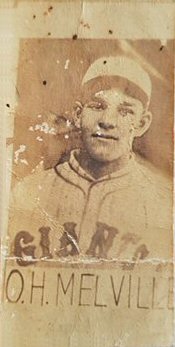 A lot of information is unknown about this card.
Why was Mel Otts "first" card produced in Australia?
How did this company mess up his name so badly?
Is there only 1 copy out there?
This card was discovered by legendary collector Stephen Flemming. The picture used dates back to a very young Mel Ott.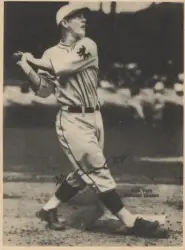 After the unknown Australian card, this is widely considered Mel Ott's first card. It was produced by the Kashin Publications company. It's an oversized card with black and white colors that is fairly scarce.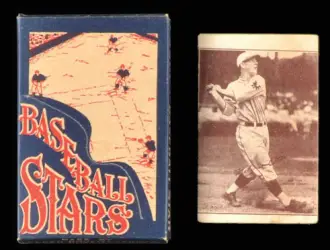 The Novelty Candy was one of many different sets to use the same imagery as the 1929 Kashin. Although this is a much smaller card. The picture on the left shows the original box that this card came from.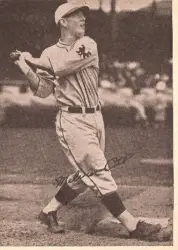 Once again, this Mel Ott baseball card has the same picture as the 1929 Kashin Publication card. The feature that easily distinguishes it from the Kashin's card is that it does not have "New York National League" written below the facsimile autograph.
The 1933 Goudey card is Mel Ott's first mainstream release. Stacked with legendary players like Babe Ruth, Lou Gehrig, and Jimmie Foxx, Ott is often overlooked by many collectors. 
He has two different cards in this iconic gum set. One shows him with a mean mug look and a green background. The other is a picture of Ott holding a bat with a red background. Ott unforunetly does not have a card in the 1934 Goudey release
1933 E285 Rittenhouse Candy
The Rittenhouse card is a candy card. It's also a playing card and it shows the 4 of clubs.
There are two different versions of the card. One printed with blue ink and one with red.
This card looks like it would be a part of the 1927 W560 release, but it's in fact in a different set.
The images from the 33 Worch cigar set came directly from a local Minneapolis newspaper. Each card is pretty large in size.
Interestingly enough, its the same imagery used for Ott's red 1933 Goudey baseball card.

Besides the Australian Merrymints, this is the rarest Mel Ott baseball card. It's a large die cut that shows Ott with a glove in his hand. 
A 6 sold in 2008 for over $150o.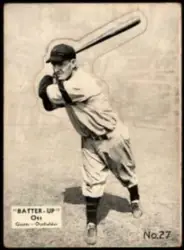 The 1934 Batter-Up card has an action pose that can be cut out. It has 3 different colors: gray, blue, and red. 
The bottom left of the card has a rectangle mentioning the set name, ott, team, and position.
The bottom right has card no.27.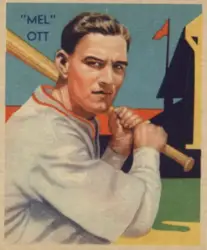 The Diamond Stars card looks similar to the Goudey and Worch cigars. It has great color/eye appeal and in my opinion, is an often overlooked set.
This card isn't too expensive as a PSA 4 example recently sold for about $400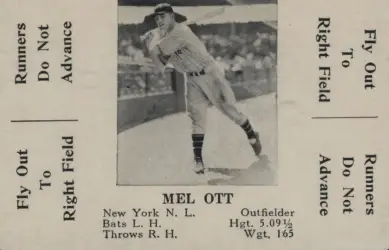 This card is part of a playing card game. It shows Ott with a horizontal picture and this card has rounded corners.
The text on the left and right of the card tells the players what to do. 
Below the image, it has information about Ott like his height and weight,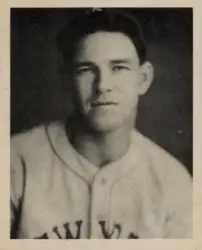 This is Ott's first Play Ball baseball card. It shows a close up portrait of him.
You can find raw versions of this card for about $150. There is also a rare sample version that pops up every few years. It's extremely tough to find. Some collectors pass on it though since they don't like the stamp.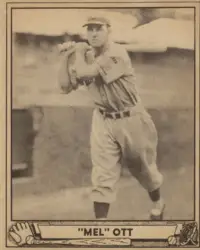 This card has a border and a more intricate design. It's also in black and white and cheaper than the prior year's counterpart. You can find one for about $50.
In this release, players share a card. Mel Ott shares his with Babe Young and Burgess Whitehead (fellow Giants player). This Young card is horizontal and the Whitehead card is vertical. It's quite cheap as many collectors aren't fans of the set.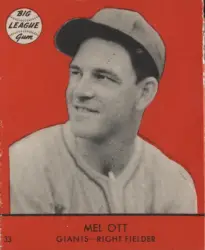 This is Goudey's last release. With WW2 in the horizon, the company would no longer produce baseball cards.
The design on these are a bit lackluster. Although you can find the front in multiple colors, the backs are empty and don't have the signature Goudey look.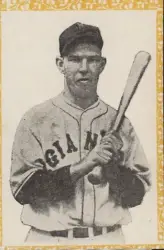 The Propagandas Montiel release was near the very end of Ott's career. This Mel Ott Baseball card is extremely tough to find as they were originally produced in Cuba. Add in that many of them have back damage due to being inserted in albums. Good luck finding one at a card show.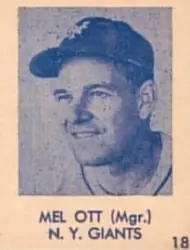 The Blue tint R346 cards are hand-cut. This is considered Ott's manager day card. While Ott was a player-manager since 1941, he effectively retired from baseball during the 1947 season.
This is card is fairly rare, so don't expect to find many in good condition.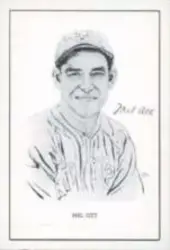 This card was made when Ott was retired, but it's still a cool card.
This set depicts only hall of fame figures from sports players to artists. As Ott made the HOF in 1951, he barely made the cut. This card is cheap as you can find a copy for around $20.
1999 Upper Deck Piece of History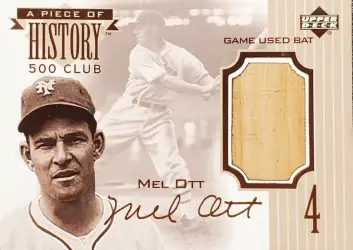 This is considered Ott's first relic card. 
Because it's his first relic card and from an iconic set, its worth around $150-175 which is fairly expensive. 
Some of his other bat cards (from the 2000s) sell for around $30 for comparison.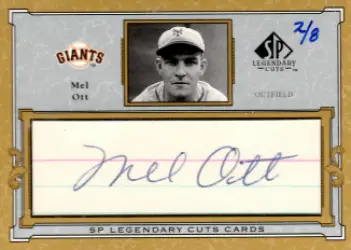 This is one of the first Mel Ott autographed cards. This one depicts his name on a check. His autos are fairly rare, so definitely keep your eyes out for this one. 
Final Thoughts on Mel Ott Baseball Cards
Mel Ott baseball cards, in my opinion, are a bit undervalued. They should command the same price as Jimmie Foxx but fall short.