Jimmie Foxx baseball cards are some of the most desirable pre-war cards in the 1930s.
James Emory Foxx was born in 1907 in Maryland. He grew up on a farm and learned an exceptional amount about baseball from his father. He was also ran track and excelled in the 220 yard run. Foxx was such an exceptional young baseball player that he left high school during his senior year to attend spring training. 
When Foxx was 16, he played with "Home Run" Baker's club in the Eastern Shore League. Connie Mack ended up purchasing his contract for the Athletics. In 1925, Foxx officially started his career with the Athletics and got off to a slow start. In the late 1920s and early 1930s, Foxx found his rhythm. In 1932, Foxx hit 58 home runs in a single season which was second only behind Babe Ruth at the time. 
In his career, he hit over 500 home runs, a .325 batting average, and had a career WAR of 93. With regards to his accolades, he won the MVP three times, won 2 world series, and was a triple crown winner.
Most Valuable Jimmie Foxx Baseball Cards
1926-29 Exhibits Postcard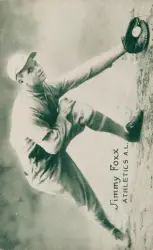 This card came out during a range of years, however many  considered it Foxx's true rookie card. Despite being it being a postcard, it has a nice picture of Foxx and is a cool card to collect.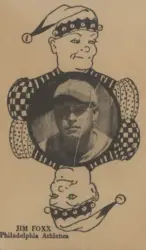 This set displays players within a playing card set. Foxx's card is the Joker. This is his first "normal sized" card and some also consider this to be a rookie card. These cards are fairly cheap, and worth pickup up at the right price. Note that Foxx's card in this set has a print scratch that is found on every card I know of.
1929 Leader Novelty Candy Co.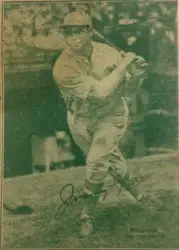 This Jimmie Foxx baseball card is extremely rare as only 63 cards in total from the set have been graded by PSA. The distribution of these cards is somewhat unknown, but its theorized that they came out of Leader Novelty's candy. This set was recently discovered.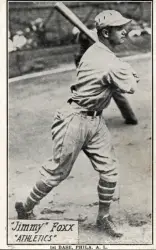 This is a 58 card set. The card has a black outline border. Jimmie's first name is spelled incorrectly on this card. The R315 is slightly oversized as it is a long card.
1929 R316 Kashin Publications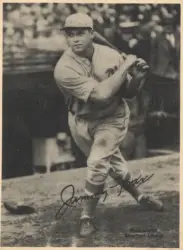 This card is oversized and made by the Kashin company. it depicts the same image as the 1929 Novelty candy co. card (except this card is in green) and the 33/34 Goudey cards.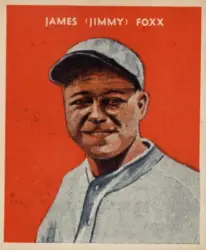 This Jimmie Foxx baseball card came from a 32 card set of famous athletes. Unknown to some, this was a regional release originating from the Boston area. Other notables from the set include Ty Cobb, Babe Ruth, Lou Gehrig, and Lefty Grove.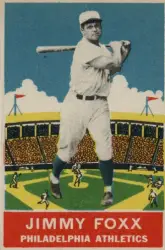 This card was released by an Ex Goudey Employee. Sadly it would be their only set, however many companies have taken inspiration from it. 
There are only 24 cards in this limited release. All of which have a distinct stadium background. This is the only year that Delong made cards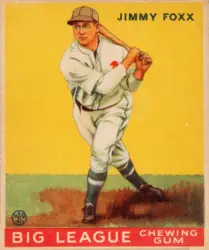 This is one of Foxx first major release cards. No doubt its his most popular card during his career. It's part of the 1933 Goudey Baseball card set and definitely one of his most visually appealing cards.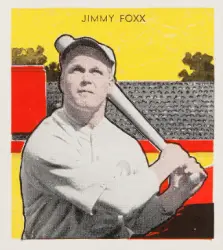 This Jimmie Foxx baseball card is part of a 60-card set released by the Orbit Gum Company. This company was a subsidiary of the legendary Wrigley gum.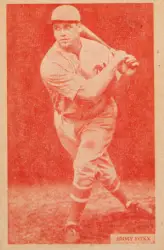 This card also has Jimmie Foxx's iconic cross legged pose. This card is part of a 30 player unnumbered set. These cards are condition sensitive and extremely rare as only 84 cards out of this set have been graded in total.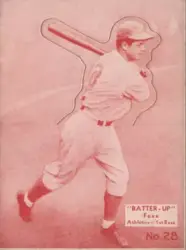 The Batter-up card has multiple different colors. The card is perforated because people were supposed to take the figure out. 
The 1934 Goudey Baseball card looks strikingly similar to Foxx's 33 Goudey. Some different features include a slight variation in color, the characters in the background, and the Lou Gehrig says portion on the bottom of the card.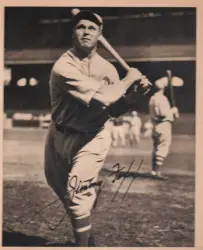 This is a cabinet card. These were fairly uncommon for the year as most cabinet cards were made in the early portion of the 1900s. You will need a good amount of space to store this card, but it's cool nonetheless
1936 Goudey World Wide Gum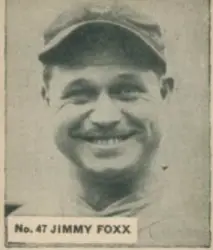 The World Wide Gum company is the Canadian Goudey. This card is rare as there are only 22 of them currently graded by PSA. This set also contains the iconic Joe Dimaggio rookie card.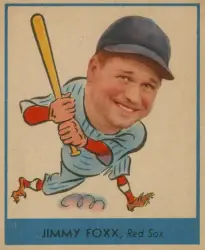 The 1938 Goudey card has two designs: one with cartoons in the background and one without. Keep that in mind when looking at the pop count for these cards. This is an oddball in the sense that it has an interesting portrait of Foxx. His head was put onto a cartoon figure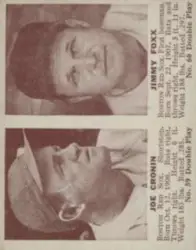 The Double play cards depict two players from the same team. These cards are fairly cheap and this is considered Foxx's last playing day card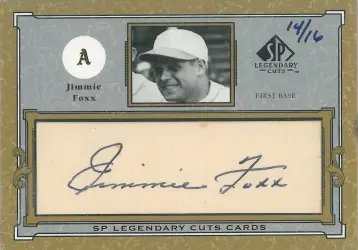 This is Foxx's first auto card. This one is numbered to 16 and part of a check. Foxx doesn't have too many autographs out there, so keep your eyes out for cards like this
Final Thoughts on Jimmie Foxx Baseball Cards
 Picking up a Jimmie Foxx baseball card for your PC isn't a terrible idea. He will have a strong collecting base for a long time. As more collectors work backwards many will discover how good of a baseball player he was.