In 1886, Old Judge created the first Baseball card set. In 1895 Mayo's Cut Plugs created the first Football card set. It took until 1948 for Bowman to create the first full set of Basketball cards!
What most don't realize is that in 1948, the NBA was very new. In fact, it was founded in 1946. It's safe to assume that the card companies didn't think basketball would be that big, and it shows because the next full set of basketball cards were not produced until the 1957 Topps set. It's crazy to think that basketball cards weren't produced for a 9 year period after its inception, and now they are one of the most popular sports for card collectors.
Please be aware that even though the 1948 Bowman Basketball set has color, it was not produced in 1949 like the baseball set was (The 1949 Bowman baseball set has color whereas 1948 was black and white). These cards measure 2 1/16 by 2 ½ inches and don't contain any written information on the front.
On the back, the 48 Bowman cards have the card number, vital stats (not basketball stats), and a written bio about the player. The backs also contain a redemption ad for pencils. This ad and the card number are the only two details that are printed in red.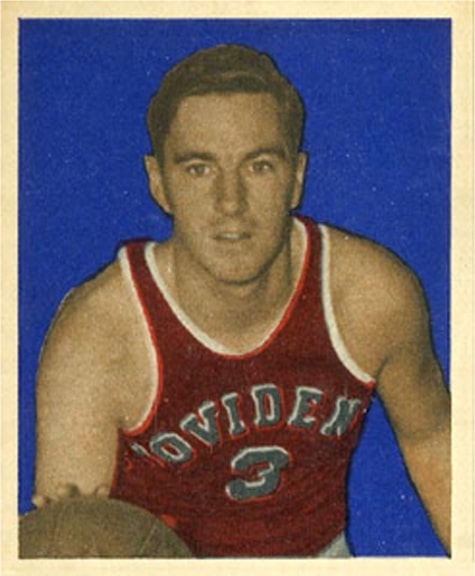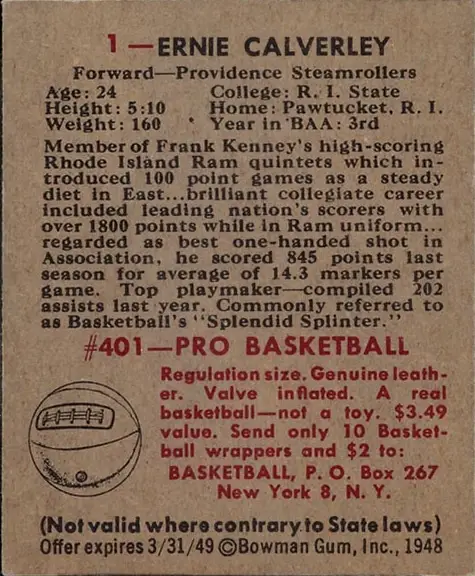 One unique aspect of this set is the "Basketball Play" cards. These depicted different strategies that teams used to score in the early NBA games. There are 12 different plays in the 1948 Bowman set and 72 total cards. This  means only 60 player cards were featured in this inaugural set.
The set is composed of two different series which are comprised of 36 cards each. The second series is rarer than the first and that is where the most valuable card in the set is: the George Mikan rookie card.
1948 Bowman Most Valuable Cards:
1948 Bowman George Mikan #69
George Mikan was the first dominant basketball player in NBA history. He was a Center who played for the Minneapolis Lakers. While his career was only seven seasons long, Mikan averaged about 23 points and 13 rebounds per game; Which led him to be a 5x NBA champion and 3x scoring champ.
This is considered his rookie card and definitely his most valuable card. In 2021, a PSA 9 of this card sold for over $400,000!
Mikan also has another rookie card which comes from the 1948 Kellogg's set. It has a much smaller size and isn't as desirable as his Bowman.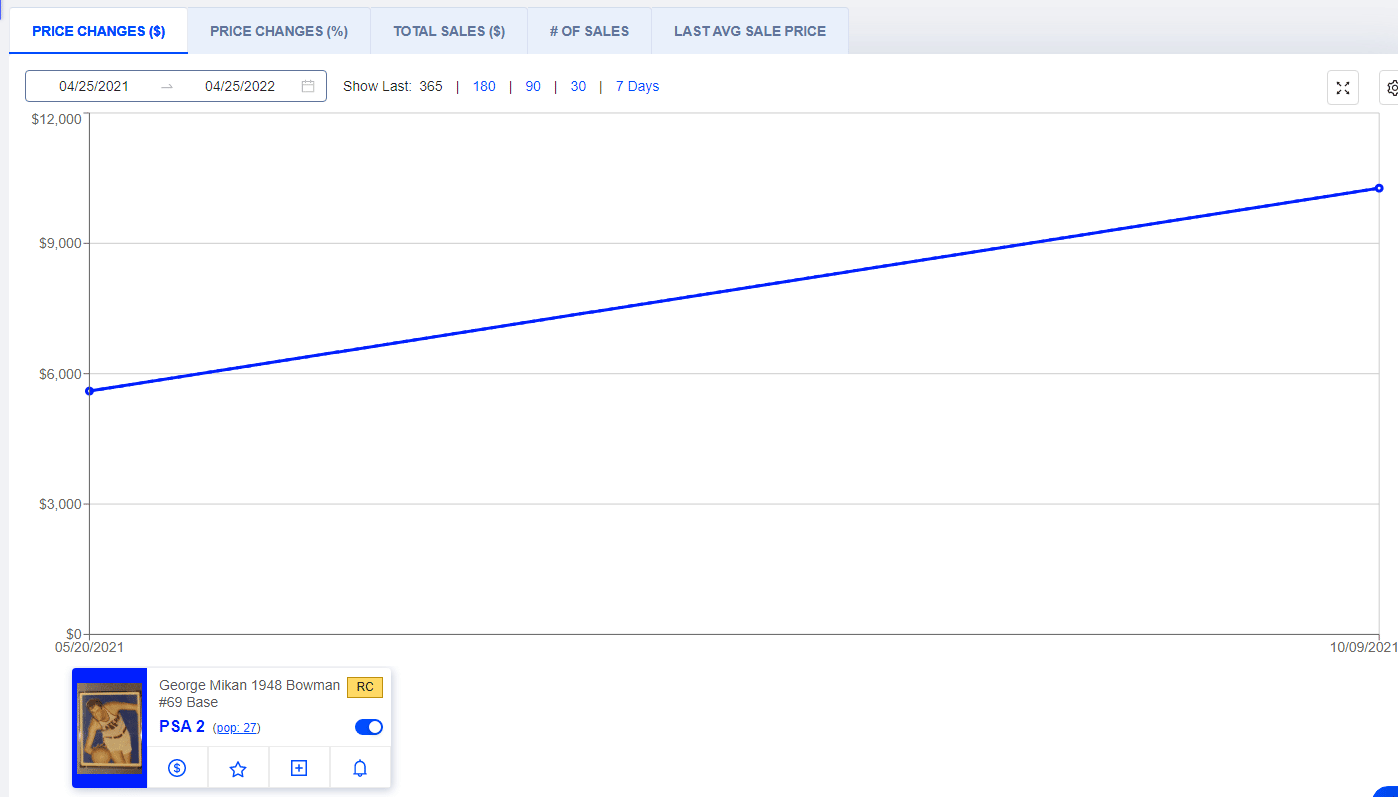 With a population of about 350, There are not many sales of The George Mikan rookie card throughout the year. However, The PSA 2 picture above has two sales ranging from the $6-9k range.  One interesting aspect of tracking rare cards like this is that you might need to look solely at auction prices. This is due to the absence of true comps. The George Mikan rookie card is pretty elusive, so make sure you do your research before you decide to buy.
This data was grabbed from Market Movers. Get your first month for $1 using code BREAKOUT
1948 Bowman Carl Braun #72
Braun is a Hall of Famer who played for the New York Knicks for the majority of his career which spanned three decades ranging from the 1940s to the 1960s. He won his only championship during his last season with the Boston Celtics. 
Braun's rookie is the last card in the set which means it's difficult to find in nice condition. Often with many vintage releases, there is a premium for the first and last cards as they were often damaged in storage boxes or with rubber bands.
1948 Bowman Jim Pollard #66
Jim Pollard played on the Lakers with George Mikan. Although he was not as good as Mikan, Pollard was an essential piece that helped the Lakers franchise win 5 championships. He was a small forward who averaged about 13 points and 7 assists per game.
1948 Bowman Basketball Checklist
1 Ernie Calverley
2 Ralph Hamilton
3 Gale Bishop
4 Fred Lewis
5 Basketball Play
6 Bob Feerick
7 John Logan
8 Mel Riebe
9 Andy Phillip
10 Bob Davies
11 Basketball Play
12 Kenny Sailors
13 Paul Armstrong
14 Howard Dallmar
15 Bruce Hale
16 Sid Hertzberg
17 Basketball Play
18 Red Rocha
19 Eddie Ehlers
20 Gene Vance
21 Fuzzy Levane
22 Earl Shannon
23 Basketball Play
24 Leo Crystal Klier
25 George Senesky
26 Price Brookfield
27 John Norlander
28 Don Putman 
29 Basketball Play
30 Jack Garfinkel 
31 Chuck Gilmur 
32 Red Holzman 
33 Jack Smiley 
34 Joe Fulks
35 Basketball Play
36 Hal Tidrick 
37 Don Carlson
38 Buddy Jeannette
39 Ray Kuka
40 Stan Miasek 
41 Basketball Play
42 George Nostrand 
43 Chuck Halbert
44 Arnie Johnson
45 Bob Doll
46 Bones McKinney
47 Basketball Play
48 Ed Sadowski
49 Bob Kinney
50 Charlie Black
51 Jack Dwan
52 Connie Simmons 
53 Basketball Play
54 Bud Palmer 
55 Max Zaslofsky 
56 Lee Roy Robbins 
57 Arthur Spector 
58 Arnie Risen 
59 Basketball Play
60 Ariel Maughan 
61 Dick O'Keefe 
62 Herman Schaefer 
63 John Mahnken 
64 Tommy Byrnes 
65 Basketball Play
66 Jim Pollard 
67 Lee Mogus
68 Lee Knorek 
69 George Mikan 
70 Walter Budko 
71 Basketball Play
72 Carl Braun