Although he wasn't featured in mainstream sets like Play Ball or Goudey, Martin Dihigo Baseball cards are extremly desirable by vintage card collectors. Most playing day cards have less than 100 examples graded and can take months if not years to find.
Martin Dihigo was born in 1906 in Cidra, Cuba. He receieved two awesome nicknames: "El Immortal" (the immortal) and "El Maestro" (the teacher).
He began his career in 1922 at the ripe age of only 16 as a backup outfielder. 
Dihigo became an amazing hitter, but originally couldn't hit curveballs very well. He played year-round and worked hard to become one of the best curve ball hitters in the game.
 Dihigo earned the nickname "El Maestro" for his ability to learn different positions on the baseball field. he started out playing the outfield where he would throw people out at the plate. He also played second base at the start of his career. Dihigo also excelled at third base, but really shined as a pitcher. In fact, he threw the first no hitter in the Mexican league.
Naturally, due to all his knowledge, Dihigo became a player-manager towards the end of his career. Dihigo managed a team that featured baseball hall of famer Johnny Mize. He would go on to say that Dihigo was the best player he has ever seen.
After Dihigo retired, he was the only player to be enshrined into these 3 hall of fames: The Cuban Hall of Fame, Mexican Hall of Fame, and National Baseball Hall of Fame.
It was said that "His gifts afield have never been approached by any man – black or white".
Most Valuable Martin Dihigo Baseball Cards
This is the true Martin Dihigo rookie card. You might not have seen or heard about it because as of writing this, there are only 2 in existence. One is a stand alone copy and another is connected to an uncut sheet. As of 2022, the uncut sheet is listed on Ebay for $100,000
The Mallorquina card is in the Cuban Winter League set.
1931-32 Doble Aguila Venezuela League
Martin Dihigo has three different baseball cards in the Doble Aguila set. All of which are from Concordia vs. York and are card numbers 157, 191, and 197.
The Doble Aguila cards tend to show Dihigo with another player in an action pose. This set is extremely rare. In fact, PSA has only graded 22 cards in total from this set! 7 of 22 copies are of Martin Dihigo.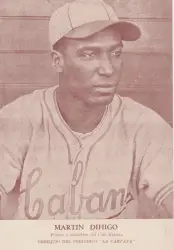 The LaCampana card is an oversized card and extremely scarce. for reference, it's about the size of a post card. Only a few are known to exist. One recently sold for auction in 2022 for about $4,000.  
1946 Propagandas Montiel #39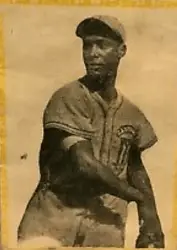 The Martin Dihigo baseball card appears in the 1946 Propagandas Montiel set with many other American players including Babe Ruth, Stan Musial, Christy Matthewson, Bob Feller, Lou Gehrig, and much more
Its a multi-sport set, so don't be surprised if you see wrestling and boxing cards. The paper stock of these cards is super thin. Don't expect to find many in high grade; You are lucky enough to find them at all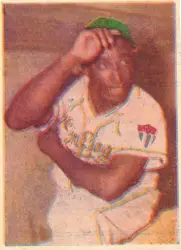 These baseball cards were issued in panels of 4 within the magazine "Almanaque Deportivo"
The cards were meant to be cut out and glued into an album. The Dihigo card has a bio k and a Casa Vassallo ad on the back.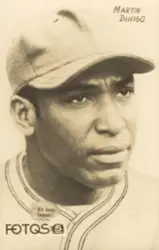 The Fotos card is an oversized post card. It's unique because it shows a nice portrait of Dihigo.
There are only around 3 copies known to exist. This baseball card shows Martin Dihigo in the Mexican League on the Cienfuegos.
1945-46 Caramelo Deportivo Cuban League #65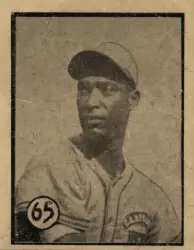 The Caramelo Deportivo set was meant to be collected in a book. The cards have super thin stock which made holes and other defects a commonality.
You must be lenient as a collector as according to PSA, the highest grade out of the set is a PSA 5. There are 100 cards total to collect.
1946-47 Caramelo Deportivo Cuban League #8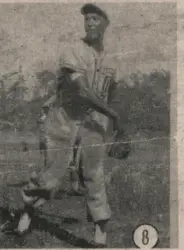 The 1946/47 card shows the same picture of Dihigo as his previous year release. 
Although being of the next year, this set has much fewer cards graded by PSA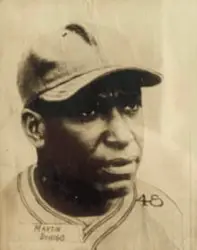 The Campo Allegre is very small in size and only a handful exist. This set is very small as it only contains 50 cards. The card is printed on a photographic stock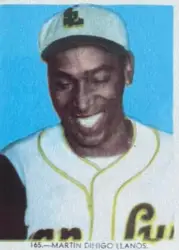 The Arte y Deporte card originates from a multi-sport set. Out of the 336 cards in the set only 24 of them are baseball players for the Mexican league.  This is a smaller sized card and one of Dihigo's only true colored cards
1974 Laughlin Old-Time Black Stars #25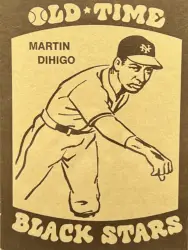 Compared to other Dihigo baseball cards, this one is the most common and certainly the least expensive. Dihigo is featured with other negro leaguers in this set paying homage to some forgotten heroes
This card is super affordable as PSA 7s and 8s sell for around $60
Martin Dihigo Baseball Card Potential
Martin Dihigo Baseball cards are very tough to source and will continue to be desirable for any baseball card collector.