After years of Goudey dominating the baseball card scene in the 1930s, a new company started to produce cards. Gum Inc. created 1939 Play Ball baseball cards. Before Play Ball, they created iconic nonsports sets like Horrors of War and G-Men & Heroes of the Law.
The 39 Play Ball set featured square cards with a black and white design. They were slightly larger than the Goudeys. The backs of the cards state there are a total of 250 cards, but the numbers only go up to 162. It seems like later editions of the product were pulled or never produced. 
To complicate things, there is no card 126 in the set. It's a very similar tactic to what Goudey did in their 1933 release with the Nap Lajoie card. 
1939 Play Ball Baseball Card High Numbers
In a similar fashion to some of the Topps sets in the 50s and 60s, high number cards carry a premium. This is due to them being printed less than earlier cards in the release. For this set, you are looking for numbers 116 and above. The most valuable high number is Earl Averill. He was a 6x all-star who is a member of the baseball HOF.
1939 Play Ball Baseball Sample Card
Another thing to note about this release is the sample cards. Gum Inc. would include these cards in other nonsports releases as a way to promote the set. You can tell if a card is a sample with a large red stamp on the back of a card.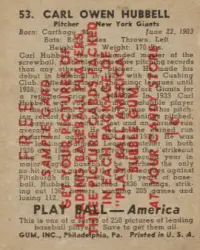 The text states:  "FREE Sample Card – Get your pictures of leading baseball players. Three picture cards packed in each package of "Play Ball America" Bubble Gum at your candy store"
1939 Play Ball Most Valuable Cards
The Joe Dimaggio and Ted Williams cards are the most expensive Play Ball cards you can find in the release. Each will cost you 4-5 figures and are important cards to collect for both players.
1939 Play Ball Joe DiMaggio #26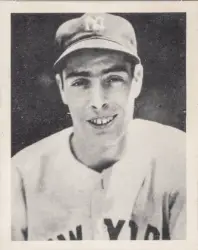 While DiMaggio has earlier cards ranging from a 1933 Zeenut to a 1938 Goudey, many collectors want his 1939 Play Ball. 
The 1939 Play Ball baseball card is not a fairly difficult card to locate in low grade, but prices rise fast with nicer-looking examples. 
In 1939 DiMaggio won his first MVP award when he hit .380 with 30 home runs. Over his 13 year career, he would cement his legacy as a Yankees legend by winning a total of 9 World Series Championships and 3 MVPs.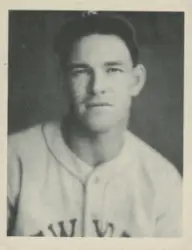 Mel Ott was a superstar in the 1930s. Throughout his career he would amass over 500 home runs and generate over 110 WAR. While this is a later card in his career, he's still a major star within the set.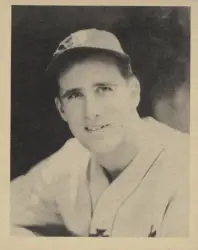 Hank Greenberg had a somewhat short career due to WW2 but was able to put together a solid HOF career. He would average 38 hrs a year while having a 159 OPS+. 
His 1939 Play Ball baseball card isn't too expensive. You can find copies under $200.
1939 Play Ball Ted Williams #92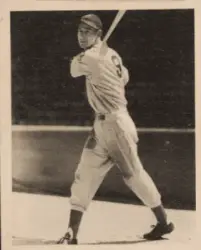 Unlike DiMaggio, 1939 Play ball baseball cards is Ted William's first representation on cardboard. The Red Sox legend missed 4-5 years of his career due to military service but still put up inner circle HOF numbers:
122 WAR, 521 Home Runs, 191 OPS+, .344 Batting Average
Oh, and he won 2 Triple Crowns along with batting .406 in 1941.
It's one of the reasons many people consider him to be one of the greatest baseball players of all time and a big what-if.
With that being said, this is the most expensive card Play Ball would ever create and any collector would want to add this into their collection. Even Yankees fans.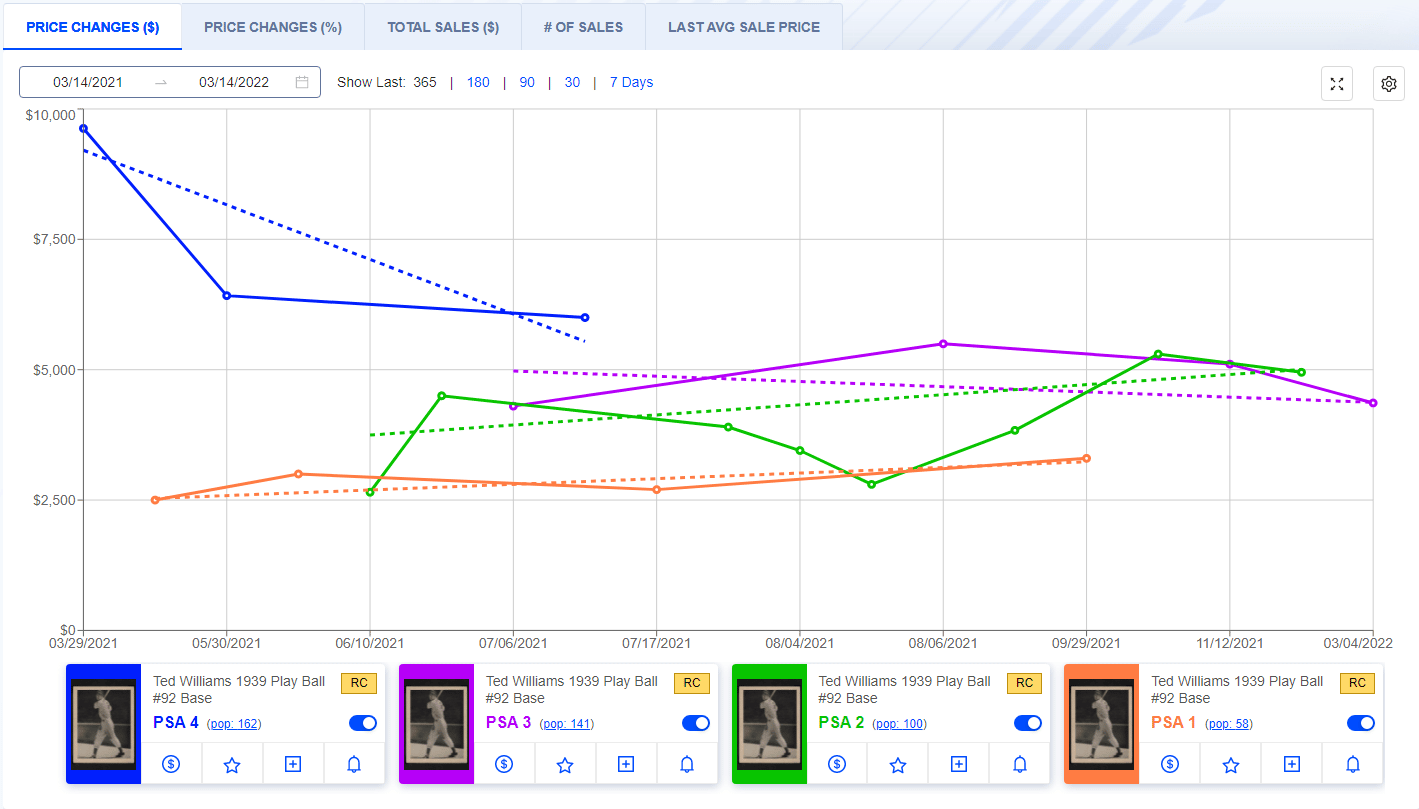 The above chart shows the prices of a PSA 4 Ted Williams. This was grabbed from Market Movers. Get your first month for $1 using code BREAKOUT
1939 Play Ball Baseball Card Checklist
1 Jake Powell
2 Lee Grissom
3 Red Ruffing
4 Elden Auker
5 Luke Sewell
6 Leo Durocher
7 Bobby Doerr
8 Cotton Pippen
9 Jim Tobin
10 Jimmy DeShong
11 Johnny Rizzo
12 Hersh Martin
13 Luke Hamlin
14 Jim Tabor
15 Paul Derringer
16 Johnny Peacock
17 Emerson Dickman
18 Harry Danning
19 Paul Dean
20 Joe Heving
21 Dutch Leonard
22 Bucky Walters
23 Burgess Whitehead
24 Dick Coffman
25 George Selkirk
26 Joe DiMaggio
27 Fritz Ostermueller
28 Syl Johnson
29 Jack Wilson
30 Bill Dickey
31 Sam West
32 Bob Seeds
33 Del Young
34 Frank Demaree
35 Billy Jurges
36 Frank McCormick
37 Spud Davis
38 Billy Myers
39 Rick Ferrell
40 Jim Bagby
41 Lon Warneke
42 Art Jorgens
43 Mel Almada
44 Don Heffner
45 Pinky May
46 Morrie Arnovich
47 Buddy Lewis
48 Lefty Gomez
49 Eddie Miller
50 Charlie Gehringer
51 Mel Ott
52 Tommy Henrich
53 Carl Hubbell
54 Harry Gumbert
55 Arky Vaughan
56 Hank Greenberg
57 Buddy Hassett
58 Lou Chiozza
59 Ken Chase
60 Schoolboy Rowe
61 Tony Cuccinello
62 Tom Carey
63 Heinie Mueller
64 Wally Moses
65 Harry Craft
66 Jimmy Ripple
67 Eddie Joost
68 Fred Sington
69 Elbie Fletcher
70 Fred Frankhouse
71 Monte Pearson
72 Debs Garms
73 Hal Schumacher
74 Cookie Lavagetto
75 Frenchy Bordagaray
76 Goody Rosen
77 Lew Riggs
78 Moose Solters
79 Jo-Jo Moore
80 Pete Fox
81 Babe Dahlgren
82 Chuck Klein
83 Gus Suhr
84 Skeeter Newsome
85 Johnny Cooney
86 Dolph Camilli
87 Milt Shoffner
88 Charlie Keller
89 Lloyd Waner
90 Bob Klinger
91 Jack Knott
92 Ted Williams
93 Charlie Gelbert
94 Heinie Manush
95 Whit Wyatt
96 Babe Phelps
97 Bob Johnson
98 Pinky Whitney
99 Wally Berger
100 Buddy Myer
101 Doc Cramer
102 Pep Young
103 Moe Berg
104 Tommy Bridges
105 Eric McNair
106 Dolly Stark
107 Joe Vosmik
108 Frankie Hayes
109 Myril Hoag
110 Freddie Fitzsimmons
111 Van Mungo
112 Paul Waner
113 Al Schacht
114 Cecil Travis
115 Red Kress
116 Gene Desautels
117 Wayne Ambler
118 Lynn Nelson
119 Willard Hershberger
120 Rabbit Warstler
121 Bill Posedel
122 George McQuinn
123 Peaches Davis
124 Jumbo Brown
125 Cliff Melton
126 Card Never Issued
127 Gibby Brack
128 Joe Bowman
129 Bill Swift
130 Bill Brubaker
131 Mort Cooper
132 Jimmy Brown
133 Lynn Myers
134 Tot Pressnell
135 Mickey Owen
136 Beau Bell
137 Pete Appleton
138 George Case
139 Vito Tamulis
140 Ray Hayworth
141 Pete Coscarart
142 Ira Hutchinson
143 Earl Averill
144 Zeke Bonura
145 Hugh Mulcahy
146 Tom Sunkel
147 Slick Coffman
148 Bill Trotter
149 Max West
150 Jim Walkup
151 Hugh Casey
152 Roy Weatherly
153 Dizzy Trout
154 Johnny Hudson
155 Jimmy Outlaw
156 Ray Berres
157 Don Padgett
158 Bud Thomas
159 Red Evans
160 Gene Moore
161 Lonny Frey
162 Whitey Moore